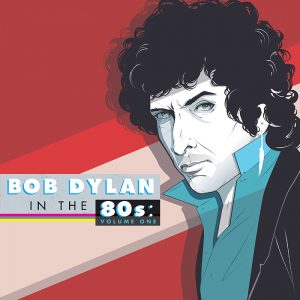 «Bob Dylan in the 80's: Volume One» es el título de un disco homenaje a Bob Dylan y su etapa musical durante los años ochenta, su época menos creativa aunque publicase diez álbumes y se convirtiera en su conversión al cristianismo plasmadas en canciones Gospel.
Blitzen Trapper, Craig Finn cantante de The Hold Steady, Carl Broeme de My Morning Jacket, Lucius, Glen Hansard, Deer Tick, Bonnie «Prince» Billy, Built to Spill, Aaron Freeman de Ween and Slash, Reggie Watts, entre otros aparecen en este nuevo disco tributo a Bob Dylan titulado «Bob Dylan in the 80's: Volume One» y publicado el 25 de marzo de 2014.

La etapa ochentera de Bob Dylan contiene álbumes tan apetecibles como el «Oh Mercy» (1989) con canciones como Shooting Star o Everything is broken, «Shot of Love» (1981) con temas como Heart of Mine o Lenny Bruce o el «Infidels» (1983) con canciones como Jokerman, License to Kill o Sweatheart like you. Además de otros discos como «Under the Red Sky» (1990), su directo «Real Live» (1984) junto a forajidos como el Rolling Stones Mick Taylor, Ian McLagen, de Faces y Santana, «Empire Burlesque» (1985), «Knocked Out Loaded» (1986), «Down in the Groove» (1988) y el directo con Grateful Dead «Dylan & The Dead» (1989).
Listado de canciones de «Bob Dylan in the '80s: Volume One»:
1. Langhorne Slim & The Law – «Got My Mind Made Up»(from Knocked Out Loaded, 1986)
2. Built To Spill – «Jokerman» (from Infidels, 1983)
3. Reggie Watts – «Brownsville Girl (Reprise)» (from Knocked Out Loaded, 1986)
4. Craig Finn (The Hold Steady) – «Sweetheart Like You» (from Infidels, 1983)
5. Ivan & Alyosha – «You Changed My Life» (from Shot Of Love outtakes, 1981)
6. Deer Tick – «Night After Night» (from Hearts of Fire Soundtrack, 1987)
7. Dawn Landes & Bonnie «Prince» Billy – «Dark Eyes» (from Empire Burlesque, 1985)
8. Tea Leaf Green – «Waiting To Get Beat» (from Empire Burlesque outtakes, 1985)
9. Aaron Freeman of Ween & Slash – «Wiggle Wiggle (from Under The Red Sky, 1990)
10. Elvis Perkins – «Congratulations» (from Traveling Wilburys Vol. 1, 1988)
11. Hannah Cohen – «Covenant Woman» (from Saved, 1980)
12. Marco Benevento – «Every Grain Of Sand» (from Shot Of Love, 1981)
13. Yellowbirds – «Series Of Dreams» (from Oh Mercy outtakes, 1989)
14. Blitzen Trapper – «Unbelievable» (from Under The Red Sky, 1990)
15. Lucius – «When The Night Comes Falling From The Sky» (from Empire Burlesque, 1985)
16. Glen Hansard – «Pressing On» (from Saved, 1980)
17. Carl Broemel (My Morning Jacket) – «Death Is Not The End» (from Down In The Groove, 1988)