La 27ª edicion del concierto benéfico Bridge School (The 27th Annual Bridge School Benefit Concert) que celebra Neil Young el próximo 26 y 27 de octubre cuenta en esta edición con otro cartel de absoluto escándalo, Crosby Stills Nash & Young, Tom Waits, My Morning Jacket, Heart, Queens of Stone Age, Arcade Fire, Jack Johnson, Elvis Costello, Diana Krall, fun., y Jenny Lewis que se celebrará en el Shoreline Amphitheatre en Mountain View, California, al sur oeste de San Francisco.
The Annual Bridge School Benefit Concert, es un festival benéfico para niños con discapacidades físicas y necesidades especiales, que se viene celebrando en el Bay Area de San Francisco desde hace 26 años organizado por Neil Young y su esposa Pegi Young.
Neil Young y Pegi Young  decidieron hace veintisiete años juntar a los mejores músicos del momento y ponerlos encima de un escenario para recaudar fondos para un proyecto de construcción de un colegio para niños con dificultades para hablar, usar sus manos o extremidades inferiores, el Bridge School.
El dinero recaudado del festival Bridge School Benefit Concert se aporta para la investigación de nuevo software y hardware al servicio y beneficio de éstos niños. El matrimonio Young tiene tres hijos, uno de ellos es un jóven tetrapléjico con parálisis celebral que tiene ahora 34 años de edad.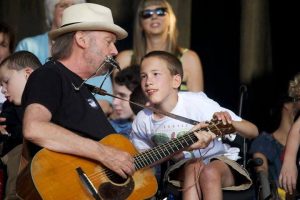 Enlace para ver en directo el 2013 Annual Bridge School Benefit Concert el sábado 26 de octubre a partir de la 01.00 am (GMT+1), 5 p.m. PST. Y en el que podrán presenciar en directo a Arcade Fire, Crosby, Stills, Nash & Young, Queens of the Stone Age, My Morning Jacket, Jack Johnson, Fun., Heart, Jenny Lewis, Elvis Costello y Diana Krall.
The Annual Bridge School Benefit Concert comenzó su andadura un 13 de octubre de 1986 con un grupo fantástico de músicos como CSNY, Nils Lofgren, Don Henley, Tom Petty, Robin Williams y Bruce Springsteen y otros muchos, la ayuda y aporte económico en cuanto a tecnología y estudios de enfermedades ha sido fundamental para la pequeña escuela The Bridge School en un pequeño pueblo llamado Hillsborough cerca del aeropuerto de San Francisco.
Hace dos años se conmemoró el 25 aniversario de los conciertos Annual Bridge School, con dos Cd's con más de una veintena de canciones y otra de tres DVD's , esta última con imágenes inéditas del backstage con los artistas, entrevistas de alumnos con ellos, y documental sobre la escuela.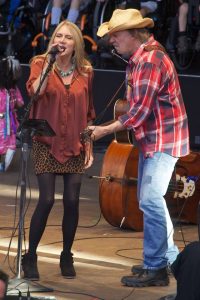 David Bowie,  Tom Petty, Bruce Springsteen, The Who, Brian Wilson, Elton John, Leon Russell, Paul McCartney, Sonic Youth, Jack Johnson, Fleet Foxes, Gillian Welch, Willie Nelson, Band of Horses, Tony Bennett, Sarah McLachlan, Metallica, Jonathan Richman, R.E.M , No Doubt  y muchísimos otros han participado en Annual Bridge School Benefit Concert.
El concierto de el sábado 26 de octubre se emitirá por streaming a la espera del día 27.
Escucha el maravilloso concierto acústico de Neil Young & Crazy Horse el año pasado, 20 de octubre en el Annual Bridge School Benefit Concert en el Shoreline Amphitheatre de Mountain View en California.