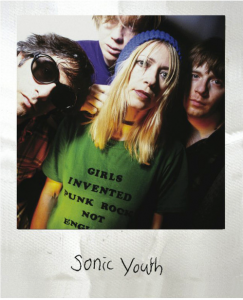 Sonic Youth, la banda y cuarteto neoyorquino anuncia la publicación y reedición de sus álbumes más importantes de esta banda norteamericana considerada como una de las más influyentes del Rock alternativo a partir de la década de los 80 con un primer disco, el primero de ellos será "Daydream Nation" (1988), disponible desde el próximo 10 de junio en formato CD y vinilo doble, junto con el "The Whitey Album" de 1988, éste último del proyecto paralelo de la banda Ciccone Youth.
"Daydream Nation" (1988) de Sonic Youth está considerado como un referente del rock alternativo de los años noventa, disco que incluye canciones como "Teen Age Riot" y "Silver Rocket"  co-producidas por la banda junto a Nick Sansano (Public Enemy, John Spencer Blues Explosion), quien también estuvo a cargo de Goo (1990).
"Confusion is Sex (1983), Bad Moon Rising (1985), EVOL (1986) y Sister! (1987) serán los siguientes títulos en la lista de discos reeditados por Sonic Youth además del recopilatorio Screaming Fields of Sonic Love (1996) y en versión DVD.
Sonic Youth compartieron escenario por última vez fue a finales de 2013, cuando Lee Ranaldo y Thurston Moore realizaron un concierto en Londres. Kim Gordon junto a Joan Jett, Lorde y St. Vicent se sumaron a Dave Grohl, Krist Novoselic y Pat Smear en el concierto enmarcado en la entrada de Nirvana como miembros al Rock & Roll Hall of Fame el pasado mes de abril.