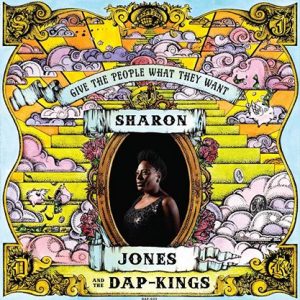 Sharon Jones & The Dap-Kings confirman gira española para el mes de noviembre para presentar su quinto álbum de estudio "Give The People What They Want", publicado con retraso el pasado mes de enero tras superar la cantante Sharon Jones una operación de cáncer de páncreas.

Sharon Jones And The Dap-Kings tonificó el Soul clásico a finales de los años 80 gracias al sello discográfico neoyorquino Daptone Records, ubicado en Brooklyn, junto a otros artístas como The Budos Band, Naomi Shelton & The Gospel Queens, The Mighty Imperials, Sugarman 3, Bob & Gene, James Hunter, Charles Bradley o Lee Fields, y gracias a los fundadores del sello Gabriel Roth y Neal Sugarman, dos músicos de sesión.
Sharon Jones junto a Bettye LaVette, comparten el reinado del Soul más feroz, aquel de vena hinchada en el cuello,  el éxito apareció bastante tarde para Sharon Jones cuando ésta tenía casi cincuenta años, en la que gracias a su novio conoció al dueño de Daptone Records en una audición de tres coristas para Lee Fields, a partir de entonces le propusieron hacer un disco, desde entonces en cada uno de sus discos y conciertos siempre sale a degüello.

Escucha el nuevo disco de Sharon Jones And The Dap-Kings, "Give The People What They Want".
Fechas de la gira española de Sharon King & the Dap Kings:
18 de noviembre en Barcelona Palau de la Música
19 de noviembre en Madrid, La Riviera
20 de noviembre en San Sebastián, Kursaal Eszena
22 de noviembre en Vigo, Auditorio Mar de Vigo (Ciclo Vigoritmos)