The Rolling Stones continúan con su gira europea y su sexto concierto en el anfiteatro berlinés de Waldbühne el 10 de junio de 2014 con veinte mil gargantas ocupando el recinto, entre ellos componentes de Aerosmith como Joe Perry y Steven Tyler y de Scorpions con Klaus Meine y Rudolf Schenker, en el primer concierto de Alemania de los dos programados en esta gira 14 On Fire.
The Rolling Stones sorprendieron al público alemán con una hermosa versión del "Waiting on a friend" y  la rebelde"Get off of my cloud", votada por todos los internautas como favorita para este concierto.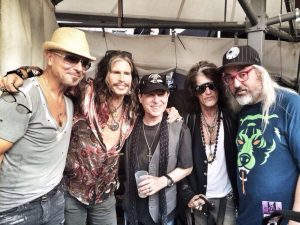 The Rollling Stones en Berlin 10 de junio 2014 set list:
1 – Start me Up
2 – You Got me Rocking
3 – It's Only Rock'n'Roll
4 – Tumbling Dice
5 – Waiting on a Friend
6 – Doom and Gloom
7 – Get Off of My Cloud (voto popular)
8 – Doom and Gloom
9 – Out of Control
10 – Honky Tonk Women
11 – You Got the Silver (Keith Richards)
12 – Can't Be Seen (Keith Richards)
13 – Midnight Rambler (Mick Taylor)
14 – Miss You
15 – Gimme Shelter
16 – Jumping Jack Flash
17 – Brown Sugar
Bises
18. You Can't Always Get what you want
19. Satisfaction (Mick Taylor)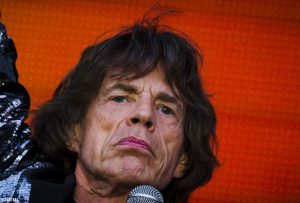 Fechas de la gira europea de The Rolling Stones
26 de mayo en Oslo (Noruega) en el Telenor Arena
29 de mayo en en Lisboa (Portugal) Rock in Rio Lisboa Parque Bela Vista
1 de junio en Zurich (Suiza) Letzigrund
4 de junio en Tel Aviv (Israel) en el Park Hayarkon.
7 de junio en Landgraaf (Holanda) en el Pinkpop 2014
10 de junio en Berlín (Alemania) en el Waldbuhne .
13 de junio en París (Francia) en el Stade de France
16 de junio en Viena (Austria) en el Ernst Happel Stadium
19 de junio en Dusseldorf (Alemania) en el Esprit Arena
22 de junio en Roma (Italia) en el Circo Massimo
25 de junio en  Madrid (España) en el Estadio Santiago Bernabéu
28 de junio en Werchter (Bélgica) en TW CLassic 2014
1 de junio en Estocolmo (Suecia) en el Tele2 Arena
3 de julio en Roskilde (Dinamarca). Último concierto de la gira europea.