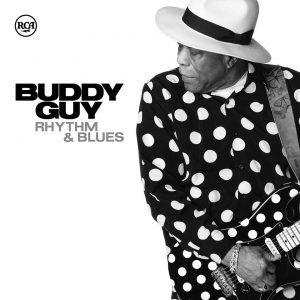 Buddy Guy regresa el próximo 30 de julio con un doble álbum de estudio titulado "Rhythm & Blues", en el que colaboran Keith Urban, Kid Rock, Beth Hart, Gary Clark Jr., y miembros de Aerosmith como Steven Tyler, Joe Perry y Brad Whitford, tras su magnífico disco "Living Proof" en el 2010, el nuevo disco está producido por Tom Hambridge.
"Best in Town" es el single adelanto del nuevo disco del Bluesman de Chicago Buddy Guy, disco vigésimo séptimi de estudio de su carrera discográfica, de uno de los grandes escultores de la guitarra en el Blues que influyera en la carrera por ejemplo de dos grandes nombres como Jimi Hendrix o The Rolling Stones, o electrificándolo para convertirlo en un género llamado Rock junto a otros compañeros como Muddy Waters  y muchos de sus compañeros en Chess Records, caracterizado también por su poderosa voz, capaz de romperte los dientes.
El sonido Buddy Guy, fue considerado en su momento como de muy ruidoso, enérgico y electrificado, gente como Eric Clapton, Jeff Beck, Stevie Ray Vaughan y los Rolling Stones devolvió a Buddy Guy al máximo estrellato.
Escucha "Rhythm & Blues", el nuevo disco de Buddy Guy.
Buddy Guy en el programa de Jimmy Fallon el pasado viernes 26 de julio con The Roots interpretando "Messin' with the Kid".
Buddy Guy en su reciente autobiografía titulada "When I Left Home", comenta que el "Blues esta en su peor momento comercial, ya nadie lo toca, ya no se escucha en ningún lado, a excepción de la radio satelital y el internet".
Buddy Guy ayudó al Blues a pulir el Rock, el Blues siempre fuecpadre del Rock N´Roll , ambos han trascendido en el tiempo y han cruzado fronteras, Guy y sus discos están ahí para recordárnoslo.