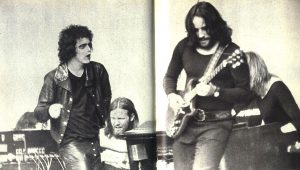 Dick Wagner, componente de The Frost,  e importante guitarrista y compositor norteamericano falleció ayer 30 de julio a la edad de 71 años de edad, al que se le conoce por ser el guitarrista de Riff del tercer disco de estudio de Lou Reed junto a Steve Hunter»Berlin» (1973) y de su directo «Rock and Roll Animal» (1974), arreglos de canciones para The Velvet Underground y en el que fue coautor de temas, producción y guitarrista de Alice Cooper en discos como s»Welcome To My Nightmare», «Goes To Hell», «Lace And Whiskey», «From The Inside» o»DaDa» y también en «School's Out», «Billion Dollar Babies», «Muscle Of Love», «Hey Stoopid», y el último disco de Cooper «Welcome 2 My Nightmare».
Dick Wagner publicaría sus memorias en el 2012 titulada «Not Only Women Bleed: Vignettes From The Heart Of A Rock Musician» de este genio de la composición y la guitarra al que se le preguntó en su día si querría acompañar a Jerry Lee Lewis o Roy Orbison de gira y participar en sus discos, para luego en la década de los setenta componer canciones y tocar la guitarra como músico de sesión para Kiss, Air Supply, Hall & Oates, o Peter Gabriel entre otros.
Ringo Starr, Nils Lofsgren, Rod Stewart, Meatloaf, Aerosmith Tina Turner, Etta James, Guns N' Roses, Lita Ford, Carmen McRae o Tori Amos son algunos de los más de cincuenta artistas con los que ha colaborado Dick Wagner de una manera u otra, guitarra o composición.
Descanse en paz Dick Wagner.
«Another good bye to another friend».