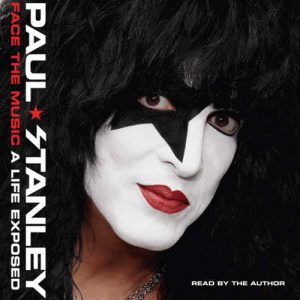 Paul Stanley cantante, guitarrista y miembro fundador de Kiss publicará su autobiografía titulada "Face The Music: A Life Exposed" (Encara la música: Una vida expuesta) el próximo 8 de abril.
Paul Stanley de 62 años, y su libro "Face the music: A life exposed" contiene 432 páginas, material fotográfico inédito  y algunos detalles del estilo de vida tan particular de uno de los cofundadores de la banda de Detroit.
Paul Stanley habla en su libro "Face the music: A life exposed"  de sus problemas con la audición, debido a una grave enfermedad/deformación, una Microtia de nivel 3 en su oreja derecha, su pasión por el teatro y la ópera, los Beatles, etc.
Escucha de la propia voz de Paul Stanley una parte del prólogo de su autobiografía "Face the music: A life exposed".
Paul Stanley también habla de su reciente acceso al Rock and Roll Hall Fame junto a los Kiss y del enfado con la organización por no aceptar en la ceremonia a Eric Singer y Tommy Thayer, actuales miembros de la banda el próximo 10 de abril.
Kiss con más de 80 discos vendidos, sus miembros originales a partir de 1973 fueron Paul Stanley, Gene Simmons, Peter Criss y Ace Frehley, los cuales están avisados por el Rock and Roll Hall of Fame, a pesar de que Criss dejó la banda en 1980 y Frehley en 1982. Hubo otros componente que se unieron a la banda durante la década de los 80, pero la formación actual incluye a Singer, quien se unió en 1992 y Thayer, quien lo hizo en 2003.