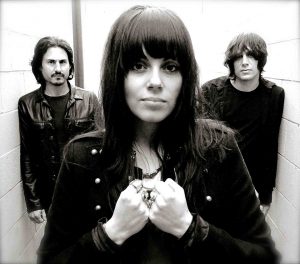 La suerte le comienza a sonreír a los norteamericanos The Last Internationale, liderados por Delila Paz, Edgey Pires y su nueva incorporación a la batería Brad Wilk (Black Sabbath, Rage Againts The Machine, Audioslave), tras los cambios realizados en su formación y dirección de la misma los han llevado a participar en importantes festivales europeos y norteamericanos, abriendo recientemente para Neil Young, y ahora anuncian que este próximo mes de noviembre lo harán para Robert Plant & The Sentational Space Shifters en el Reino Unido.
The Last Internationale publicarán su nuevo disco «We will Reign» el próximo 19 de agosto, álbum de diez canciones producidas por  Brendan O'Brien (Bruce Springsteen, Pearl Jam, Neil Young) y grabadas en los estudios Henson Studios en Los Angeles. Tom Morello (Rage Against the Machine, The Nightwatchman, Audioslave) es el productor ejecutivo del mismo, persona que recomendó a la banda la adquisición de su nuevo batería Brad Wilk el año pasado.
Escucha el nuevo disco de The Last Internationale «We Will Reign».
«We Will Reign» contiene nueve canciones originales por parte The Last Internationale menos la versión de The Shirelles «Baby It's You».
Listado de canciones del nuevo disco de The Last Internationale «We Will Reign»:
1. Life, Liberty, and the Pursuit of Indian Blood
2. We Will Reign
3. Battleground
4. Killing Fields
5. Wanted Man
6. Baby It's You
7. Devil's Dust
8. I'll Be Alright
9. Fire
10. 1968