Girls Guns and Glory publican su nuevo disco en directo titulado «A Tribute to Hank Williams – Live!» el 24 de febrero, álbum grabado durante dos noches en el The Lizard Lounge en Cambridge, Massachusetts el año pasado por parte de este cuarteto norteamericano liderado por Ward Hayden y que contó con las colaboraciones de Celia Woodsmith (Della Mae) y Miss Tess (Miss Tess & The Talkbacks).
Girls Guns and Glory, banda procedente de Boston combinan perfectamente ese sonido Honky Tonk, Rock & Roll y Country de vieja escuela, transformándose su cantante y compositor Ward Hayden en Dwight Yoakam y Roy Orbison, y rendidos claramente bajo el influjo de Hank Williams y John Prine.
Girls Guns & Glory publicaron el año pasado "Good Luck", quinto disco de estudio de diez canciones por parte de este magnífico cuarteto que cada fin de año rinde tributo en forma de concierto a Hank Williams, ésta vez plasmado en su primer álbum en directo con «A Tribute to Hank Williams – Live!» por parte de Ward Hayden (voz y guitarra),  Chris Hersch (guitarra eléctrica), Paul Dilley (contrabajo y bajo) y Josh Kiggans (batería).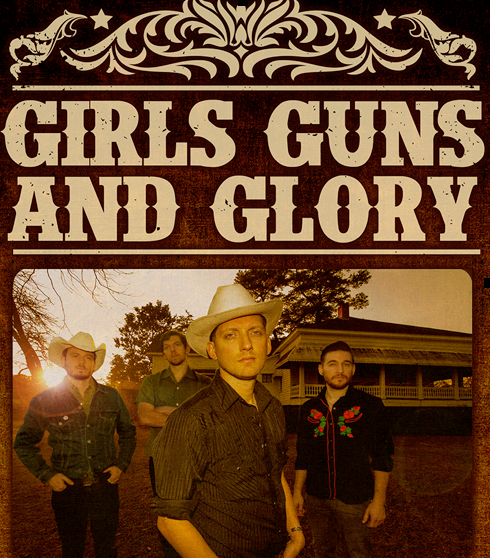 Girl Guns and Glory o GGG como también se les denomina, han sido galardonados con múltiples premios en tan solo nueve años de existencia, premios com el Independent Artist of the Year otorgadado por los premios de la música francesa French Country Music Awards, dos veces ganadores del  Roots Act of Year (Boston Phoenix Awards) y Americana Act of the Year (Boston Music Awards),  ambos por ser la mejor banda en directo y ganadores de un famoso concurso radiofónico de bandas para la emisora WBCN Rock 'n' Roll Rumble.
Girls Guns and Glory suelen terminar casi siempre con "You Win Again" de Hank Williams.