The Legendary Shack Shakers anucian gira española en el mes de noviembre para presentar su reciente disco publicado "The Southern Surreal", tras AgriDustrial (2010), celebrando el 20 aniversario de la formación.
The Legendary Shack Shakers se embarcan en una gira europea el próximo mes de noviembre tras dejar atrás actuaciones en Estados Unidos en una gira denominada The Southern Surreal Tour que pasará por países europeos como Inglaterra, Irlanda, Escocia, Bélgica, Holanda y Francia.
"The Southern Surreal", el octavo disco de The Legendary Shack Shakers cuenta con colaboraciones como las del actor y cantante Billy Bob Thornton y el guitarrista Duane Denison de The Jesus Lizard and Tomahawk, de esta sensacional banda de Country Blues y Rockabilly sureño liderada por el armonicista J.D. Wilkes, en otro tiempo armonicista de Reverend Horton Heat, Hank Williams III, Merle Haggard, John Carter Cash o Mike Patton y compaginando proyectos como el de The Dirt Daubers.
Rod Hamdallah, Mark Robertson, y Brett Whitacre junto a J.D. Wilkes conforman los Legendary Shack Shakers, banda originaria de una pequeña ciudad de Kentucky llamada Paducah, lugar repleto de lodazales , perteneciente al estado del Bluegrass, el tabaco y el buen Bourbon desde finales de los años noventa y que ha tenido en sus filas a músicos del calibre de Jerry Roe (Emmylou Harris, Rodney Crowell), Paul Simmons (Black Oak Arkansas) o el gran Joe Buck, uno de los máximos exponentes de la música de raíces alternativa norteamericana junto a Hank III,Scott H. Biram o los The Black Diamond Heavies del gran James Leg que acaba de publicar nuevo disco entre otros del violento y airado Country Punk Underground y Deep Blues, en el que a finales de los noventa con Hank Williams III se cimentó esa mezcla de géneros como el cowpunk y los músicos neo tradicionalistas de Country unieron su música con Blues.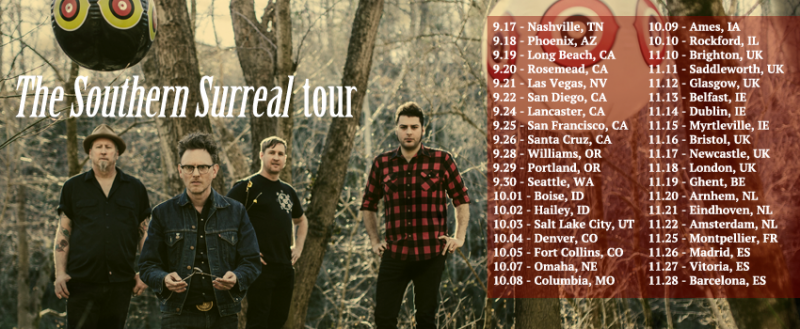 Fechas de la gira española de The Legendary Shack Shakers 2015:
Jueves 26 de noviembre en Madrid, Gruta 77
Viernes 27 de noviembre en Vitoria-Gasteiz, Helldorado
Sábado 28 de noviembre en Barcelona, Rocksound
Escucha el nuevo disco de The Legendary Shack Shakers,  "The Southern Surreal"