Una nueva foto de Robert Johnson ha sido encontrada y salido a la luz gracias a la verificación e iddentificación forense de Lois Gibson, reconocida por su labor a identificar con sus retratos robot miles de delincuentes y artistas en este caso segunda vez a Robert Johnson, foto encontrada en un viejo escritorio en un pueblo llamado Pensacola en Florida en 2013.
Dos años ha llevado la investigación de esta cuarta foto encontrada del Bluesman Robert Johnson en un primer momento por Donald Roark entre un montón de basura en las gavetas de ese viejo escritorio.
La nueva foto en la que aparece Robert Johnson tiene unas dimensiones de 7×5 centímetros y aparece el propio Johnson a la izquierda, su esposa Calletta Graft en 1931, la casera del músico Estella Coleman y su hijo Robert Lockwood.
Recordemos que la última foto encontrada de Robert Johnson en 2013 se encuentra en entredicho, ya que este mismo año 49 expertos afirman que no es auténtica por diferentes motivos, aunque la fundación oficial Robert Johnson, Robert Johnson Foundation no se haya pronunciado hasta la fecha sobre este hecho.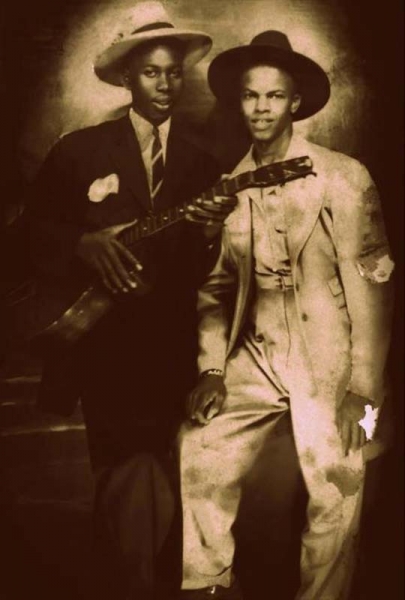 La primera fotografía que se encontró de Robert Johnson fue en los años 30, siendo la revista musical Rolling Stone quien la publicase por primera vez en 1986 con motivo del ingreso de Robert Johnson en el Rock and Roll Hall of Fame, en que se observa el retrato de Robert Johnson con un cigarro en la boca y sus largos dedos sobre el mástil de la guitarra.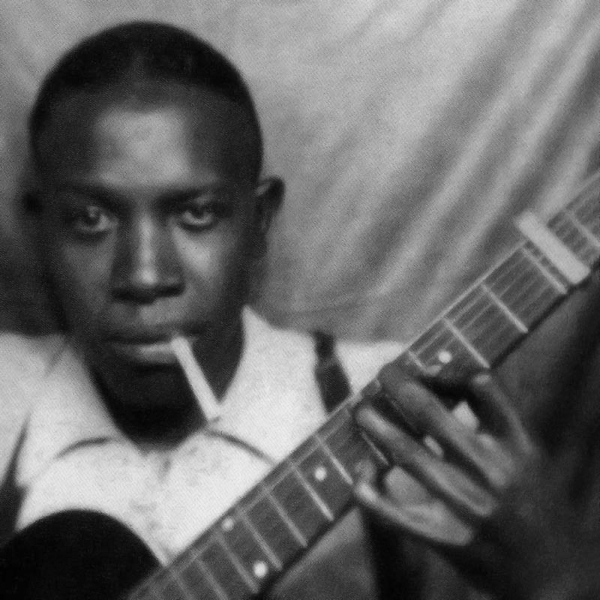 La segunda fotografía en la que aparece el rey del Blues del Delta Robert Johnson, es la que se encuentra sentado, con un traje y corbata a rayas, con guitarra en mano, foto realizada en un estudio de Memphis, Tennessee, propiedad de los hermanos Hooks, Hooks Brothers. Se cree que existe otra cuarta foto de Robert Johnson, vestido con el traje de soldado de la marina de su sobrino.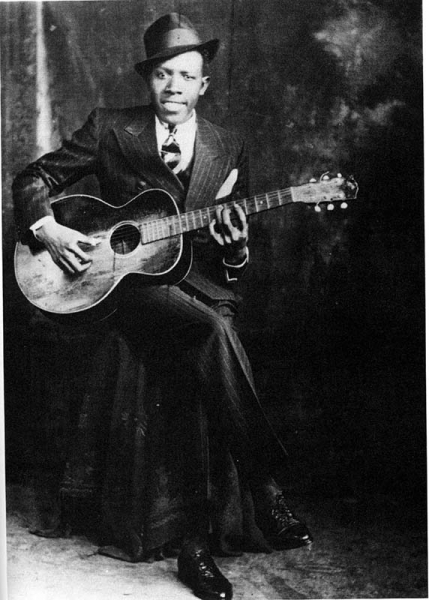 Robert Johnson se convertiría en leyenda a los 27 años de edad, en la que la historia cuenta como en el cruce de la autopista 61 con la 49 en Clarksdale, Mississippi, enterraba sus rodillas en el suelo para invocar al diablo y así poder ser el mejor guitarrista y cantante de Blues.
Robert Johnson grabó 29 canciones en cuarenta y dos tomas, realizándolas de dos veces, la primera en 1936 en un hotel de San Antonio y la segunda en 1937 en Dallas, ejemplos son "Sweet Home Chicago", "Kind Hearted Woman Blues", "I Believe I'll Dust My Broom", "Ramblin' on My Mind", "Come On in My Kitchen", "Me and the Devil Blues", "Love in Vain", "Walkin' Blues" o "Hellhound On My Trail" y que se prolonga en manos de diablos como Keith Richards, Eric Clapton, Muddy Waters, Guadalupe Plata, Elmore James, The Rolling Stones, John Mayall, BB King, Buddy Guy, Stevie Ray Vaughan, The Steepwater Band, Warren Haynes o Hubert Sumlin entre otros.
Everytime I'm walkin', down the streets, some pretty mama start breakin' down with me
Stop breakin' down, yes stop breakin' down!!