Chris Robinson Brotherhood anuncia gira española en marzo de 2016 con tres fechas confirmadas hasta el momento, el próximo 9 de marzo en la sala Zentral en Pamplona, 10 de marzo en la sala BUT de ‪Madrid y 11 de marzo en la sala Razzmatazz en Barcelona de esta súper formación californiana liderada por el Black Crowes  Chris Robinson (voz y guitarra), Neal Casal, genial compositor, músico de sesión y guitarrista de Ryan Adams, componente de Hard Working Americans junto a Todd Snider y autor de 10 álbumes en solitario, su último el fenomenal Sweeten the Distance (2011), Adam MacDougall teclista de The Black Crowes desde 2007 y músico de sesión para otras bandas, Mark Dutton bajista en los inicios de Marc Ford en Burning Tree, productor y diseñador y el batería Tony Leone que ha participado en discos y giras de Phil Lesh (Grateful Dead), Shooter Jennings, Bruce Springsteen, The Allman Bros Band o Lou Donaldson.
Chris Robinson Brotherhood publicaron su último y tercer álbum de estudio titulado «Phosphorescent Harvest» en 2014, tras sus anteriores «Big Moon Ritual» (2012) y «The Magic Door» (2012), discos claramente avinagrados, zeppelianos, psicodélicos, espaciales, stonianos y oníricos con todo ese regusto a Grateful Dead, Iron Butterfly y abrasador folk y rock sureño.
Neal Casal y Chris Robinson son los compositores de la gran mayoría de canciones de Chris Robinson Brotherhood, en la que no están pensando en complacer a quienes buscan la continuación de The Black Crowes, aunque las alusiones naturalmente están ahí, la banda está mucho más dirigida hacia el formato jam band de Grateful Dead.

Chris Robinson Brotherhood entre 2013 y este 2015 grabaron dos discos en directo Betty's S.F. Blends, Volume One y Betty's Blends Vol 2: Best From the West (2015) junto a la musicóloga y archivista de Grateful Dead Betty Cantor-Jackson para grabar canciones en directo con temas pertenecientes a la época dorada de Grateful Dead, es decir desde 1971 hasta 1980. Chris Robinson Brotherhood lanzaría un EP el año pasado Try Rock N' Roll para el Record Store Day.
Chris Robinson Brotherhood proyecto paralelo de Chris Robinson se formó en 2011 tras en breve descanso de The Black Crowes en 2011. Recordemos que Rich Robinson, hermano menos de Chris, guitarrista, compositor y cantante de The Black Crowes, comunicó el fin del grupo por sus diferencias con su hermano Chris Robinson después de casi 25 años de éxito en los escenarios el pasado mes de enero de este año.
Si quieres leer la crónica del concierto de The Black Crowes en el Azkena Rock Festival en 2013, clica en éste párrafo.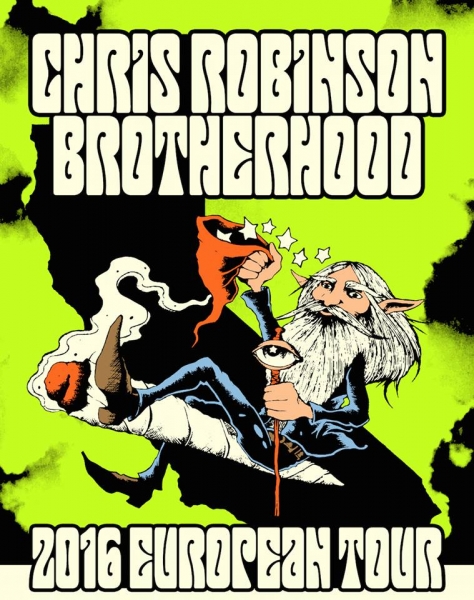 Chris Robinson Brotherhood vendrán a España tras comenzar su gira europea en febrero de 2016 visitando países como Suecia, Holanda, Italia, Suiza, Italia o Francia.
Fechas de la gira española de Chris Robinson Brotherhood en marzo de 2016:
9 de marzo en Pamplona, Zentral
10 de marzo e Madrid,sala BUT
11 de marzo en Barcelona, sala Razzmatazz