Derek Trucks y Warren Haynes dejarán The Allman Brothers Band al finalizar el año han confirmado en una nota de prensa en la que ambos han pertenecido a la banda de Rock sureño durante quince (Derek Trucks que pertenece a Tedeschi Trucks Band) y 25 años (Warren Haynes miembro de Gov't Mule) y que este año se celebra el 45 aniversario de su fundación.
Derek Trucks y Warren Haynes suceden en la banda a los genios e irrepetibles Duane Allman, Dickey Betts y Dan Toler.
Warren Haynes con treinta años de edad  comenzó su andadura con Allman Brothers Band en 1989 y realizando el décimo disco de los norteamericanos titulado «Seven Turns» (1990), el gran regreso de la banda tras 9 años de silencio tras su escarceos con David Allan Co, Phil Lesh, Dickey Betts Band y Grateful Dead. Warren Hayes ha grabado con Allman Brothers  siete discos, tres de ellos grabadosn en directo y el último disco de estudio de la banda hasta el momento «Hittin' the Note», el decimosegundo de Allman Brothers Band, sin la firma por primera vez de Dickey Betts en el 2003.

Derek Trucks, marido de Susan Tedeschi, sobrino de uno de los baterías de Allman Brothers y miembro fundador Butch Trucks con 20 años se enroló con la banda grabando su primer disco en directo en el año 2000 «Peakin' at the Beacon» y participando en sus dos siguientes discos hasta el 2004 con otro directo «One Way Out».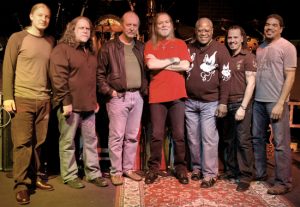 Nota de prensa de Derek Trucks y Warren Haynes.
«For 25 years and 15 years respectively, we've had the honor and pleasure of playing, living, learning, and traveling with the Allman Brothers Band, one of the truly legendary rock and roll bands. We will be forever grateful for the opportunity and the experience, and for the love, enthusiasm, and support of the incredible fans. We are both preparing to dig even deeper into our various creative and musical endeavors and, as a result, 2014 will be our final year as part of the band. We are looking forward to seeing our loyal ABB fans at the Fox Theatre in Atlanta this Friday night January 10th and in March at the Beacon Theater in New York City as we celebrate the 45th Anniversary of the band». Warren Haynes & Derek Trucks