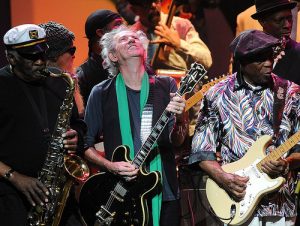 Damos fe que la noche vivida el pasado viernes 24 de febrero en el Apollo Theater de Nueva York, en el concierto benéfico a Hubert Sumlin, "Howlin' for Hubert", organizado por la Jazz Foundation of America, fue de esas noches que tocan la fibra a cualquier amante de la música y particularmente a los apasionados del Blues.
En un mismo escenario, Keith Richards, Eric Clapton, Buddy Guy, Gary Clark Jr., Billy Gibbons, Warren Haynes, James Cotton, Keb Mo, Dereck Trucks, Susan Tedeschi, Elvis Costello, Robert Randolph, Jimmy Vaughan, Jody Williams, Shemekia Copeland, Big Head Todd, Kenny Wayne Shepherd, Jimmy Vivino, David Johansen, Kim Wilson, Ronnie Baker Brooks, Lonnie Brooks, Eddie Shaw, Henry Gray y el niño prodigio Quinn Sullivan.
En un artículo de Dirty Rock previo al evento, os contamos quién era Hubert Slim, ese mago de la guitarra. Hubert Sumlin, guitarrista del sonido característico de casi todas las canciones de Howlin' Wolf, y durante un breve periodo de tiempo de Muddy Waters, convierte el Blues en aullidos eléctricos, y su serpiente de compases retuerce nuestra garganta haciendo añicos los sesos. Para leerlo clica aquí.
Ésta ha sido la aparición más larga de Keith Richards encima de un escenario, tras cinco años sin salir a la carretera con The Rolling Stones. Apareció casi al final de un homenaje a uno de los más grandes del Blues: Hubert Sumlin.
(algunos vídeos cedidos por DreamTimeNYC)
Eric Clapton culminaba su versión de Howlin' Wolf,  "44 Blues" junto a Gary Clark Jr y Jody Williams, cuando, sin presentación alguna, pisaba el escenario Keith Richards con su sombrero característico, "Es increíble estar de vuelta, y no hay nada mejor que ésto" ("It's good to be back, it doesn't get any better than this"), el Apollo Theatre de Nueva York se caía, su voz y su cohorte, Eric Clapton y Gary Clark Jr., levantaron a todos de sus butacas con "Goin' Down Slow".
Al terminar esa brutal canción de Howlin' Wolf, se quitó su sombrero, se sentó, e interpretó "Little Red Rooster", otro temazo de Willie Dixon, disparando fuego con una guitarra de doce cuerdas y desgranando slide a borbotones.
Al terminar agarró su Gibson negra y junto a él James Cotton, otro de los músicos más grandes interpretando su armónica. Eric Clapton seguía a su lado, "Spoonful", otra joya del blues, original de Charley Patton, pero arreglada de nuevo por Willie Dixon.
Habían sido casi 20 minutos de música, y sin duda el momento de la noche, Keith Richards y Eric Clapton, dos de los grandes entregándolo todo por uno de sus ídolos: el genio Slim.
La noche comenzaba con un vídeo de presentación que intercalaba planos y entrevistas al bluesman. En una de las entrevistas, Sumlin afirmó que fue Howlin' Wolf quien lo animó a que tocase la guitarra sin púa, de ahí deriva su sonido característico. Al terminar el vídeo, dos grandes fotografías al fondo del escenario y su guitarra Fender Stratocaster en el centro del escenario.
El presentador del evento fue el actor Jeffrey Wright, que daba paso a los componentes de la banda: Steve Jordan, batería, el amigo y gran compañero de fatigas de Keith Richards en The X-Pensive Winos; Ivan Neville, otro de los Winos, al piano; Jim Keltner, batería, otro de los grandes que se unía a la fiesta; Levon Helm no pudo asistir; Willie Weeks, Billy Flynn, Larrt Taylor, Barrelhouse Chuck Goering, Kim Wilson, Eddie Taylor Jr., Danny Kootch Kortchmar y Kim Wilson. Una banda de acompañamiento de auténtico lujo y escándalo.
El concierto estuvo dividido en dos partes y tuvo una duración de más de cuatro horas. Al final, todos los músicos se subieron al escenario para interpretar «Wang Dang Doodle» y la bomba de relojería Wolf «Smokestack Lightning»
Las 1.500 personas que llenaban el Apollo Theatre de Nueva York, y todo el mundo incluido nosotros Dirty Rock, hemos podido escuchar todo el concierto: que hable el Blues a través de la lista de vídeos del Hubert Sumlin Tribute Concert 24-feb-2012, que hemos elaborado.
En este 2012 se cumplieron 80 años del nacimiento de Hubert Slim , dos días antes, en la Casa Blanca se rendía homenaje "al género" más grande: el Blues.
Dos días antes, el presidente Obama junto a Mick Jagger y otros músicos que estuvieron en el homenaje a Hubert, celebraron y honraron al Blues y Hubert Sumlin, puedes leer ese  artículo aquí.
Vuelvo a repetir exactamente lo mismo, les invito a que escuchen a uno de los guitarristas más influyentes del género, su estilo a la guitarra es único, oírlo es incendiariamente reconocible, potente, latigazos de guitarra gruesa y vigorosa, que te recuerda a esos caminos rurales del sureste norteamericano, músicos aullando, tocando la armónica y su guitarra, mientras el tren a Chicago silba su salida en una estación vieja y derruida.
¿Qué hombre puede romperte el corazón tocando su guitarra?
(What kind of man can make or break your heart with his guitar?)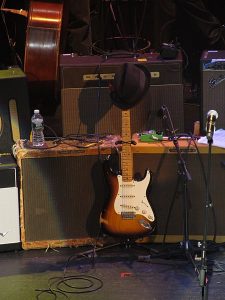 Primer Setlist de canciones:
Key To The Highway (Eric Clapton y James Cotton)
Roll Where You Want Hubert Sumlin (Big Head Todd)
Six Strings Down (Jimmy Vaughan)
Lucky You (Jody Williams y Kenny Wayne Shepherd)
Evil (Jody Williams, Kenny Wayne Shepherd, Jimmy Vivino, David Johansen y Kim Wilson)
Born In Chicago – Sweet Home Chicago (Ronnie Baker Brooks y Lonnie Brooks)
Sittin' On top Of The World (Eddy Shaw y Henry Gray)
Hidden Charms (Elvis Costello, Eddy shaw y Henry Gray)
You'll Be Mine (Warren Haynes)
I Asked For Water (Warren Haynes y Billy Gibbons)
Mister Highway Man (Warren Haynes y Billy Gibbons)
Segundo Setlist de canciones:
Who's Been Talking (Kim Wilson)
Howlin' For My Baby (Keb' Mo' y Eddy Shaw)
Commit a Crime (Jimmy Vaughan y Keb Mo)
Meet Me At the Bottom (Derek Trucks yJimmy Vaughan)
How Many More Years (Susan Tedeschi)
Three Hundred Pounds Of Joy (Susan Tedeschi)
Who Do You Love (Jody Williams)
Goin' Down Slow (Buddy Guy)
Hocchie Koochie Man (Buddy Guy y Robert Randolph)
Beggin' You Please(Buddy Guy y Shemekia Copeland)
Catfish Blues (Gary Clark Jr.)
Shake For Me (Eric Clapton y Gary Clark Jr.)
Little Baby (Eric Clapton y Gary Clark Jr.)
44 Blues (Eric Clapton,Gary Clark Jr. y Jody Williams)
Goin' Down Slow (Eric Clapton, Keith Richards y Gary Clark Jr.)
Little Red Rooster (Keith Richards y James Cotton)
Spoonful (with Keith Richards, Eric Clapton y James Cotton)
Wang Dang Doodle (Todos los músicos)
Smokestack Lightning (Todos los músicos)
Banda:
Willie Weeks (Bajo)
Larry The Mole Taylor (Contrabajo)
Billy Flynn (Guitarra)
Eddie Taylor Jr. (Guitarra)
Danny Kootch Kortchmar (Guitarra)
Barrelhouse Chuck Goering (Piano de cola)
Ivan neville (Órgano y piano eléctrico)
Jimmy Lee Keltner (Batería)
Steve Jordan (Director Musical y batería)
Kim Wilson (Harpa y coros)