Lee Fields llegaba a la sala Apolo en Barcelona el pasado 13 de octubre junto a su explosiva banda The Expressions dentro de una exitosa gira española a tenor de los llenazos en cada sala que actuaba. Barcelona no iba a ser menos, y aunque la lluvia reinante parecía ser un obstáculo, la sala se acabó llenado.
El de Carolina del Norte ofreció una apabullante demostración de calidad, oficio y muchísima empatía con el público en Barcelona este proletario del soul. La profundidad e infalibilidad de la voz de Lee Fields, su saber hacer sobre las tablas, sus bailes y una banda detrás sensacional, fueron un regalo, obsequio que convirtió aquel lluvioso jueves en una de las veladas del año en Barcelona.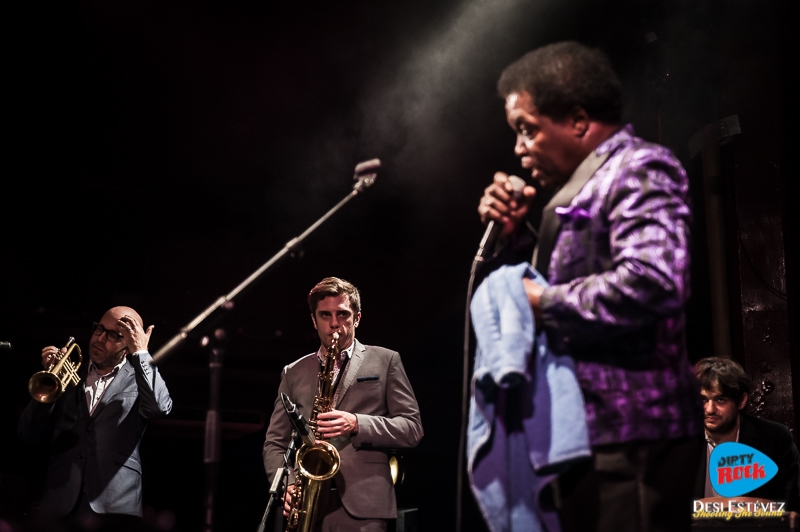 Considerados y sudorosos Lee Fields & The Expressions transmitieron aquella noche en Barcelona todo ese ejercicio musical de gospel y soul sureño presentando buena parte de su trilogía como "Emma Jean", publicado hace dos años, My World (2009) y Faithful Man (2012), se atisbaron durante el concierto sonidos Country, Blues y Rock en sus canciones.
Sobre aquellas tablas en Barcelona, Lee Fields & The Expressions se sentieron en casa y jugaron a incorporar en la canción los gritos y aullidos de un público encendido, bailando, gritando, y en éxtasis. El Apolo en Barcelona tuvo y tendría muchas más noches de gloria, aunque pocas noches serían como aquella, como cuando James Brown reclamó su trono incendiando el Apollo en el Harlem neoyorquino hace más de 50 años.
Fotos de Desi Estévez y texto por Suzanne Candle.