El quinteto vizcaíno The Wizards publican nuevo disco "Full Moon in Scorpio" el próximo 16 de mayo, álbum de 8 canciones producido por el actual bajista de The Dictators, productor y propietario del sello Drug Front Records Dean Rispler (Murphy's Law, Crown of Thornz, The Voluptuous Horror of Karen Black, Richard Lloyd (Television).
Banda formada en 2013 y compuesta en la actualidad por Ian Mason (voz), Felipe Sobrado (guitarra), Jorge González(guitarra), Eneko García (bajo) y David Aranda (batería), The Wizards, banda que difícilmente te va a decepcionar. Guitarras densas y riffs pesados siguiendo los cánones de las grandes bandas de Hard Rock y que saben con astucia saben crearse todo un oscuro trasunto en su álbum más sólido hasta la fecha.
Escucha el nuevo disco de The Wizards "Full Moon in Scorpio"
The Wizards se mueven sobre los fuegos mientras aullan a la Luna de Escorpio. Todo en nombre del Rock and Roll. Todo en nombre de Lucifer sobre elementos como el rock duro y pesado, fluctuando con el metal parapsicológico y levitante, que al final quedan rejuntados en una misma envolvente, cuidada en grado sumo y mimada que hará disfrutar de lo lindo a todos los aficionados del rock pesado y metalero.
El segundo larga duración de The Wizards fue grabado en los estudios Gaua Studio por Asier Zubelzu y masterizado por Jesse Cannon (The Cure, The Misfits, Dillinger Escape Plan) en los Cannon Found Soundstation en Union City, New Jersey, disco en los que bilbaínos debutan para el sello nacional Fighter Records, la nueva división del sello Xtreem Music dedicado al heavy metal y hard rock.
The Wizards además contaron con la colaboración en uno de los nuevos temas del disco de Ross Friedman, conocido como Ross the Boos, actual guitarrista de The Dictators y ex guitarrista y co fundador de Manowar y de The Brain Surgeons o Shaking Streets entre otras formaciones.
La portada es obra de Branca Studio y el primer videoclip del primer single de "Full Moon in Scorpio", que ha sido dirigido por Gaizka Izagirre, realizador de vídeos para Zea Mays o Willis Drummon, entre otros y que fue grabado en la sala de plenos del ayuntamiento de Berriz el pasado mes de septiembre.
La presentación oficial del nuevo disco de The Wizards "Full Moon In Scorpio", será el viernes 2 de junio en el Kafe Antzokia a partir de las 22:00 horas, en el que estarán acompañados por los grupos Tötenwolf y Saturna. El precio de la entrada es de 8€.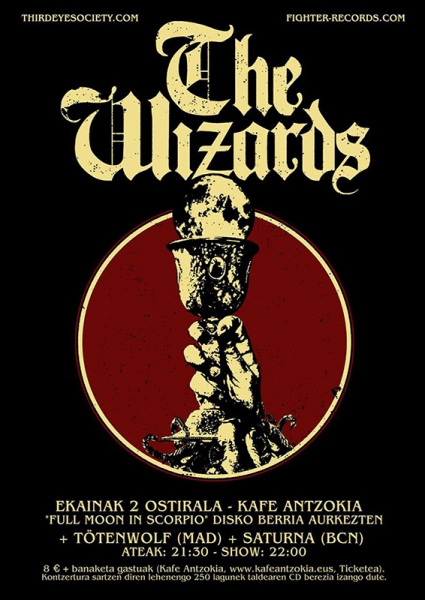 Foto de portada del artículo Koldo Orue.
Listado de canciones del nuevo disco de The Wizards
1. Avidya
2. Calliope (Cosmic Revelations)
3. Odinist
4. Stardust
5. Leaving the Past Behind
6. Halftones to Eternity
7. Who are You, Mr. Gurdjieff?
8. When We Were Gods