Posiblemente pudo haber sido de cualquier otra manera, o quizás no, teniendo en cuenta la fiabilidad previa que se le suponía a la nueva (y vieja a la vez) formación con la presencia de Slash y Duff Mckagan. Lo cierto es que Guns n' Roses ofrecieron en la noche del pasado martes un buen concierto de rock en el nuevo estadio de San Mamés en Bilbao. Sobrio, concreto, sin alardes ni desmanes… un espectáculo que en diversos momentos tuvo que batirse con las deficiencias técnicas del sonido y que, sin embargo, logró equipararse durante muchos momentos a los mejores Guns n' Roses de décadas pasadas.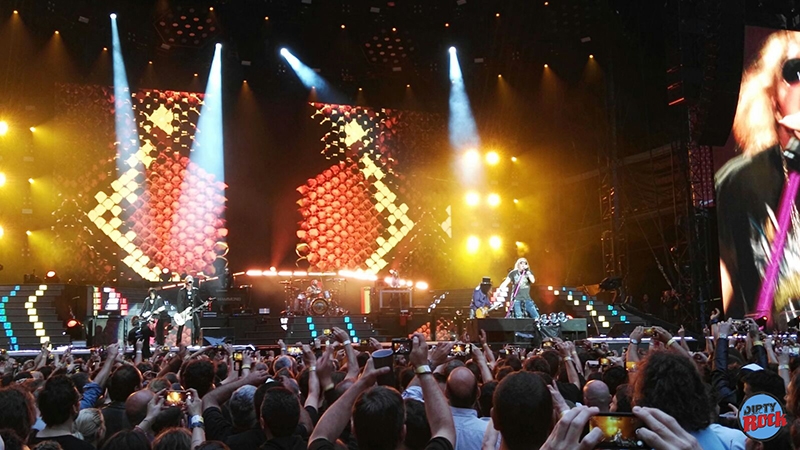 El concierto empezó con puntualidad (otra noticia que no debería serlo pero que lo es debido a los desajustes recientes de Axl Rose) y lo hizo recordando a sus actuaciones de la gran gira de los discos 'Use your illusion', interpretando las canciones 'It's so easy' y 'Mr. Brownstone'. Ya entonces, y atendiendo también a las noticias que llegaban de sus actuaciones recientes, comenzaron a disiparse las dudas: profesionalidad conjugada con el talento de siempre.
Lo de San Mamés (que sólo registró 3/4 de entrada) fue una acción de justicia de la banda con sus seguidores y para consigo misma. Después de tantos años de gloria, de tantos millones de discos vendidos, Guns n' Roses no podía quedarse retratado como el circo que fue durante el liderazgo en solitario de Axl en años anteriores. Y así anduvieron durante casi tres horas, con solvencia (salvando las canciones, como 'You could be mine', en la que la voz de Axl quedaba retratada), con profesionalidad y haciendo del rock and roll su única carta sobre la mesa. Un grupo hermético, sin apenas comunicación con el público y mínima interacción entre los componentes de la banda. Música y nada más que música.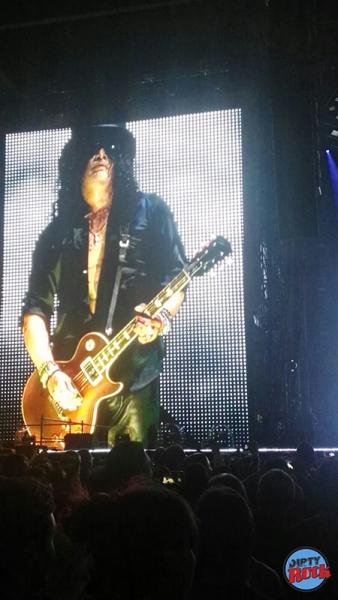 Así sonaron todas las canciones con las que arman un espectáculo redondo: 'Dont Cry', 'Paradise City', 'Estranged', 'Welcome to the Jungle', 'Sweet Child O' Mine', 'Attitude'… más de 25 piezas en las que también hubo espacio para temas no tan aclamados como 'Coma' o 'My Michelle'. Muchos echaron en falta temas como 'So fine' o 'Yesterday'.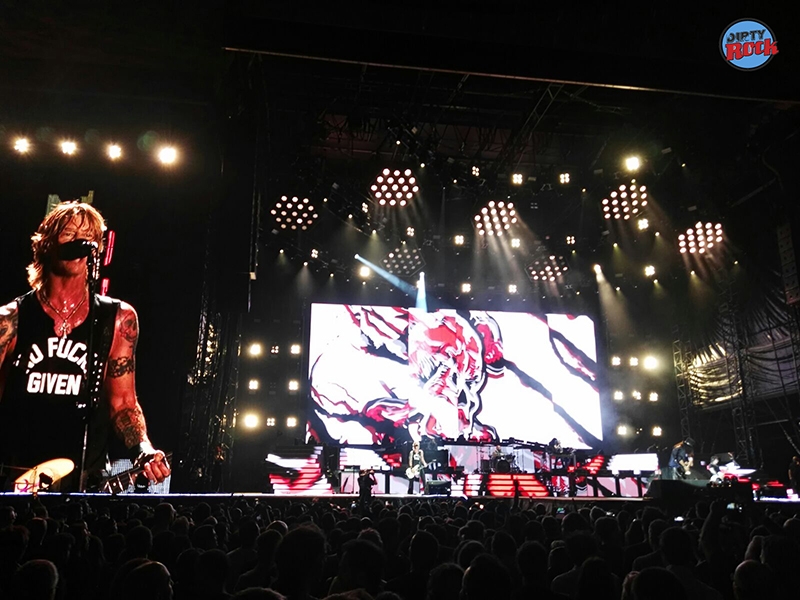 Menos enérgicos, pero certeros, desde la sobriedad y contención de Duff al bajo pasando por los solos y los riff legendarios de Slash. Ha podido ser de cualquier manera, pero en este nuevo tour internacional han decidido ser ellos: una gran banda de rock. Y a partir de ahí, sobre gustos, colores.
Texto, fotos y vídeos: Erick Canino.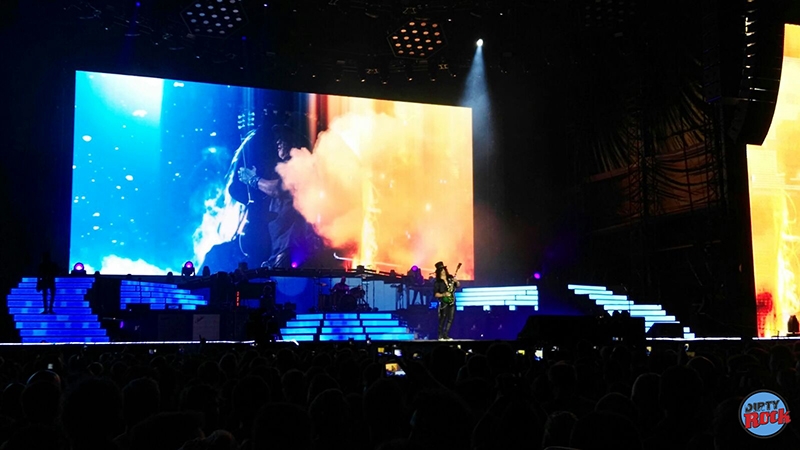 Setlist de Guns N' Roses en Bilbao, San Mamés 30 mayo 2017:
1.It's So Easy
2.Mr. Brownstone
3.Chinese Democracy
4.Welcome to the Jungle
5.Double Talkin' Jive
6.Better
7.Estranged
8.Live and Let Die (versión Wings)
9.Rocket Queen
10.You Could Be Mine
11.Attitude (versión Misfits)
12.This I Love
13.Civil War
14.Black Hole Sun
15.Coma
16.Speak Softly Love (Love Theme de The Godfather)
17.Sweet Child O' Mine
18.My Michelle
19.Wish You Were Here (versión Pink Floyd)
20.November Rain (Layla outro)
21.Knockin' on Heaven's Door (versión Bob Dylan)
22.Nightrain
—-
Bises
—
23.Sorry
24.Don't Cry (con Melissa de los Allman Brothers de intro)
25.The Seeker (versión The Who)
26.Paradise City