La banda californiana Social Distortion publicará nuevo disco en 2020. Nueve años después de "Hard Times and Nursery Rhymes". Será su octavo material discográfico.
Actualmente se encuentran celebrando el 40 aniversario de su formación junto a Joan Jett, The Distillers, Frank Turner, The Kills, Eagles lo Death Metal, Black Lips, Bully, etc.
Mike Ness, ha confirmado que finalmente han terminado con los trabajos de pre producción de su próximo material de estudio, del cual ya han compuesto más de 20 canciones, aunque solo 12 quedarán en el corte final. Además, tienen agendado comenzar a grabar en enero del 2020.
Social Distortion tocarán el viernes 19 de junio de 2020 en el Azkena Rock Festival alrededor de las doce de la noche.
Social D, banda de punk-rock fundada en 1978, en Orange County, California, está formada actualmente por Mike Ness (cantante y guitarra solista), Jonny Wickersham (guitarra rítmica), Brent Harding (bajo) y David Hidalgo, Jr. (batería). La banda se separó brevemente en 1985, debido a problemas de su líder Ness con las drogas.
Un año después volvieron a los escenarios hasta permanecer activos hasta el día de hoy, incluso tras la muerte del guitarrista Dennis Danell, que falleció en el año 2000 a causa de una aneurisma cerebral. Su música estaba inspirada en un principio por las bandas pioneras del punk rock de la época, como Sex Pistols y Ramones, y clásicos del rock como The Rolling Stones y Johnny Cash.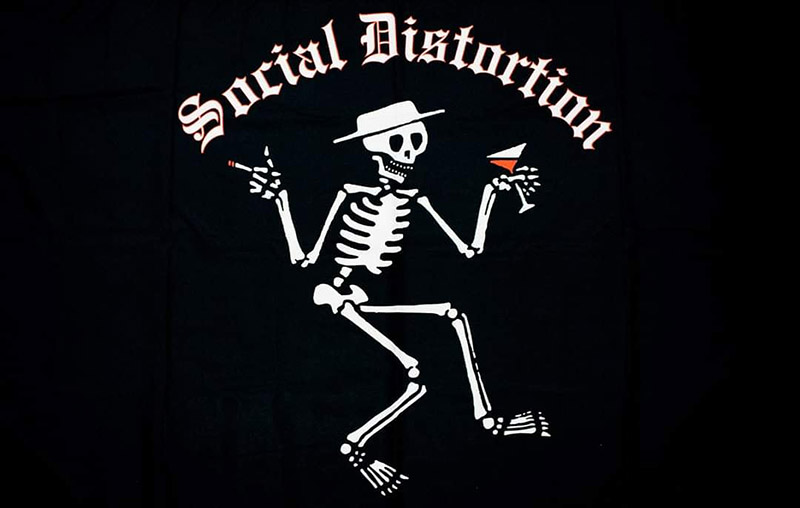 Queda refutada la posible incoherencia entre la naturaleza contestataria, politizada y consciente de clase de Social Distortion y Orange County, barrio de origen de la banda que, desde 1978, pone en el mismo sistema musical al blues, el country y el punk más sanguíneo: música de los trabajadores. Las primeras músicas americanas fueron de clase obrera como fueron el folk, el country, y el blues. Música siempre muy honesta y relacionada con el punk, que tiene el mismo origen.
Infelices a finales de los años 70 con los sonidos de Pink Floyd y muchas bandas horribles de rock progresivo, cuando en los años fundaciones del punk californiano, compartían escena junto con The Adolescents y Middle Class, el punk era nuestra pequeña revolución, su expresión de insatisfacción por el statu quo. Y la intención era lograr que la gente mantuviese conciencia propia. Para eso se valían de letras como las de los Clash y de un sonido como el de los Ramones.
Los punkrockers (con su formación otra vez renovada), sin dejar de lado las características que los definen,en "Hard Times and Nursery Rhymes" picaban en el blues, el country, el rock and roll más clásico, y se tiraban alguna que otra baladita sentimentaloide como "Writing On The Wall" y la rollinstonesca "California (Hustle and Flow)"