Los suecos Blues Pills confirman que el próximo el 21 de agosto se publicará su tercer trabajo "Holy Moly!". El disco fue producido y grabado en el propio estudio analógico de Blues Pills, que construyeron en Närke, Suecia. En el antiguo edificio de la fábrica donde se encuentra el estudio, Zack, Elin y André pasaron casi un año grabando y escribiendo canciones.
Escucha los tres primeros adelantos del nuevo disco de Blues Pills:
El álbum fue grabado por el guitarrista de Blues Pills, Zack, auto producido por la banda, mezclado por Andrew Scheps, ganador de un Grammy (Red Hot Chili Peppers, Iggy Pop, Adele, Black Sabbath, Rival Sons, Hozier) y contó con las colaboraciones de Nicolaus Arson y Johan Gustafsson de The Hives, así como Martin Jacobsson de Rovljud Sound.
Tras su anterior disco en directo "Lady in Gold (Live in Paris) (2017), "Lady in Gold" (2016) y su debut "Blues Pills" en 2014, este fantástico cuarteto sueco de blues , hard rock y los sonidos psicodélicos de los años setenta que más posiblemente se acerque a la Janis Joplin de nuestro tiempo.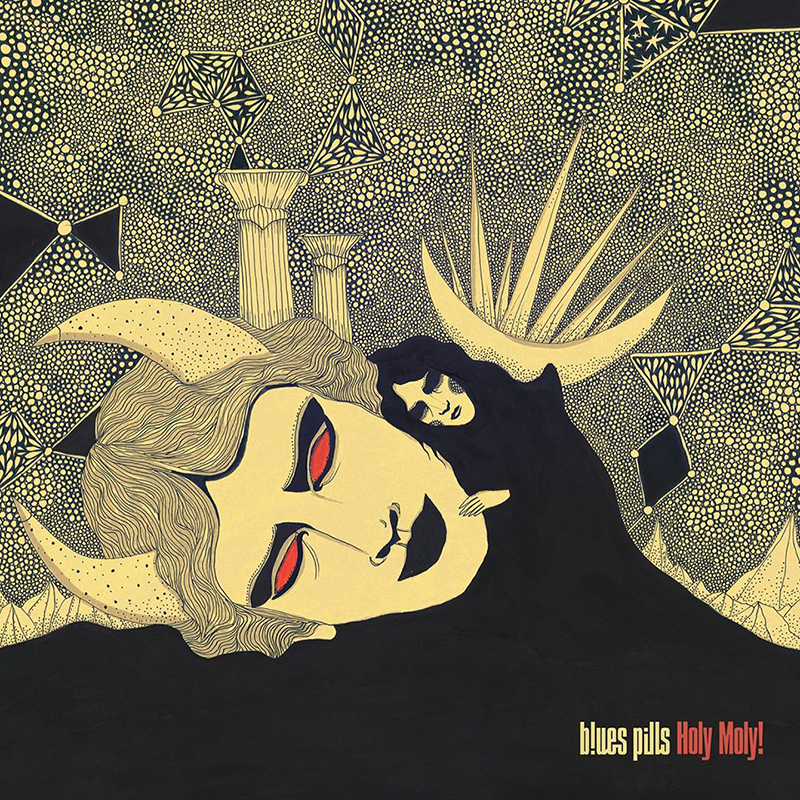 Blues Pills siempre cuidan la portada de sus discos, y para esta ocasión ha contado con la ilustradora ucraniana Daria Hlazatova, en sus anteriores trabajos contaron con la legendaria artista holandesa Marijke Koger-Dunham, famosa por diseñar estupendos carteles psicodélicos de conciertos como el de Bob Dylan en el Royal Albert Hall en 1966 o portadas de discos de The Hollies, Beatles o Cream entre otros.
Blues Pills comenzaron su andadura musical hace muy poco, en el 2011, en el que los norteamericanos Zack Anderson y Cory Berry tras dejar Radio Moscow fichan al francés Dorian Sorriaux y a la sueca Elin Larsson. El nombre del grupo proviene de un blog que habla de la música underground de los sesenta y setenta. El batería sueco André Kvarnström, perteneciente también a Truckfighters, sustituyó a Cory Berry, miembro fundador de la banda, poco después del lanzamiento del álbum Blues Pills.