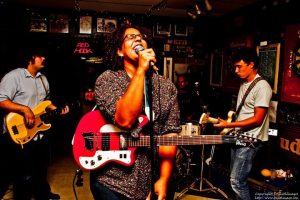 Alabama Shakes continúan con su triunfal gira por Europa presentando su espléndido álbum debut "Boys & Girls", ellos son un grupo de Soul Clásico muy reciente: no hace un año que comenzaron a actuar por los alrededores de Athens, Alabama, desde donde se dieron a conocer al mundo entero.
Acaban de hacer una parada en el mítico programa de telvisión de la BBC inglesa, Later…with Jools Holland el pasado martes 24 de abril y dando ya el golpe de mano definitivo con dos maravillosas canciones "Be Mine" y "Hold On".
Esa noche compartieron escenario con la maravillosa Norah Jones, Jack White y Grimes, noqueando y obnubilando a los allí presentes, televidentes y sobre todo a Jack White y Grimes.
El programa comenzó sus emisiones en 1992, distinguiéndose siempre por tener a los intérpretes más destacados del momento,y uno de los programas musicales más longevos de la televisión británica vuelve en su temporada número 39 sin perder las fuerzas y manteniéndose fiel a su habitual mezcla de estilos musicales, así como de artistas consagrados y nuevos talentos, presentado por el pianista y líder de la banda Squeeze, Jools Holland.
Alabama Shakes interpretando "Be Mine" de su espectacular disco "Boys & Girls"
Alabama Shakes cantando "Hold On" en el Later…with Jools Holland el pasado 24 de abril.
Alabama Shakes son Brittany Howard (voz y guitarra), Heath Fogg (guitarra), Zac Cockrell (bajo), Steve Johnson (batería) y Ben Tanner a los teclados. El Soul Clásico no ha muerto ni se repite a sí mismo ni está agotado, todo lo contrario. The Alabama Shakes vienen apadrinados por Patterson Hood, uno de los genios de Drive by Truckers, otra banda favorita de Dirty Rock, para la que fueron teloneros en la gira del 2011. (No dejes de leer la crónica de Drive by Truckers de su última actuación en Madrid el 24 de noviembre de 2010).
Su primer concierto confirmado en España es el 18 de julio en Madrid, Sala El Sol, estaremos allí para contártelo.
Su segundo concierto confirmado en España, Jazzaldia, Festival de Jazz de San Sebastian, Donostia el 19 de julio.
Alabama Shakes fueron entrevistados por la emisora de radio en Chicago la WBEZ 91.5, el pasado 19 de abril, aquí tenéis algunas actuaciones y entrevista.
Alabama Shakes "I Found You".
Alabama Shakes "You Ain't Alone"
Alabama Shakes proceden de Athens, Alabama, y comenzaron a hacer actuaciones por la región a mediados de 2011. La vida de Brittany Howard, de veinte y pocos años, cantante y guitarrista del grupo, está cambiando rápidamente desde que los Shakes fueran aclamados por el influyente blog desde Los Angeles Aquarium Drunkard y a raíz de ello, Patterson Hood se pusiera en contacto con ellos.
Dirty Rock te ofreció  hace varias semanas un análisis pormenorizado de su nuevo disco "Boys & Girls", incluyendo muchísimos datos de la banda, no dejes de leerlo.
Ya el pasado 12 de abril se pasaron por el Late Show with David Letterman y asombraron al legendario presentador norteamericano en Nueva York, aquí tenéis a Alabama Shakes interpretando "Hold On".
Norah Jones el pasado martes 24 de abril en Londres junto a Alabama Shakes en Later… with Jools Holland de la BBC con "Happy Pils".
Two killer live performances by the Alabama Shakes from April 24th on the BBC's "Later with Jools Holland". Rounding out the show on BBC April 24th, Later… with Jool Holland, featured a pair of performances from Alabama Shakes. With the band's debut hitting number 3 in the UK album chart and taking the top spot in the first ever Record Store Chart, Alabama Shakes performed their single "Hold On" and album track "Be Mine". The former is up for enjoyment at the top while "Be Mine" is available after the jump. These guys hit the mark every time.
They are gonna be touring all over the place. Alabama Shakes a must see!!