La 27ª edición de la ceremonia del Rock and Roll Hall of Fame celebrada el 14 de abril de 2012 en Cleveland, reclutó como miembros de la organización a The Small Faces/The Faces, Freddie King (en la categoría de artista influyente), Laura Nyro, Donovan, Red Hot Chili Peppers, The Beastie Boys, Guns N' Roses, y seis grupos de acompañamiento, The Midnighters, The Blue Caps, The Famous Flames, The Crickets, The Comets y The Miracles.
El premio Ahmet Ertegun para Don Kirshner, autor de canciones de los Monkees y Archies, y finalmente, los premios a la Excelencia musical fueron para Cosimo Matassa, fundador de J&M Recording Studios en Nueva Orleans; Tom Dowd, científico musical e ingeniero de sonido; y Glyn Johns, productor e ingeniero musical de los primeros álbumes de los The Rolling Stones, Traffic o Procol Harum.
El espectáculo comenzó a las 8:00 ET (01:00 am, hora canaria) ante más de siete mil cuatrocientos invitados a la gran fiesta del Rock, con una duración de unas cinco horas y media.
La actuación de Green Day habría fuego con "Letterbomb" una ceremonia que venía marcada por la negativa del ex cantante de Guns N' Roses, Axl Rose, a participar en el espectáculo, y las ausencias de Rod Stewart, integrante de The Faces debido a una gripe, y Adam Yauch, cantante de The Beastie Boys, también por una larga enfermedad, e Izzy Stradlin (guitarrista y cantante de Guns N' Roses).
A continuación, el presidente de la academia del Rock and Roll Hall of Fame ofrecía el discurso protocolario de la organización hasta que los ZZ Top Billy Gibbons y Dusty Hill, se acercaron al escenario para presentar el primer miembro de la academia en sociedad, el maravilloso Bluesman Freddie King, fallecido en 1976.
Wanda King, hija del malogrado Bluesman recibía el premio a toda una carrera, ante uno de los mejores discursos de la noche, contando la anécdota de la primera vez que vio a su padre actuar con 6 años de edad.
El bluesman Derek Truck, y el gran Joe Bonamassa se unían a los ZZ Top para interpretar dos clásicos de King sobre el escenario. "Long live the blues and long live Freddie King» («larga vida al Blues y a Freddie King»), gritaba Dusty Hill (ZZ Top).
El gran John Mellencamp, era el encaragado de presentar otro de los más grandes, el trovador escocés Donovan, en el que llegó a afirmar que el cantautor influyó muchísimo en la técnica guitarrera finger-picking y en las composiciones musicales de The Beatles, se atrevió con un poema y llegó a mostrar en público uno de los primeros discos que se compró cuando era un niño, "Faitytale".
La actriz y cantante Bette Midler fue la encargada de entregar el premio a otra reclutada en la academia, la compositora Laura Nyro, fallecida en 1997, siendo a finales de los años 60 y principios de los 70, una de las artistas más influyentes en el planeta. Sara Bareilles fue la encargada de interpretar la grandiosa "Stoney End" de Laura Nyro.
Steve Van Zandt sería el encargado de presentar a The Small Faces y The Faces a la academia con Ian McLagan, Kenney Jones y Ronnie Wood sobre el escenario, Rod Stewart se ausentaría debido a una gripe. Van Zandt, que lo tendremos muy pronto en España con su amigo Bruce Springsteen llegó a decir que Steve Marriot y Rod Stewart son las mejores voces blancas de Soul del planeta.
Mick Hucknall, ex cantante de Simply Red y nuevo componente de The Faces su subía al escenario para interpretar con Ronnie Wood, Ian McLagan y Kenney Jones dos canciones, «Stay With Me» y «Ooh La La». Ronnie Wood al terminar su actuación gritaba a los asistentes, «¡esto es mejor que recibir un titulo nobiliario!».
De la mano del cantante y compositor Smokey Robinson, la academia quiso premiar la labor de seis maravillosos grupos de acompañamiento de grandes artistas como lo fueron, The Midnighters, The Blue Caps, The Famous Flames, The Crickets, The Comets y The Miracles, ahora todos miembros y reclutados para el Rock and Roll Hall of Fame.
Chuck D, líder, cantante y compositor de Public Enemy y LL Cool J, cantante, actor y fundador del sello Def Jam label, daban los honores para el ingreso en la academia a los magníficos The Beastie Boys desde Nueva York, auténticos exponentes del Hip-Hop a finales de los años setenta y principios de los ochenta en expandir su música, llegando a introducirla en todos los hogares sin importar clase social. Adam Yauch (MCA) vocalista de The Beastie Boys, tampoco pudo acudir a la ceremonia debido a una enfermedad. The Roots junto a Travie McCoy y Kid Rock, interpretaron un medley de canciones del trío neoyorquino The Beastie Boys.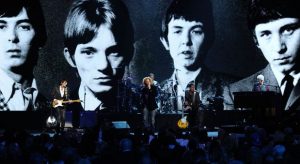 La noche estaba llegando a su fin pero quedaban las dos últimas bandas por ser admitidas en el Rock and Roll Hall of Fame, primero le tocó el turno a Guns N' Roses, presentado por Billy Joe Armstrong, cantante y líder de Green Day, que recordó que fue el referente musical de una gran ciudad como Los Angeles, del Sunset Strip y mundial en cuanto a mover grandes masas de fans por todo el mundo, siendo "Appetite For Destruction", el álbum debut de una banda más importante de la historia del Rock and Roll en 1987.
Billy Joe Armstrong cuando repasaba a todos los integrantes de la banda preguntaba "vamos a ver, ¿a quien estoy olvidando?", por supuesto Axl Rose, el abucheo por parte de las casi 8 mil almas no se hizo esperar.
Seguidamente cada miembro presente de la banda, Duff McKagan, Matt Sorum, Steven Adler y Slash, hicieron referencia a Rose y su comportamiento, después de más de 20 años se reencontraban de nuevo para interpretar junto a Myles Kennedy (cantante y miembro de la banda de Slash) junto con Gilby Clarke en lugar de Izzy Stradlin, "Paradise City" y "Mr. Brownstone".
El actor y comediante Chris Rock era el encargado de terminar la ceremonia para entregar a Red Hot Chili Peppers a la academia del Rock and Roll Hall of Fame, incluyendo al batería Jack Irons y Cliff Martinez junto a Flea y Anthony Kiedis sobre el escenario para honrar a Jack Irons y Cliff Martinez junto a Flea y Anthony Kiedis y antiguos miembros de la banda, como lo fue Hillel Slovak, que falleció por sobredosis, representado por John Frusciante en la ceremonia.
Los californianos cantaron cuatro canciones, juntos a sus dos baterías en el mismo escenario con "Give it Away" y "By The Way".
Sobre la una y media de la madrugada hora norteamericana, Red Hot Chili Peppers pedían a unirse al escenario a Ronnie Wood, Chad X, Billy Gibbons, George Clinton, Billy Joe Armstrong, Smokey Robinson y Slash para interpretar "Higher Ground" del grandioso Stevie Wonder.
Vídeo en la alfombra roja con muchos nombres y artistas memorables en Cleveland en el Rock and Roll Hall of Fame 2012.
17 new members were inducted into the Rock and Roll Hall of Fame Saturday night in Cleveland, Ohio.
The ceremony marked the 27th year artists, producers, engineers and other industry personnel have been honored at the museum.
The 27th annual ceremony was a five-hour, twenty-minute affair that'll be broadcast in edited form on HBO May 5.
Most of the surprises from the ceremony were not so surprising by the time the induction began. We already knew Rod Stewart had to skip the affair due to throat problems. Likewise for Adam Yauch of the Beastie Boys, for reasons not fully revealed but suspected to be due to his ongoing treatment for cancer. And then there's Guns N' Roses frontman Axl Rose, who last week released a statement saying the ceremony «doesn't appear to be somewhere I'm actually wanted or respected,» and requesting he not be inducted at all — a request the Rock Hall refused.