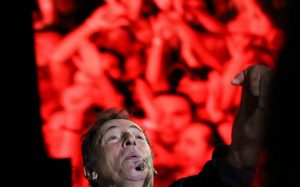 Bruce Springsteen acaba de presentar su nuevo vídeo y single «Rocky Ground» promocional para su próxima gira en Estados Unidos el próximo 14 de agosto en Boston, uno de los grandes temas de su nuevo disco «Wrecking Ball».
«Rocky Ground» segrega todo ese espiritualismo en forma de Blues, Gospel, Soul y Rap en forma de inundaciones y crecida, llamándose a sí mismo soldado, junto a su escudera Michelle Moore.
Su gira «Wrecking Ball» después de deterne durante unos días en España, regresa con su concierto mañana 25 de mayo en Frankfurt, y Colonia (27 de mayo) con todas las entradas vendidas. El próximo  2 de junio El Jefe recalará en San Sebastian y el 17 de junio Madrid, dando por culminada su exitosa y memorable gira española.
https://youtu.be/qPmIIXXv0d8
La gira europea concluye en Helsinki el 31 de julio y el 14 de agosto regresa a Estados Unidos al emblemático y grandioso Fenway Park de Boston, de ahí hasta el 22 de septiembre.
No dudes en leer la crónica de Dirty Rock del concierto de Bruce Springsteen and The E Street Band en Las Palmas de Gran Canaria el 15 de mayo de 2012.
 Fotos de Esteban Campos Trujillo
Y también puedes leer nuestra crónica del primer concierto que todas las entradas vendidas en Barcelona el 17 de mayo de Bruce Springsteen & The E Street Band.
Además de una reflexión muy acertada por parte Patricio González acerca del concierto de Bruce Springsteen en Las Palmas y el motivo por el cual,  aquello no fuera una olla a presión,  con un titulo muy certero Brutalizzed Canaries, My Islands of Ruins. Springsteen's in the house.
Unos días después del grandioso concierto de Bruce Springsteen en Gran Canaria, nuestro aplauso es para todos los que estuvieron allí ese día, y al héroe Leopolodo Mansito y todo su equipo de LM, definitivamente Canarias islands of Ruins.
 Fotos de Esteban Campos Trujillo
Bruce Springsteen & The E Street Band interpretando «Rocky Ground» en Barcelona el 17 de mayo de 2o12, vídeo grabado por Dirty Rock.
Así comenzaba el concierto de Bruce Springsteen en Gran Canaria.
Si consigues que 3 personas gusteen nuestra página de Dirty Rock en Facebook puedes tener el Bootleg completo, las 26 canciones, un recuerdo inolvidable,proponlo a 3 conocidos y dinos sus nombres a través de Facebook enviando un mensaje, otros ya lo han hecho.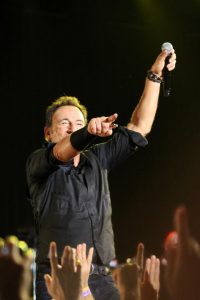 Fotos de Esteban Campos Trujillo
Video Premiere by Springsteen's «Rocky Ground», from his 17th studio album, Wrecking Ball. The song builds as slowly as those floodwaters Bruce sings about, to a rap, written by Springsteen and delivered by gospel singer Michelle Moore.
A week later our tribute to all those fans in Gran Canaria watching The Boss and a tribute to the promoter Leopoldo Mansito and all LM team Work to bring best rock and roll to the Canary Islands.
That's how Bruce Springsteen started his show in Las Palmas last May 15th, bring three new friend to Dirty Rock Facebook and send us a private message and you'll get the whole concert, c'mon and let's get those friends!!