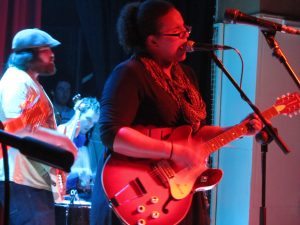 Tras el magnífico concierto de Dickey Betts & Great Southern el día anterior, 17 de julio, y tras ver la segunda parte de otro maravilloso concierto de Pablo Galiano en Madrid, nos levantamos con la resaca de oídos zumbados y lagrimal sollozado tras aquellos dos excelentes conciertos.
El debut de Alabama Shakes lo hemos retransmitido prácticamente en directo desde Dirty Rock junto a otros medios nacionales y extranjeros, esperadísima esta nueva joya de disco y banda desde Athens, Alabama, cerca de Muscle Schoals, Fame, Memphis Stax, sí, desde donde todo comenzó (Where it all started).
Brittney Howard de los pantanos y sus Alabama Shakes están poniendo patas arriba la escena musical con su música, huyendo de etiquetas, ellos con su debut "Boys & Girls" y su directo te vuelan la cabeza y te atrapan desde la primera escucha, son una auténtica delicia.
Tienen la sangre hirviendo y no hizo falta estimular al público que llenaba hasta la bandera la Sala el Sol en Madrid para ver el pasado 18 de julio a Alabama Shakes, dejándolo claro desde un comienzo con "Goin' to the Party" que hizo temblar al público durante cada segundo con un volumen que daba tanto miedo como los continuos gritos y registros de Brittany Howard a lo Dale Hawkins.
Fotos de Dirty Rock.
Público en un alto porcentaje extranjero sobre todo de tierras británicas que no dejaba de agasajar a la banda y a Brittney Howard que seguía como un torbellino con ese comienzo a la yugular y atrevido.
Lista de reproducción del concierto de Alabama Shakes.
Se notaba que era una noche con atmósfera de cita importante al igual que nos había sucedido el día anterior con el concierto de Dickey Betts en la Sala Caracol de Madrid, a pesar de ser miércoles con la Sala El Sol hasta los topes, empujones y calor insoportable el concierto estaba siendo aplastante en sus comienzos, con "Hold On", "Hang Loose", "I Found You", "Rise", "Always Alright", "Heartbreaker" y "Boys & Girls" dejaron al público ya predispuesto a la catarsis, totalmente exhausto entre el alcohol, ellos y las sustancias psicotrópicas, aquello fue un derechazo en toda regla que nos dejaba noqueados y caídos sobre la lona.
Alabama Shakes, Brittany Howard (voz y guitarra), Heath Fogg (guitarra), Zac Cockrell (bajo), Steve Johnson (batería) y Ben Tanner a los teclados, repasaron en su totalidad su nuevo disco "Boys & Girls" y presentaron nuevas canciones de su próximo álbum, del que siguen bebiendo de esos bancos y pantanos terrenales del Mississippi, ése que te llega al corazón, si lo tienes.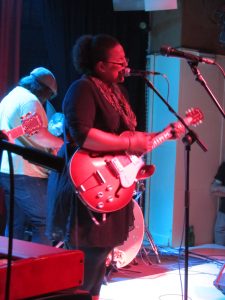 El concierto de Alabama Shakes continuaba por esa travesía potente de vintage bañado en Creedence Clearwater Revival o Wilson Pickett con un sólido nexo de unión entre el Rock, Soul sureño y el Blues penetrante.
La garganta de Brittany Howard gemía como la de Otis Redding y no como las de oplin o Tina Turner en "Be Mine", "I Ain't the Same", "Mama", "Making Me Itch", "Hurricane Strut", "Worryin' Blues", la preciosa "You Ain't Alone" y "Heavy Cheavy", con la que culminaron su concierto.
Benditas ardientes dieciséis canciones, fiestón de Rock and Roll sureño, Soul y Blues por cortesía de cinco jóvenes de Alabama con disparos con pólvora en la que destaca sobradamente la nueva esperanza del Rock Soul crudo, Brittany Howard aunque ella prefiera no admitirlo, como me lo confesara horas antes de su concierto en una breve charla junto a un grupo de admiradores de Canadá.
Tras un breve descanso volvían a la carga con un encore de tres canciones "Squidbillies", "On your way" y "Heat Lighting" en el que interpretaba a modo gospel su trayectoria con los Alabama Shakes y agradecía a todos nosotros el apoyo mostrado.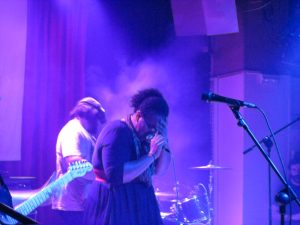 Difícil no lo tienen para un segundo álbum escuchando el rezume de sus nuevos temas durante su concierto en Madrid, esas canciones fluían como el whisky y el sudor para convertirse en fuego, porque todos sabemos hasta qué temperatura son capaces de llegar Alabama Shakes con una sísmica Brittany Howard.
Las intenciones de Alabama Shakes son claras, beben de los grandes géneros, aman, preservan y defienden a sus antecesores, y tanto Patterson Hood o Neil Young y otros tantos se han dado cuenta de ello. La descarga de canciones en Madrid hizo que nadie saliera defraudado, soberbios.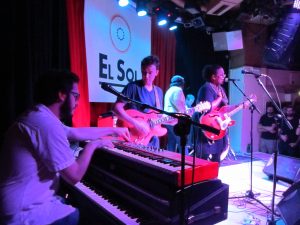 Apasionado espíritu sureño que mira al pasado, una banda que demuestra conocer el terreno que pisa, y un álbum "Boys & Girls" sin parangón en los tiempos que corren, y que lo colocan en primera línea del sucio Rock-Soul-Blues-Sureño (Dirty South Rock, Soul and Blues), avisado estás pistolero, «hold on».
Bless my heart.
Bless my soul.
Didn't think I'd make it to 22yrs old.
There must be someone up above sayin' «Come on Brittany, you got to come on up.»
«You got to Hold on…»