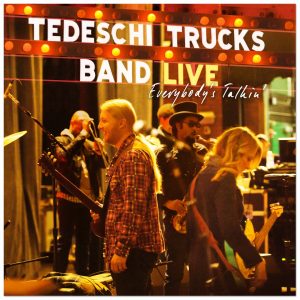 La nueva banda de Susan Tedeschi, Tedeschi Trucks Band junto a su marido Dereck Trucks, acaban de estrenar el primer vídeo de su fantástico segundo disco en directo de versiones de Gospel, R&B y Rock and Roll llamado Everybody's Talkin', la versión y vídeo en cuestión es "Darling Be Home Soon" de Lovin' Spoonful.
Tras el atronador éxito de su primer disco juntos y su consiguiente Grammy al mejor disco del Blues este año por "Revelator" al unirse como una sola banda, ambos presentan un disco Jam Session con clásicas versiones de Blues, Folk y Soul entremezcladas con su fantástico y anterior trabajo, a base de repentizar y crear nuevos sonido.
Más de la mitad  de las canciones del disco  pasan de los diez minutos largos, subid el volúmen, buscad mejor reposo y disfrutad de uno de los mejores discos del año.
Aquí tenéis la fantástica versión de Lovin' Spoonful, "Darling be Home Soon" del segundo y maravilloso disco en directo de Tedeschi Trucks Band. Joe Cocker en su momento realizó una versión magistral de dicha canción de John Sebastian.
Articulo  de Susan Tedeschi y Dereck Trucks en el tributo a Hubert Sumlin en Dirty Rock.
Articulo de Susan Tedeschi y Dereck Truck en la fiesta del Blues con el presidente Obama.
Escucha el fantástico disco de esta pareja de bluseros espeluznante, fans de Susan Tedeschi a más no poder. Tedeschi Trucks Band y su nuevo disco Everybody's Talkin' :
World premiere "Darling Be Home Soon" video from Tedeschi Trucks Band's live fantasti album "Everybody's Talkin'." Everybody's Talkin' is the uplifting sophomore recording by Tedeschi Trucks Band, the 11-piece ensemble led by husband-wife team Derek Trucks and Susan Tedeschi.
"Darling be Home Soon" by Tedeschi Trucks Band covering Lovin' Spooful.