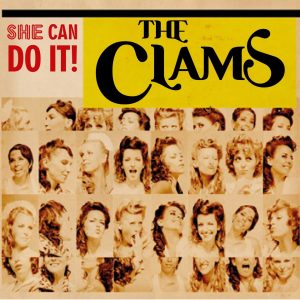 The Clams presentan su nuevo maxi single de cinco temas, «She can do it!», grabado en Madrid en los estudios Audiomatic @ Drax por el productor J.M. Rosillo, oficialmente el próximo 11 de octubre en La Sala El Sol de Madrid a partir de las 22:30 horas.
The Clams se enterraron en el estudio de grabación el pasado mes de mayo para grabar su primer maxi single EP, excavando en esa música sudorosa y adictiva, para luego descubrirse de los fondos arenosos a todos nosotros.
Como todo molusco musical nos fecundarán abriendo y cerrando nuestras almas, estamos convencidos de ello, ellas pueden hacerlo («They can do it!»). No las pida a la marinera o en salsa verde, pídalas su su "soul-sa".
El nuevo trabajo de The Clams lo acompaña un nuevo y divertido vídeo realizado por Bonus-Extra titulado «Happy as a Clam», traducido al castellano más castizo, «Felices como unas pascuas».
Aida Clam,  Mónica Clam, Marina Clam, Henar Clam, Diana Clam, Noelia Clama, Lupe Clam y Lila Clam componenlas  ocho mujeres-almejas que constituyen la formación The Clams.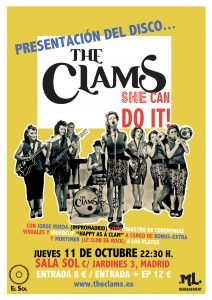 Escucha el nuevo disco de The Clams «She Can Do it!».
Rhythm & Blues, Soul y diversión a raudales en cada uno de sus conciertos, la rádula de las ocho almejas la dirige Marta Luna, (Marta Clam), su incansable manager, también Pablo Galiano, Joe Eceiza, César Pop, Marta Tchai, Arvol, Luis del Roto y Látigos Calientes.