The Last Internationale presentan «Cod'ine», nuevo vídeo adelanto de su próximo EP titulado «New York, I Do Mind Dying», que estará a al venta el próximo 8 de enero de 2013. y confirman gira europea y española para el próximo febrero y marzo de 2013.
«Cod'ine», el nuevo single de The Last Internationale para su próximo disco «New York, I Do Mind Dying»,  es una versión de la cantante y activista canadiense Buffy Sainte-Marie.
«Cod'ine», escrita por Buffy Saint-Marie en 1963, cuando resultó adicta a la codeína al ser tratada de una infección de garganta,  The Last Internationale la interpretaron durante su concierto en Las Palmas de Gran Canaria el pasado 8 de junio.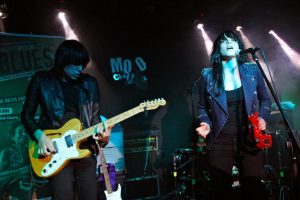 The Last Internationale, suelen interpretar también «Universal Soldier» en sus conciertos, también de Buffy Saint-Marie, miembro de la Nación Cree, uno de los más grandes grupos étnicos de norteamérica, ubicados mayoritariamente en Canadá.
La nueva grabación de los norteamericanos The Last Internationale,  presenta al grupo en el estudio de grabación en Oporto, Portugal,  los Estúdios Sá da Bandeira.
«New York, I Do Mind Dying» es el tercer trabajo de The Last Internationale, su primer trabajo, editado en el 2009 lleva por título el mismo nombre de la banda, «The Last Internationale» y su segundo disco «Choose Your Killer»,  salió al mercado en el 2011 ambos, bajo el sello Manifesta Records and DIT Records.
Los neoyorquinos presentan su nuevo Extended Play (EP),  «New York, I Do Mind Dying» con un libreto de cuarenta páginas,  que contienen fotos de la grabación  del disco, fotos de toda la gira europea y en el barrio de Brooklyn en Nueva York.
Fotos de Esteban Campos Trujillo (Dirty Rock)
The Last Internationale comenzaron su gira europea el pasado mayo, pasando por España en junio, y visitando países como Alemania e Italia para presentar su último trabajo «Choose Your Killer».
The Last Internationale es una prometedora y socialmente comprometida banda fundada por Edgey (guitarra), de padres portugueses de Arcos de Valdevez, y Delila Paz Hdez (voz y armónica) de padres portorriqueños, cuando Edgey, amante del Blues y el Rock'n'Roll, después de mucho buscar, encontró por fin a la valiente y preciosa Delila en una de sus actuaciones de folk político en un local de la ciudad de Nueva York.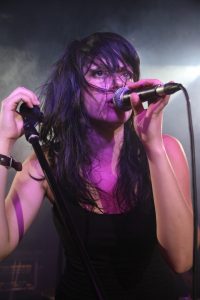 Delila y Edgey juntos, comienzan con la mutua influencia del Folk político de Delila y el Blues de Edgey. Su unión artística queda sellada cuando ambos descubren al mismo tiempo a Woody Guthrie, lo cual fue como una especie de revelación, y luego a Howlin' Wolf, Elmore James, Muddy Waters o Pete Seeger.
Muy pronto llegaría su disco de debut en 2009, homónimo, más folk, más Johnny Cash que el segundo de 2011 «Choose your killer», más Blues, Rock'n'roll, y también más Punk, una influencia muy fuerte en la capital del mundo, uno de los bastiones del punk, pero sobre todo, ellos escuchan música antigua, las raíces.
Durante su concierto  en Las Palmas de Gran Canaria, The Last Internationale, el pasado 8 de junio de 2012, nos contaron ya en la preparación de lo que sería su tercer trabajo, aún sin título.
Se barajaba el nombre Blues and Boots en aquel momento, donde boots se refiere a marcar el ritmo contra el suelo, una etiqueta que inventaron cuando en las sucesivas entrevistas les preguntaban por su género y estilo, porque ya sabes, a los músicos no les gusta que los clasifiquen y encasillen, y la mayoría son lo suficientemente eclécticos como para sea muy difícil definir su música con una sola palabra.
Queremos agradecer a The Last Internationale que nos hayan citado en su nueva página web, («Thanks to Dirty Rock Magazine for capturing our show at Mojo in the Canary Islands!») mostrando uno de los catorce vídeos que grabamos en su actuación en el Mojo Club de Las Palmas de Gran Canaria con aquel «World inside my Head» de su disco «Choose your killer».
Muy pronto más sorpresas y noticicas relacionadas con The Last Internationale en Dirty Rock.
Fotos de Esteban Campos Trujillo.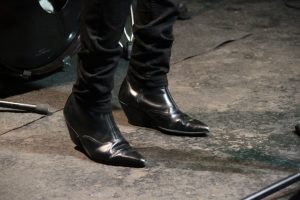 New The Last Internationale EP «New York, I Do Mind Dying» ready for pre-sale now and available next January 8th 2013. It also comes with a 40-page booklet of photos from the road, the studio, NYC, etc. New single's cover version of Buffy Sainte-Marie called «Cod'ine».