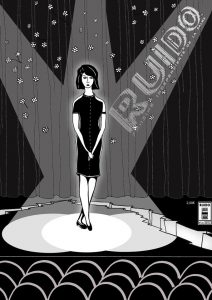 Ruido La Palma, www.ruidolapalma.com, es un fanzine independiente – cómo no – cuyo objetivo es apoyar a los talentos de la isla canaria de La Palma y más allá, y así lo lleva haciendo desde hace seis años en los que ha publicado 19 ediciones.
El nº20 «Arte y Austeridad», con la ilustración en portada de Merche Martín, incluye los textos: «Creativos consumidores internautas del futuro» de Nicolás Melini, escritor y cineasta nacido en 1969 en Santa Cruz de La Palma y residente en Madrid desde 1993 ; «Reuniones de la transgresión» de Luis Machín Martín ; la tercera entrega de «Manifiesto Anti-musical» de Yose F. ; y «Arte y la rica pobreza» del poeta bohemio noruego, Steinar Maria Kaas.
La presente edición conmemorativa también incluye entrevistas a The Vinegars, ganadores del SapeRocko 2012, por Christianne F. ; y a Diego Hernández, cantautor y guitarrista de Keiko, que publicó recientemente su segundo álbum en solitario «Small songs for new beginnings» con Foehn Records.
Como es natural en un fanzine, no puede faltar un espacio para la crítica, en este caso de música en directo y en concreto de los conciertos de Avernessus en La Palma, comentado por Yose F., y Vetusta Morla y Zoé en Valencia por Norma Wilow.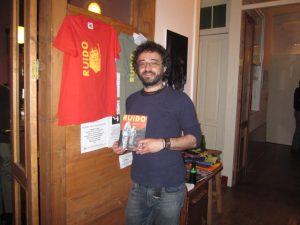 Y tampoco faltan las reseñas de discos, como el "Steep Formations" de People of The North ; "Allelujah! Don't Bend! Ascend!" de Godspeed You! Black Emperor ; «Small songs for New Beginnings» de Diego Hernández ; y el comentario musical "Los frikis sin miedo"- The Flaming Lips de Raúl Masterdik.
El resto de secciones se completan desde el mundo de la fantasía «Lucifer Circus» de Omar G. García ; del arte «Breves conjeturas sobre Paraísos de Alicia Martín» por Yose F. ; de la literatura con el Relato "Los rebuznos de la Luna" de José Luis Crespo Fajardo y la habitual colección de micro-historias, esta vez con Lola Sanabria, Purificación Menaya, Jorge Plaja Rustein, Paloma Hidalgo Díaz, Susana Pérez Santos, Mar González Mena, Nicolás Jarque Alegre y Montse Aguilera.