Corey Harris, publica nuevo disco "Fulton Blues" el próximo 31 de enero, tras su último "Father Sun Mother Earth", en el que agitaba Reggae, Blues, Rock, Soul y música africana.
Corey Harris y su nuevo disco "Fulton Blues", contiene catorce canciones de Blues acústico y eléctrico mayormente y Reggae, Delta Rasta Reggae como a Corey Harris le gusta llamarlo y con músicos de sesión relevantes como Chris Whitley, Gordon Saxman Jones, Jayson Morgan, Ken Joseph, Joshua Achalamand, Lutan Fyah y Hook Herrera.
Escucha a Corey Harris  en "Fulton Blues".
Corey Harris, llamaba la atención al importante sello discográfico Alligator Records en Chicago, con 26 años de edad, rompiendo todos los esquemas con su álbum debut en 1995 llamado "Between Midnight and Day", un fantástico disco repleto de referencias y aproximación al Deep Blues más rural.

Corey Harris, llama la atención de muchísimos músicos por aquel entonces y son Jeff Tweedy con Wilco y Billy Bragg, quiénes le ofrecen la oportunidad de participar en su disco "Mermaid Avenue" (1998) para escribir la canción "Hoodoo Voodoo", disco compuesto por letra de canciones de la última etapa del genio Woody Guthrie, dos años más tarde también participaría com músico en la segunda parte de canciones de Billy Bragg & Wilco, "Mermaid Avenue Vol. II." (2000).
Corey Harris junto a Keb' Mo' y Alvin Youngblood Hart, comenzaron a animar y enarbolar la importancia del Blues Rural, para ello Corey Harris se doctora en la Universidad en letras y antropología, recibe una beca para irse a estudiar a Camerún y es cuando se mete de lleno en el estudio de grandes del Blues como Charlie Patton, Booker White, Fred McDowell, Muddy Waters y Sleepy John Estes.
Escucha "Between Midnight and Day" de Corey Harris.
"Between Midnight and Day" consagra defintivamente a Corey Harris y a partir de entonces, a su Blues le incorpora el Funk más sucio de New Orleans, Reggae, y muchos intrumentos africanos, especialmente guitarras de Mali.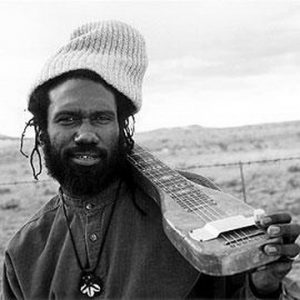 Ali Farka Toure particpa en su magnífico disco "Mississippi to Mali"(2003) y Martin Scorsese llama a Corey Harris para participar en uno de sus documentales "Feel Like Going Home," de su serie The Blues Collection (2003), en el que el Blues viaja y narra la evolución del género desde África Occidental hacia Estados Unidos.
Escucha "Mississippi to Mali" de Corey Harris
Documental de Martin Scorsese en el que aparece Corey Harris, "Feel Like Going Home".
Corey Harris ha compartido escenario con figuras del calibre de BB King, Taj Mahal, Buddy Guy, Henry Butler, R.L.Burnside, John Jackson, Ali Farka Toure, Dave Matthews Band, Tracy Chapman, Olu Dara, Wilco, o Natalie Merchant.
"Fish Ain't Bitin'" (1996), "Downhome Sophisticate" (2002), "Zion Crossroads" (2007), "Blu Black" (2010) o "Vu-Du Menz"(2000), con el amigo de Dr. John,  el pianista de New Orleans Henry Butler, son sus discos más destacados de Corey Harris, junto con los anteriormente citados.