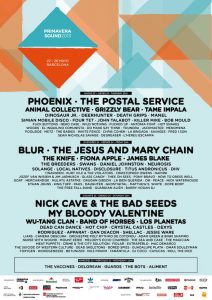 El Primavera Sound 2013 de Barcelona ha desvelado los nombres que componen su próxima edición que se cele­brará entre el 22 y el 26 de mayo de 2012 en el Parc del Fórum.
Primavera Sound 2013 de Barcelona contará con los importantes nombres de Nick Cave and the Bad Seeds, The Breeders, Tina­ri­wen, Band of Hor­ses, Nick Waterhouse, Ani­mal Collec­tive, Phoe­nix, Meat Puppets, Thee Oh Sees, The Jesus and Mary Chain, Neko Case, My Bloody Valen­tine, Tame Impala, The Pos­tal Ser­vice, Fiona Apple, Deer­hun­ter, Dead Can Dance, James Blake,  Grizzly Bear, Rodri­guez, Daniel Johns­ton, Neu­ro­sis, Wu-Tang Clan, The Knife, Dino­saur Jr., Hot Chip, Swans, Solange, Fucked Up o Liars entre otros.
En el apartado de bandas españolas en Primavera Sound Festival 2013, cuenta con nombres como Gua­da­lupe Plata, Pony Bravo, The Sui­cide of Wes­tern Cul­ture, Extra­perlo, John Tala­bot, Los Pla­ne­tas, La Bien Que­rida, Delo­rean, Hidro­ge­nesse, Toun­dra, Manel o Antó­nia Font.
Video con los nombres del cartel de la nueva edición del Primavera Sound Festival 2013 en Barcelona.
El cartel completo de la edición portuguesa, Primavera Sound Porto 2013,  se dará a conocer a comienzos del mes que viene.
Primavera Sound Festival de Barcelona 2013, desveló los nombres de su nueva edición en una gala celebrada en la sala Apolo de Barcelona, retransmitida por el canal de YouTube del festival y presentada por Johann Wald y Abel González, y en el que actuaron nombres como Extraperlo, La Bien Que­rida y Antó­nia Font.