The Rolling Stones se encontraban desde mediados del mes de abril en la ciudad de Los Angeles, su segunda casa, y ya desde el viernes 26 de abril, corría el rumor de un posible concierto sorpresa de sus Satánicas Majestades, se cumplió el deseo y las casi 400 entradas se pusieron a la venta en El Rey Theatre en West Hollywood, para el concierto que se celebraría en el The EchoPlex en Silver Lake a unos diez kilómetros del punto de venta de entradas.
The Rolling Stones, con las entradas agotadas en unos minutos al precio de 20 dólares, se presentaron a las 21.20 horas el sábado 27 de abril, en el pequeño escenario del Echoplex con Mick Jagger Keith Richards, Charlie Watts y Ronnie Wood, además de Mick Taylor , Darryl Jones, Chuck Leavell, Bernard Fowler, Lisa Fischer y Bobby Keys.
The Rolling Stones tocaron un total de doce canciones, dos de ellas con Mick Taylor, «Love in Vain» y «Midnight Rambler», una versión de Otis Redding «That's How Strong My Love Is», una de Chuck Berry «Little Queenie», y el «Just My Imagination (Running Away With Me» de The Temptations.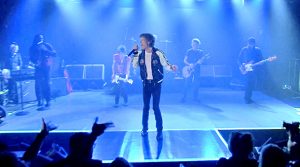 The Rolling Stones concluyeron su concierto en Los Angeles a las 22:45 de la noche, una hora y veinticinco después del comienzo del mismo con las siguientes palabras de Mick Jagger, «Thank you very much, you're too good to us. The first show of the tour, probably the best one!, Thank you very much everybody, you've given us hope, peace, love and understanding. Goodnight!», Keith Richards por su parte comentó «We're done!». (Muchísimas gracias a todos, habéis sido fantásticos con nosotros, nos habéis dado esperanza , paz y amor, buenas noches; Keith Richards dijo, ¡Hemos acabado!).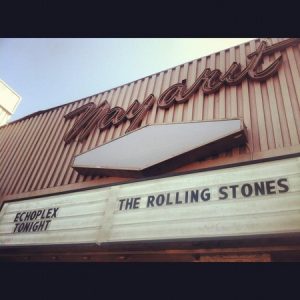 The Rolling Stones The Echoplex en Los Angeles setlist.
You Got Me Rocking
Respectable
She's So Cold
Live with Me (con Bobby Keys)
Street Fighting Man
That's How Strong My Love Is (Otis Redding)
Little Queenie (Chuck Berry)
Just My Imagination (Running Away With Me) (The Temptations)
Miss You (con Bobby Keys)
Love in Vain (con Mick Taylor)
Midnight Rambler (co Mick Taylor)
Start Me Up
Encore
Brown Sugar (con Bobby Keys)
Jumpin' Jack Flash
Fechas gira 2013 The Rolling Stones 50 & Counting tour:
3 Mayo Los Angeles Staples Center
5 Mayo,  Oakland Oracle Arena
8 Mayo San Jose HP Pavilion
11 Mayo  Las Vegas MGM Grand Garden Arena
15 Mayo Anaheim Honda Center
18 Mayo Anaheim Honda Center
20 Mayo Los Angeles Staples Center
25 Mayo Toronto Air Canada Centre, Canadá
28 Mayo Chicago United Center
9 Junio  Montreal
12 Junio Boston TD North Garden
14 Junio Boston TD North Garden
18 Junio Philadelphia Wells Fargo Center
21 Junio Philadelphia Wells Fargo Center
28 Junio Glastonbury Festival, Inglaterra
6 Julio London's Hyde Park, Londres
13 Julio London's Hyde Park, Londres