Marc Ford presenta "Holy Ghost" su nuevo y quinto disco de doce canciones el próximo 14 de abril y lo hará en una gira española que comenzará a partir del mes de mayo de 2014 acompañado de su hijo Elijah Ford.
"Holy Ghost" el nuevo disco en solitario del genial compositor y guitarrista norteamericano Marc Ford está producido por Stew Jackson (Phantom Limb), del que Marc Ford ya fue su productor, además de otros músicos como Ryan Bingham, The Steepwater Band o  los ingleses The Phantom Limb o músico de sesión o giras para Govt. Mule, The Blind Boys of Alabama, Izzy Stradlin, Booker T. Jones o Ben Harper entre otros.
Escucha "Dream #26" nuevo tema de Marc Ford.
Escucha el nuevo disco de Marc Ford "Holy Ghost".
Marc Ford muy conocido en la escena musical californiana triunfó a finales de los años ochenta con el genial trío de Blues Rock Burning Tree junto a Mark Dutton al bajo and Doni Gray a la batería.
"Blue Sky" es el segundo adelanto del nuevo disco de Marc Ford "Holy Ghost".
Poco tiempo despúes en 1991 The Black Crowes sustituyen de su formación a Jeff Cease por Marc Ford como segundo guitarra y ofreciéndole a la banda un sonido más twang y chirriante, muy al estilo Neil Young grabando tres grandes discos, el segundo "The Southern Harmony and Musical Companion" (1992), un súper ventas y los siguientes "Amorica" (1994) y "Three Snakes and One Charm" (1996). Marc Ford era fulminado de The Black Crowes en 1997 tras continuas peleas con los hermanos Robinson y abuso por el consumo de drogas.
Marc Ford continuó con diferentes proyectos en solitario tras su ruptura con los "cuervos"  publicando cuatro discos en solitario en Marc Ford & The Neptune Blues Club, Jefferson Steelflex, Fuzz Machine o Marc Ford & The Sinners.  Marc Ford publicó su último disco en solitario en 2010 "Fuzz Machine", "Marc Ford & The Neptune Blues Club" (2008) es una auténtica maravilla.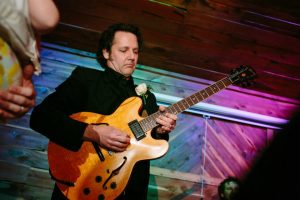 "Holy Ghost" el nuevo disco de Marc Ford se grabó en el país de Gales, en los estudios Rockfield Studios, Monmmouth y The Shod Bath en el que Stew Jackson, Kirsten Konte Ford (su esposa) y su hijo Elijah Ford participaron en el álbum.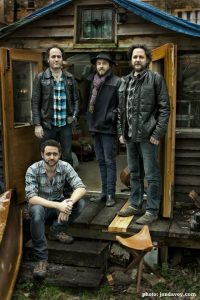 Fechas de la gira española de Marc Ford y su hijo Elijah Ford en España.
7 Mayo 2014, Barcelona, Apolo 2.
8 Mayo 2014, Valencia, Loco Club.
9 Mayo 2014, Murcia, Garaje Beat Club.
10 Mayo 2014, Madrid, El Sol.
11 Mayo 2014, Estepona (Málaga), Louie Louie.
12 Mayo 2014, Cádiz, Supersonic.
14 Mayo 2014, Santander, Black Bird.
15 Mayo 2014, Pamplona
16 Mayo 2014, Bilbao, Kafe Antzokia.
17 Mayo 2014, Gijón, Acapulco.
18 Mayo 2014, Cangas do Morrazo (Pontevedra), Salason.
19 Mayo 2014, La Coruña, Mardi Gras.