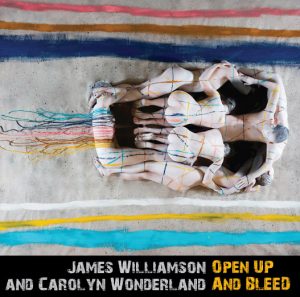 El legendario guitarrista de Iggy & The Stooges, James Williamson, lanza hoy su nuevo single Open Up & Bleed/Gimme Some Skin, grabado con la cantante Carolyn Wonderland coincidiendo con el Record Store Day.
Las dos caras del single son antiguas composiciones de The Stooges que no llegaron a entrar en sus álbumes oficiales. Williamson ha contado con la voz de Carolyn Wonderland, una cantante de blues originaria de Texas, y con algunos Stooges actuales como Mike Watt al bajo y Steve Mackay al saxo.
El single derivará en un álbum completo con temas de The Stooges de los cuales solo se conocen por grabaciones no oficiales, los llamados bootlegs. A pesar de que Iggy Pop no ha sido invitado a participar en este proyecto, ha dado el visto bueno a Williamson.