Spike & Tyla's Hot Knives, el proyecto del cantante de Quireboys Spike y de Tyla J. Pallas de Dogs D'Amour anuncian conciertos en noviembre en Barcelona y Madrid parar rendir tributo al recién fallecido batería de ambas formaciones Paul Hornby, en el que interpretarán el disco conjunto  "Flagrantly Yours" (1996).
Spike líder The Quireboys grabó junto a Tyla "Flagrantly Electrically Acoustically Yours" firmado como Tyla & Spike en 1996, remasterizado en el 2005 un fantástico disco dentro del proyecto conjunto Hot Knives.
Tanto Spike como Tyla  representan perfectamente ese Rock filibustero en Europa junto a Hanoi Rocks repleto de guitarras eléctricas, acústicas y dobros realmente disparando fuego, una voz de lija como la de Tyla y Spike que se identifican con la Willy DeVille en Mink Deville, el Blues también corriendo por sus venas, mucho verso Bukowski, éstos perros del amor, son de los pocos saqueadores que quedan de aquella época.
La banda de Spike & Tyla's Hot Knives la conforman además de Spike y Tyla, Guy Bailey a la guitarra, Simon Hanson a la batería , Gary Pennick a la guitarra y Nick Mailingal bajo.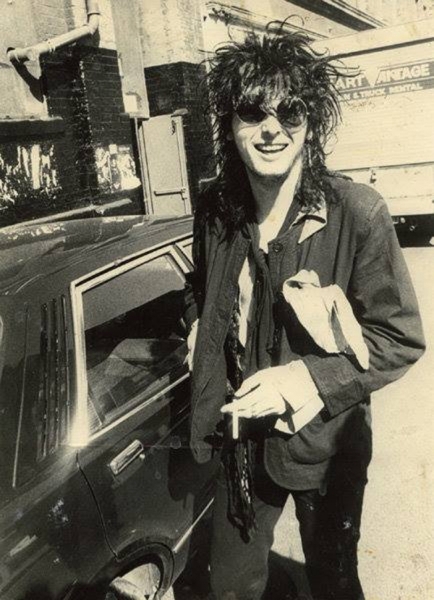 Esta serie de conciertos de Spike & Tyla Hot Knives servirá de tributo al batería Paul Hornby primer batería de The Dogs D'Amour y de The Quireboys  que falleció el pasado 7 de julio de cáncer, bandas junto a Jacobites con el grandísimo Nikki Sudden revolucionaron Inglaterra y medio mundo a mediados de los 80 con su Rock and Roll demoledor de cantina, cuando este genero estaba realmente apagado y anestesiado con tanto Pop insulso y  descafeinado,  falto de Rock sucio y actitud.
Paul Hornby tras dejar The Dogs D'Amour justo cuando acababan de publicar su primer disco The State We're In en 1984 para el sello finlandés Kumibeat Records, y que luego reeditado en el 2003., entró a formar parte desde sus inicios de The Quireboys en 1984. Paul Hornby perteneció a bandas como Nightmares In Wax con Pete Burns y Pink Military.
The State We're In, primer disco de los británicos The Dogs D'Amour, lo conformaban, Karl Watson (bajo), Dave Kusworth (guitarra), Tyla (voz y guitarra) y Paul Hornby (batería) y que junto a su segundo y siguiente disco en 1988 In the Dynamite Jet Saloon", rompe con todos los moldes establecidos, los perros The Dogs D'Amour como los Jacobites, con apariencia ruinosa en cuanto a vestimenta, sacados todos de libros de Oscar Wilde o Charles Dickens, fueron precursores en es mezcla de Glam, Rock Stoniano, Johnny Thunders, Faces y Punk, fabricando canciones realmente realistas, abrasadoras y sucias, apoyándose en asuntos como las drogas, la muerte, los perdedores, los borrachos o el dolor.
Si quieres leer nuestra última y reciente entrevista a The Quireboys clica en éste párrafo.
Fechas de la gira europea y española de Spike & Tyla Hot Knives
25 octubre en Londres, The Borderline
27 noviembre en Barcelona,  Razzmatazz 3
28 noviembre en Madrid, Cats
5 febrero 2016 en Newcastle Upon The Tyne, The Cluny
6 febrero 2016 en Sheffield, Sheffield Corporation
Escucha   "Flagrantly Yours" de Spike & Tyla