The Hellacopters sustituyen a Primal Scream tras lo problemas de salud del cantante de Primal Scream y serán junto a Danzig el viernes 17 de junio cabezas de cartel del Azkena Rock Festival. Los suecos regresan a los escenarios con dos únicas actuaciones este año, una en el Sweden Rock Festival hoy 10 de junio tras su disolución en 2008 y lo hace con todos sus miembros originales, Nicke, Kenny, Robert, Dregen y Boba, aquellos que arrancaron la banda en 1994. Además, lo hacen para conmemorar el 20 aniversario de Suppershitty to de Max!, su disco de debut que los lanzó al estrellato y que fue grabado en sólo 26 horas en los estudios Sunlight de Estocolmo, por parte de esta sensacional banda que tras 14 años publicó siete álbumes de estudio. En 2017 se cumplen 20 años de Payin´the Dues de The Hellacopters, ellos quieren seguir y organizar una gira más extensa.
De Sonido garagero poderoso, a todo trapo y composiciones vitamínicas y pegadizas a más no poder, The Hellacopters son los abanderados del rock escandinavo y europeo junto a The Soundtrack of Our Lives y Backyard Babies, influenciados y continuadores de The Nomads, para muchos la banda más importante de la historia en Suecia. El rocanrol escandinavo fue la última gran revolución musical de los noventa con bandas como Backyard Babies, Hellacopters , Gluecifer, Turbonegro y Diamonds Dogs se acercaron más al lenguaje de Rod Stewart y los Rolling Stones que al de MC5, pero todas ellas tenían un denominador común, su amor por el rock & roll de alto voltaje, lleno de estribillos infecciosos, caña sin fin y guitarreo como no se había escuchado en muchos años.
La organización del Azkena Rock Festival anuncia también respecto al tema bonos, que todo aquel que tenga su entrada de sábado y quiera, con este nuevo anuncio, acudir también el viernes al festival, podrá convertir su entrada vigente en un bono de dos días, simplemente abonando la diferencia (35€) contactando con el punto de venta donde se realizó la compra. En el caso de querer devolver la entrada con motivo de la cancelación de Primal Scream, la tramitación deberá realizarse antes del 13 de junio en el mismo punto de venta donde se realizó la compra.
Escucha Suppershitty to de Max! de Hellacopters.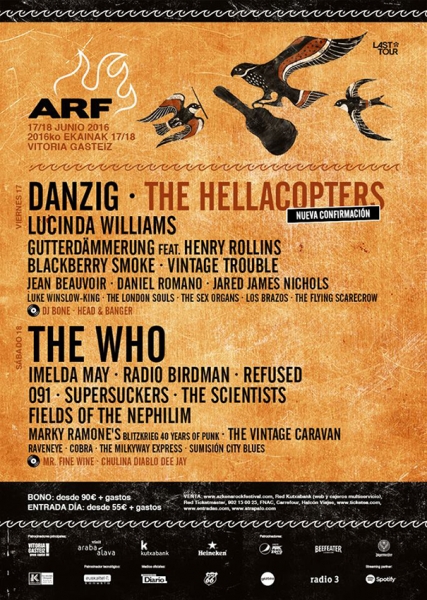 Horarios del Azkena Rock Festival 2016
Viernes 17 de junio
Virgen Blanca
13:30h Julián Maeso
(actuación gratuita)
Apertura de puertas: 16:45h
Escenario Lemmy Kilmister
17:15 The Flying Scarecrow
18:40 Daniel Romano
20:30 Lucinda Williams
22:55 The Hellacopters
01:55 Gutterdämmerung feat. Henry Rollins
Escenario David Bowie
17:55 The London Souls
19:30 Vintage Trouble
21:40 Blackberry Smoke
0:30 Danzig
Escenario Scott Weiland
17:50 Jared James Nichols
19:00 The Sex Organs
20:15 Los Brazos
21:45 Jean Beauvoir
0:25 Luke Winslow-King
01:50 Dj Bone
03:30 Head & Banger (DJs)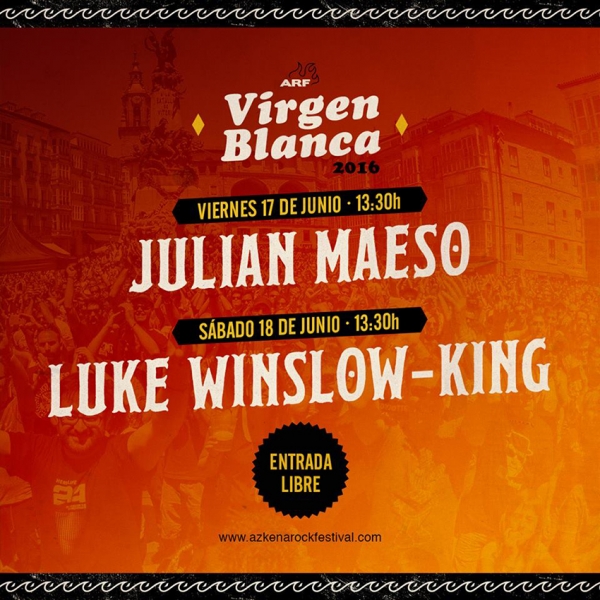 Sábado 18 de junio
Virgen Blanca
13:30h Luke Winslow-King
(actuación gratuita)
Apertura de puertas: 16:45h
Escenario Lemmy Kilmister
17:15 Submisión City Blues
18:40 Raveneye
20:40 Imelda May
23:00 The Who
02:00 Supersuckers
Escenario David Bowie
17:55 Cobra
19:25 Radio Birdman
21:45 Fields of The Nephilim
0:35 Refused
Escenario Scott Weiland
17:50 The Milkyway Express
19:00 The Vintage Caravan
20:15 The Scientists
21:45 091
0:30 Marky Ramone's Blitzrieg of 40 years of punk
01:50 Mr. Fine Wine (DJ)
03:30 Chulina Diablo Dee Jay