Supersuckers se empeñaron en reivindicar desde finales de los años ochenta su gusto por la música de raíces. Su líder Eddie Spaghetti, un vaquero criado en el Punk y un ámbito grunge, supo abrirse a una variedad de estilos como el Country, Cow Punk, Pop gamberro y pétreo rocanrol, donde se despacha las mil maravillas en sus discos y directos.
Eddie Spaghetti, Marty Chandler, Chris Von Streicher y Dan Bolton, son los Supersuckers de esta nueva singladura, que visitan nuevamente España el 18 de junio en Vitoria en el Azkena Rock Festival y el 25 de junio en Caldas de Reyes en Pontevedra en el Cultura Quente para presentar su fenomenal y sucio "Holdin' The Bag" tras "Get the Hell" editado hace dos años dentro de una extensa gira europea.
Es desagradable ver bandas, de todo género, a los que les va mejor que a nosotros, cuando claramente son horribles
Su líder Eddie Spaghetti fue operado el año pasado de un cáncer en la orofaringe, año en el que publicaron "Holdin' The Bag", su álbum más Country publicado en 1997 como fue aquel magnífico Must've Been High.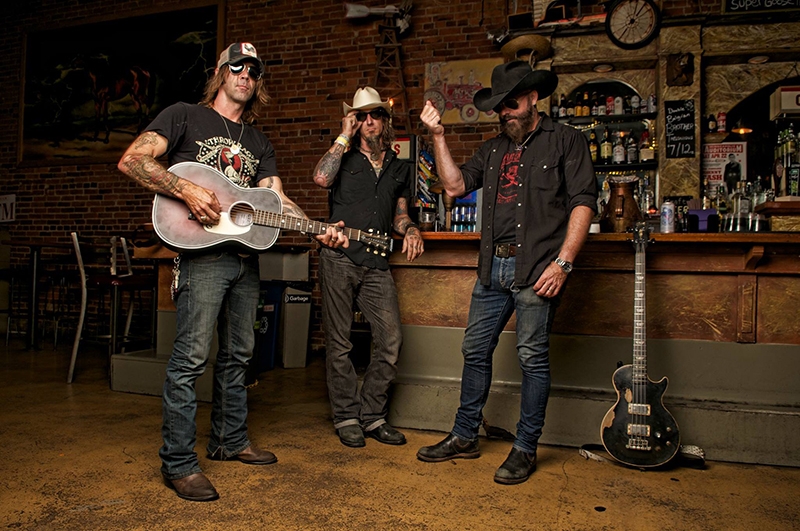 Los cuatro forajidos regresan a España con otro álbum cargado de referencias Country, con temas originales y versiones de Hank Williams o Billy Joe Shaver de esta sensacional banda de a Cow-Punk e indecente Country Punk Rock. Con Ray Benson a la producción, grabado en Texas, y con colaboraciones de lujo como la de Hayes Carll ("This Life Would Be a Whole Lot Better"), Lydia Loveless ("I Can't Cry"), eff Pinkus de Butthole Surfers member, Jesse Dayton, el armonicista habitual de Willie Nelson, Mickey Raphael y componentes de Asleep at the Wheel.
Categóricamente, nos encanta España. En serio podría ser nuestro país favorito en el mundo. Y también jodídamente muchas gracias por darnos esta oportunidad en la revista. Ansiosos de dar espectáculo y con suerte esperamos también ver a algunas bandas en directo en el festival
Supersuckers, originarios de Arizona, residentes ahora en Washington, aunque también estuvieron en Austin, se formaron en 1988 con Eddie Spaghetti a la cabeza, otro músico infravalorado por la industria musical y muchísima prensa musical especializada, compaginando su carrera en solitario con la de su banda Supersuckers y fue en el 2003 cuando editó su primer disco "Extra Sauce", luego llegarían "Old Nº. 2" (2005) , "Sundowner" en el 2011,  "The Value of Nothing" (2013) y   marchándose de gira con los más grandes como Steve Earle, Lucinda Williams,Willie Nelson, Motorhead, The Ramomes, Social Distorsion  entre otros.
Supersuckers, enchufados con rabia a un amplificador convertirán sus conciertos en un caudal imparable de rock and roll endurecido, y aunque admitan su zozobra ante el estado actual del rocanrol, que en ocasiones parece muerto, no cabe discusión que estamos ante una de las bandas de rock and roll más genuinas del mundo.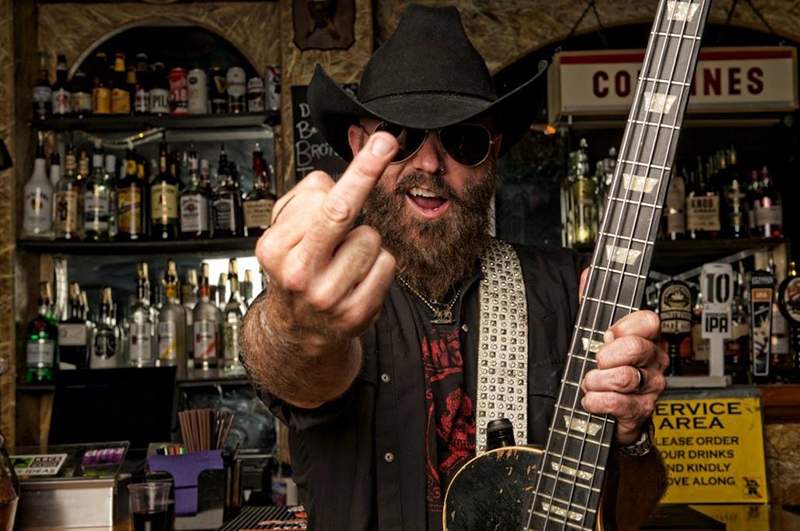 Entrevista a Eddie Spaghetti de Supersuckers, cantante, guitarrista y compositor norteamericano de la banda desde 1988, con motivo de su actuación en el Azkena Rock Festival el 18 de junio.
1. You turn to Vitoria / Gasteiz again. What memories do you have from your first performance in Azkena Rock Festival in 2002 at the first edition in that mythical Vitoria center room where you shared line up with The Bellrays among others ?.
No memories. It's all pretty blurry. Hard to remember yesterday.
1. Regresáis de nuevo a Vitoria-Gasteiz Supersuckers ¿Qué recuerdos tenéis de aquella primera actuación en el Azkena Rock Festival en 2002 en la mítica sala en Vitoria donde compartisteis cartel junto a The Bellrays entre otros?
No lo recuerdo. Todo muy confuso. Es muy complicado recordar lo de ayer.
2. Congratulations on the release of the «Holdin' The Bag» As fans We're fascinated You've done a great job as Must've Been High almost 20 years ago, why did you want to bring Country sounds to your music?
It's always been the kind of music we like. Not everyone gets it but that's ok. It's just another way for us to express our stupidity.
2. Enhorabuena por vuestro espléndido y último disco vuestro publicado «Holdin' The Bag». Como seguidores vuestros, veinte años atrás publicasteis también «Must've Been High» ¿Por qué decidisteis traer de nuevo vuestro sonido Country?
Siempre ha sido el tipo de música que nos gusta. No todo el mundo lo entiende pero está bien. Es sólo otra forma de expresar nuestra insensatez.
3. If you look back, since you began in 1988, What it is the best and the worst that happened to you?
Starting a band and starting a band.
3. Si miráis hacia atrás desde que Supersuckers arrancó en 1988 ¿Qué ha sido lo mejor y lo peor que os ha ocurrido?
Arrancar una banda y comenzar con otra banda.
4. Why did you decide to feature Ray Benson for production and Hayes Carll, Lydia Loveless, Jeff Pinkus and Jesse Dayton to carry out your latest album?
We're both fans and friends of them. Austin Tx has always been a 2nd home for us and all of those artists live there( except for Lydia).  It seemed like a great way to add some layers to the record and make it fun and get people talking about it.
4. ¿Por qué os decidisteis por Ray Benson en la producción y Hayes Carll, Lydia Loveless, Jeff Pinkus y Jesse Dayton como colaboradores para llevar a cabo vuestro último disco?
Los dos somos muy amigos y seguidores y amigos igualmente de ellos. Austin, Texas siempre ha sido nuestra segunda casa, y todos estos artistas viven allí a excepción de Lydia Loveless. Nos pareció una gran idea que estuviesen con nosotros en el disco para añadir otro revestimiento y hacerlo más divertido para que la gente hablara de ello.
5. Supersuckers are a band that has always been involved for several reasons: Today you are involved in any?
We're involved in all things cool.
5. Sois una banda que se ha implicado desde siempre en favor de varias causas, ¿a día de hoy estáis implicados en alguna?
Estamos involucrados en cosas que sean siempre interesantes.
6. Literally, Supersuckers are a chameleon who can change their style of music at the drop of a hat. The ability to interpret and play several styles of music, whether it's rock'n', punk or country, Does that has helped you in your career or hurt?
We'd like to think it helps but some people just don't understand the country stuff. Strangely , Must've Been High is now our biggest selling record to date.  Who knows , the country side might be something we can grow old doing.
6. Literalmente Supersuckers sois como un camaleón que puede cambiar su estilo de música como si nada. La habilidad y capacidad para interpretar varios estilos como el Rock'n'Roll, Punk o Country, ¿eso os ha ayudado o dañado en vuestra carrera?
Nos gustaría pensar que eso ayuda, pero hay simplemente gente que no entiende eso de la música Country. Curiosamente aquel disco Must've Been High es el disco que más ha vendido Supersuckers hasta la fecha. Quien sabe, si esa parte Country nuestra siga creciendo con la edad.
7. What are your major gripes with rock 'n' roll music and alt country music? As far as musicians who are working nowadays, what kind of artists do you like to listen to?
It's painful to see bands (of all genres ) doing better than us when it's clear that they're awful. Lately , we've been listening to Electric Six , Steel Panther , Wheeler Walker Jr , Ween and the Dwarves.
7. ¿Cuáles son vuestras principales quejas hoy en día sobre lo que se está haciendo con el Rock and Roll y el Alt Country? en cuanto a músicos en la actualidad, ¿qué tipo de artistas os gusta escuchar?
Es desagradable ver bandas, de todo género, a los que les va mejor que a nosotros, cuando claramente son horribles. Últimamente hemos estado escuchando a Electric Six , Steel Panther, Wheeler Walker Jr , Ween y los Dwarves.
8. Is there anything else you want to mention beside you upcoming European Tour next June and July Thank you for your answers Supersuckers, do you want to leave a message to all Dirty Rock Magazine and the public exquisite of Azkena Rock festival on the fifteenth edition
We absolutely LOVE coming to Spain. It might be out favorite country in the world… Seriously.  And thanks for giving a shit about our band. Look forward to the show. Hopefully we'll get to see some of the other bands on the festival.
8. Gracias por respondernos Supersuckers ¿Queréis dejarnos un último mensaje para todos los lectores de la revista, aficionados de la música y al exquisito público del Azkena Rock Festival en su decimoquinta edición?
Categóricamente, nos encanta España. En serio podría ser nuestro país favorito en el mundo. Y también jodidamente muchas gracias por darnos esta oportunidad en la revista. Ansiosos de dar espectáculo y con suerte esperamos también ver a algunas bandas en directo.
Entrevista realizada por Jabier Rioboó y Carlos Pérez Báez.
Escucha "Holdin' The Bag", el nuevo disco de Supersuckers
Escucha Must've Been High de Supersuckers.
**************************************************************************************************************
Supersuckers European tour dates June /July 2016
Fri, Jun 17, 2016 O2 Academy Islington, UK
Sat, Jun 18, 2016 Azkena Rock Festival Vitoria-Gasteiz, ES
Sun, Jun 19, 2016 Loggia del Leopardo Vogogna, IT
Mon, Jun 20, 2016 Kalvingrad Genève, CH
Tue, Jun 21, 2016 Blah Blah Turin, IT
Wed, Jun 22, 2016 Spazio Boss La Spezia, IT
Thu, Jun 23, 2016 Lazzaretto Bergamo. IT
Fri, Jun 24, 2016 Freakout Club Bologna, IT
Sat, Jun 25, 2016 Cultura Quente Caldas de Reves, ES
Mon, Jun 27, 2016 Strom Munich, DE
Tue, Jun 28, 2016 Cafe Atlantik Freiburg im Breisgau, DE
Wed, Jun 29, 2016 Sedel Luzern, DE
Thu, Jun 30, 2016 Area Palaverde Azzano Decimo, IT
Fri, Jul 1, 2016 Goldmarks Stuttgart
Sat, Jul 2, 2016 Paunchy Cats Lichtenfels
Sun, Jul 3, 2016 Pitcher Dusseldorf
Mon, Jul 4, 2016 DB's Utrecht
Sun, Jul 10, 2016 Sjock Festival Gierle, BE
Tue, Jul 12, 2016 Cassiopeia Berlin, DE
Wed, Jul 13, 2016 Das Bett Frankfurt, DE
Thu, Jul 14, 2016 Monkeys Music Club Hamburg, DE
Fri, Jul 15, 2016 The Grand Social Dublin, IE
Sat, Jul 16, 2016 The Inec Acoustic Club Killarney, IE
Wed, Jul 20, 2016 The Fleece Bristol, UK
Thu, Jul 21, 2016 Manchester Club Academy Manchester, UK
Fri, Jul 22, 2016 Brudenell Social Club Leeds, UK
Sat, Jul 23, 2016 Ramblin' Man Fair Maidstone, UK