Daniel Romano acaba de publicar "Mosey", tras su magnífico "If I've Only One Time Askin' publicado el año pasado, en el que el prolífico y camaleónico cantante canadiense, enriquece su estilo musical, no adherente a modas, se pone en la piel de un Lee Hazlewood atrevido y prismático con un nuevo álbum de 12 cortes bohemios realmente portentoso, dejando ahora a un lado su bigote, sus patillas y su sombrero ladeado. Daniel Romano actuará en exclusiva el próximo 17 de junio en el Azkena Rock festival.
Daniel Romano por un momento aparta su Country de Bakersfield y Honky Tonk de los años 40 y 50, George Jones, The Louvin Brothers, Guy Clark,  Hank Williams y sobre todo Gram Parsons, envuelto con la vestimenta y traje Nudie Cohn,  Psicodelia Country y pop en la más elegante de sus expresiones en "Mosey" de Daniel Romano, uno de los mejores álbumes de 2016.
El Country está muerto, aunque haya muchas cosas que contar
Daniel Romano se ha sumergido en la realización este fascinante viaje por "Mosey", de pioneros como Lee Hazlewood principalmente, Scott Walker, Tony Wilson, Bob Dylan, Serge Gainsbourg, Nino Rota o Ennio Morricone, diluyéndolo en un poso de música Pop británica y francesa sesentera, Honky Tonk agobiante, Blues Psicodélico, Rock and Roll, Spaghetti Western y Funk setentero. Daniel Romano nuevo maestro del arte del llanto como Scott Walker,Lee Hazlewood, Jacques Brel o Townes Van Zandt.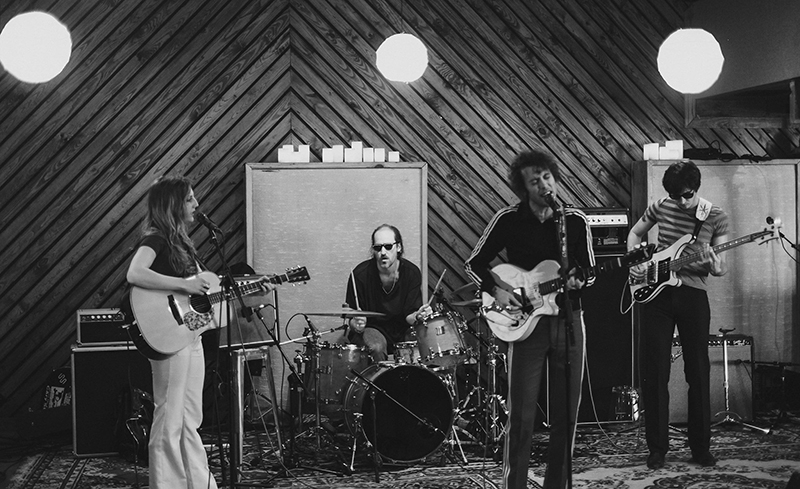 "Mosey", 5º disco de estudio del canadiense de Daniel Romano, se grabó en su propio estudio de grabación The Fenwey en Fenwick, Ontario, en el que tocó cada uno de los instrumentos que aparecen en el disco, piano, cuerdas, guitarras, órgano, bajo, percusión, además de organizar la orquestación del mismo en el que la entonación vocal varía en cada una de su docena de canciones envolviendo cada corte con otro como si fuera una película con una resonancia en gran medida con reflejos en todos ellos del pasado.
Daniel Romano logra en el disco que la lucidez de sus melodías guíe al pop para teñirse de colores brillantes y agridulces, muchas veces enfundado bajo el soporte de atractivas y alegres orquestaciones, otras bajo el amparo de la tenue economía de desoladores pasajes acústicos, creador de música "no normal", en el que el rango de estilos en "Mosey" es tan movedizo que abarca country, soul, o rock 'n' roll para dotar de dimensiones sonoras pulcras y abigarradas en un primer plano sin descuidar el uso de ciertas apariciones fantasmales de reverberaciones en el registro melódico, con su tenue voz grave.
En cuanto a todos esos términos como la Americana Music, Alt Country o Ameripolitan, hay mucho loco desesperado con colmillos
Escucha "Mosey", el nuevo disco de Daniel Romano.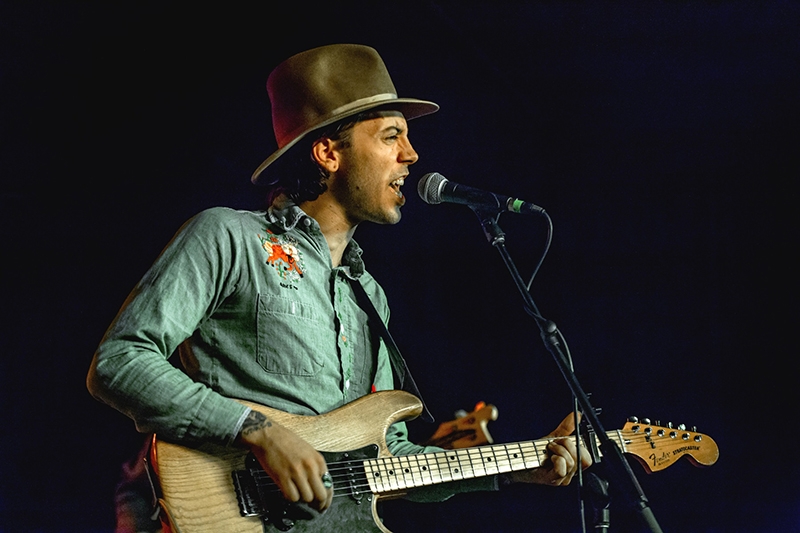 Entrevista a Daniel Romano, cantante y compositor canadiense, con motivo de su actuación en el Azkena Rock Festival el 17 de junio, dentro de su gira europea que concluye en Noruega el 10 de julio.
1.First of all, Welcome to Spain again Daniel Romano!, being great student of Bakersfield Country , Honky Tonk from 40's & 50's, George Jones, The Louvin Brothers, Guy Clark,  Hank Williams and above all Gram Parsons, how managed through these 7 years and after "If I've Only One Time Askin' last year, and a new record coming called Mosey, and now facing your show at the Azkena Rock Festival?
Thank you – we're glad to be back in Spain. I love the people of Spain.
1. Primero que nada, ¡bienvenido a nuestro país Daniel Romano!, siendo un gran alumno del sonido Bakersfield, del Honky Tonk de los 40's y 50's, George Jones, The Louvin Brothers, Guy Clark,  Hank Williams y sobre todo Gram Parsons, ¿cómo has gestionado a lo largo de estos 7 años desde que comenzastes, tu anterior disco "If I've Only One Time Askin'  y ahora este nuevo álbum llamado "Mosey" , cómo encaras tu próximo concierto en el Azkena Rock Festival?
Gracias, estamos muy contentos de volver a España. Nos encanta vuestra gente.
2. You stated about Mosey your new álbum, "it is a study in contrasts. There's glitz and grit, reveling and wallowing, wretchedness and showmanship". Will there be any evolution in terms of your sound?, What else is up ahead for you?
There has been a vast evolution in the sound, none of which I've personally noticed – but people seem to think so.
2. Usted ha dicho sobre su nuevo disco publicado llamado "Mosey" que "es un estudio de contrastes. Hay brillo y arena, para disfrutarlo y regodearse, la miseria y el espectáculo". Hay evolución en términos que abarcan su sonido, ¿qué tendremos más en el futuro?
Si ha habido una gran evolución en mi sonido, ninguna de ellas las he notado personalmente, pero parece ser que para la gente sí.
3. How did "Mosey" come together Daniel and should be a story behind the title of record or song? Wich are main differences between this one compared to previous one "If I've Only One Time Askin', how much you open up your emotional vault within them?
Yeah there's a difference because it feels good and it's better.
3. ¿Cómo se construyó tu último disco "Mosey", si lo comparamos con el anterior "If I've Only One Time Askin', alguna historia detrás de su título o alguna canción?, ¿se lograron vuestras metas en ese disco?
Si que hay una diferencia, porque suena bien y es mejor que el otro.
4. You know, a lot of young people are traveling the rails and heading out through the country, making their way like you were doing. But a lot of them are doing it for romantic reasons, like the old Woody Guthrie kind of romanticism of the countryside or Gram Parsons. Did it ever feel like something romantic to you?
No, it's a job.
4. Ya se sabe que muchos músicos recorren muchos lugares para hacerse su propio camino, bien sea por romanticismo o por otra causa como hicieron Woody Guthrie o Gram Parsons, ¿alguna vez sentiste algo de eso?
No, esto es simplemente trabajo.
5. Are you trying to interpret traditional country into the modern day context, or are you singing about your real life, and just doing so in a traditional country style? Or is it a combination of both?
I don't really think about the style of music, I just think about the song.
5. ¿Estás tratando de interpretar el Country tradicional en el contexto de hoy en día, o simplemente lo manifiestas por tu forma de pensar o es una combinación de ambos?
Realmente no pienso en el estilo de música, sólo pienso en la canción.
6. Is Country Music Dead or there are still many things to tell? Are you interested at the Wild and dirty side of the country music?
There's many things to tell, but country music is dead.
6. ¿Está muerta la música country o aún hay muchas cosas que contar? ¿Está usted interesado en el lado salvaje y sucio de la música country?
Hay muchas cosas que contar, pero creo que el country está muerto.
7. Do you think all of these disparate terms that have popped up lately like Americana or alt-country or even something like Ameripolitan are potentially hurting the cause of of independent country music because there's only so much of a pie slice to begin with, and then you cut the pie slices even smaller by these different terms and making people choose what to call it?
Desperate fools with fangs.
7. ¿Cree que todos estos términos dispares que han surgido últimamente como Americana, Alt-Country o incluso Ameripolitan potencialmente causan un perjuicio a la música Country independiente como sector circular, para luego comenzar a cortarla en porciones más pequeñas y así la gente pueda llamarla de cualquier manera?
Locos desesperados con colmillos.
8. Daniel Romano seem to bring a range of Country and Roots influences together, can you tell us about your background and which musicians that have influenced your sound and approach to creating your own style of music?
Andrew Lloyd Webber, Treble Charger, Hayden, The Flashing Lights, and other Toronto-based 90s rock groups. And on the other side: Senior, Jones, Ira, Shel, Porter, Miller. And on the other side: Miller, Celine, Rimbaud, Bukowski, T.S., Tennessee Williams, Walt. And on the other side: Gallo, Jordorowski, Felini, Godard. And on the other side: Basquiat, Baldassari, Ray Johnson, The Viennese Actionists, The Beats, and above all, Matisse.
8. Daniel Romano parece aportar a su música una serie de influencias de música Country y de raíces juntas, ¿nos podría hablar acerca de  sus inicios en la música, músicos que han influido en su sonido y acercamiento para crear su propio estilo de música?
Andrew Lloyd Webber, Treble Charger, Hayden, The Flashing Lights, y otros grupos de Rock con base en Toronto. Y por otro lado Senior, Jones, Ira, Shel, Porter, Miller. Y por el contrario: Miller, Celine, Rimbaud, Bukowski, T.S., Tennessee Williams, Walt. Por un lado: Gallo, Jordorowski, Felini, Godard. Y por otro: Basquiat, Baldassari, Ray Johnson, The Viennese Actionists, The Beats, y sobre todo, Matisse.
9. We've never been to Canada. But We are under the impression there ares a constantly burgeoning scene of Country Music like in US?
No – Canada does not have a country scene, at least not one that I have anything to do with.
9. Nunca hemos estado en Canadá, ¿pero tenemos la impresión de que hay una creciente y constante auge de la música Country como en Estados Unidos?
Para nada. Canadá no tiene escena Country, al menos yo no tengo nada que ver con ella.
10. What kind of music you listen to while on the road in your van? Any good song, record, band you lately like ? Do you know Spanish Country Rock or Rock artist, etc?
I don't – but I like Marine Dreams, Steven Lambke, Jennifer Castle, Bernice, The Weather Station.
10. ¿Qué tipo de música escucháis cuando vais de gira en la furgoneta, algún buen disco, canción, banda que os guste últimamente? ¿Conocéis algún artista español?
No suelo escuchar música mientras nos movemos de ciudad en ciudad pero si que me gustan bandas y artistas como Marine Dreams, Steven Lambke, Jennifer Castle, Bernice, The Weather Station.
11. How is Ontario and Canada musical scene and their culture of Rock and Rock right now and specially talking about Rock and Roll, Blues, Hard Rock, etc? What bands do you follow in Canad or, around the world?
The Tragically Hip is the greatest Canadian rock band, followed closely by the Sadies. The TV Freaks, the Constantines, Arcade Fire, Ladyhawk.
11. ¿Cómo es la escena musical de Canadá u Ontario donde residís y su cultura en cuanto a géneros como Rock, Rhythm & Blues, Americana o Soul en estos momentos?
The Tragically Hip es la banda más grande en Canadá, seguida muy de cerca por The Sadies.  Luego The TV Freaks, the Constantines, Arcade Fire, Ladyhawk.
12. What is the best satisfaction you would like to take with you after the show at Azkena Rock Festival after being on tour here two years ago?
Delivering a good, honest performance.
12. ¿Cual sería la mejor satisfacción que les gustaría llevarse del Azkena Rock Festival, tras estar de gira por España hace dos años?
Ofreceros una honesta y buena actuación.
13. Is There anything you want to tell us we won't ask you Daniel Romano? and Would you mind send Dirty Rock readers a message and encourage them to see Daniel Romano in your upcoming performance at Azkena Rock festival?
We're just another rock band except we sing about piles of whales.
13.  ¿Hay algo que os gustaría decir Daniel Romano y que no te hayamos preguntado?, ¿le gustaría enviar un mensaje a los lectores de Dirty Rock para animarlos a verte en el Azkena Rock Festival?
Somos otra banda de rock, excepto que cantamos sobre montones de ballenas.