Dani Nel.lo publica hoy viernes 31 de marzo «Los Saxofonistas Salvajes», tras su anterior trabajo publicado hace dos años "Sax-O-Rama".
En este ocasión Dani Ne.lo seleccionó 13 canciones que han sido inspiradoras dentro de la historia de este instrumento, sobre todo temas que aparecieron a finales de los años 40, que aunque había tenido un papel destacado tanto en la era de las Big Bands como en el Be Bop, éste se revela como sinónimo de rebeldía, el saxo, acompañando al paso al Rock and Roll y antes del Rhythm & Blues con todas sus barreras raciales incluidas.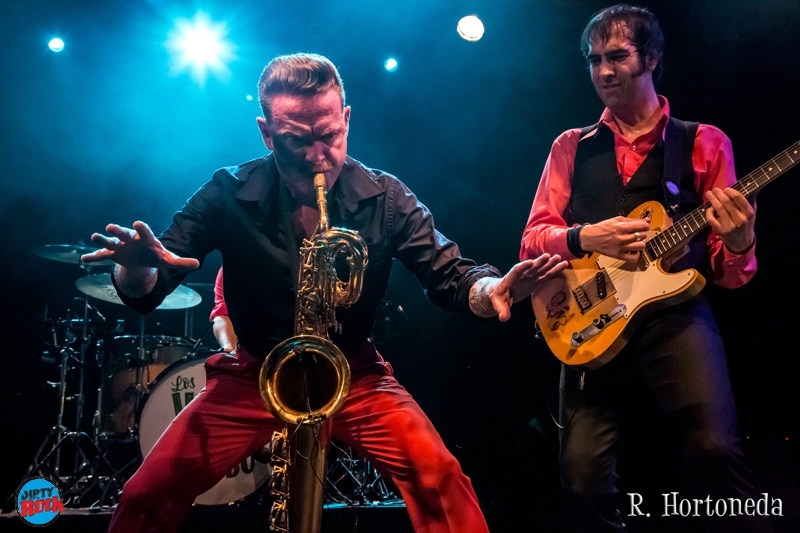 Bill Doggett, Arnett Cobb, Noble Watts o Red Prysock son algunos de los nombres que han inspirado a Ne.lo para realizar este nuevo disco, por parte del mejor saxo tenor del Rock and Roll español y uno de los músicos más prolíficos junto a formaciones como The Nu Niles, Mambo Jambo, Barcelona Big Blues Band, Los Rebeldes, La Banda del Zoco, Tandoori Le Noir o internacionales colaborando para Nick Curran, Barrence Whitfield, Los Lobos, Jackson Browne, o John Parrish entre otros.
Dani Ne.lo contó para realizar este disco «Los Saxofonistas Salvajes», con Pere Miró (Saxo Barítono), Dani Baraldés (guitarra), Hector Martín (guitarra y guitarra barítono), Matías Míguez (bajo), Anton Jarl (batería) y Albert Sabater (percusión).
Ducho en géneros como Rhythm & Blues, Rockabilly y Jazz Dani tiene a sus espaldas una extensa carrera repleta de de éxitos. Actualmente ejerce también de presentador el programa de TV3 "Jazz a l'estudi".
Escucha el nuevo disco de Dani Nel·lo «Los Saxofonistas Salvajes»
Primeras fechas de la gira de Dani Nel·lo para presentar «Los Saxofonistas Salvajes»
02.04 -Rubí – Vermuts Musicals
18.05- Valladolid – Porta Caeli
19.05- Madrid – El Sol
15.06- Barcelona – Jamboree
16.06 – Barcelona – Jamboree
12.07 -Sevilla – Caixaforum – Entradas aquí
14.07 -Cazorla – Blues Cazorla