«Down Hearted Blues» es el título del nuevo disco de Eilen Jewell disponible el 22 de septiembre. Sexto álbum en el que Eilen Jewell versiona doce temas de Blues y Rhythm & Blues que van desde canciones de Bessie Smith, Betty James, Charles Sheffield, Willie Dixon, Albert Washington, Moonshine Kate o Memphis Minnie, y que presentará en España el próximo mes de noviembre con 5 fechas confirmadas.
Escucha el primer adelanto del nuevo disco de Eilen Jewell «Down Hearted Blues»
Tras "Sundown Over Ghost Town" quinto disco de estudio de norteamericana hace dos años y de su excelente álbum "Queen of the Minor Key" en 2011 y entre medio el doble disco en directo titulado "Live at the Narrows", grabado en 2014 y que se presentó como despedida de su contrabajista Johnny Sciascia, regresa con un nuevo disco que seguro llevará hacia terrenos de raíces del country clásico, hermanado con el folk, blues en esencia y rockabilly crudo; sonidos que recordaban los 50's y 60's y jazz de los 30's.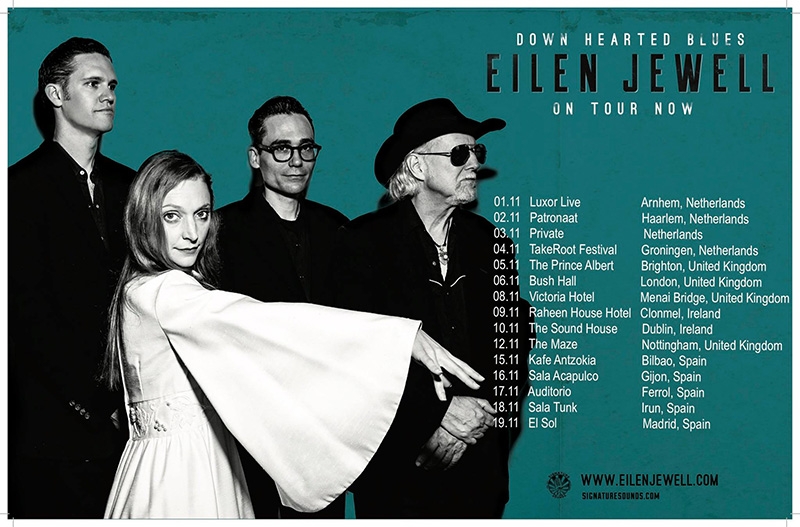 Escucha el nuevo disco de Eilen Jewell «Down Hearted Blues»
Eilen Jewell es la propia reencarnación de Jessie Mae Hemphill, de Loretta Lynn, de Wanda Jackson, del propio padre de Lucinda Williams, Miller Williams en sus poemas, Roy Orbison o del "King" y pirata favorito Johnny Kidd,
Eilen Jewell grabó su nuevo disco «Down Hearted Blues» junto a su marido, melómano y batería Jason Beek (Whoa! Man! Jesus!), Jerry Miller (The Spurs) a la guitarra y la nueva incorporación al contrabajo y guitarra Shawn Supra (Woody Pines, Wayne Hancock, Kim Lenz, Rosie Flores o Wanda Jackson) sustituyendo a Johnny Sciascia (The Spurs, The Crank-Tones, Roy Sludge, Jittery Jack, Sarah Levecque).
Fechas de la gira española de Eilen Jewell en noviembre de 2017:
15 noviembre en Bilbao, Kafe Antzokia
16 noviembre en Gijón, Teaetro Albéniz. Fiesta de bienvenida del Festival Internacional de Cine de Gijón
17 noviembre en Ferrol, Auditorio
18 noviembre en Irún. Tunk, Gaztemaniak.
19 noviembre en Madrid, Sala El Sol.