El cantante y armonicista Chris O'Leary ofrecerá su primera gira española este mes de abril junto a su banda The Chris O'Leary Band. Hombre que ha ido pagando con creces sus cuotas a la música de raíces norteamericana. Primero como cantante y armonicista de la última banda de Levon Helm durante 6 años mordiéndose los dientes con los The Barnburners y otros siete años junto a las fuerzas armadas norteamericanas, los Marine Corps, en el escuadrón de infantería de la Guerra del Golfo.
Tienes que ser bastante duro y competente para haber manejado ambas situaciones. Chris salió airoso de ellas. Giras y discos, más una extensa residencia musical en el French Quarter de Nueva Orleans desde la ciudad de Nueva York, aportaron al músico, influencias esa visión en el que la costa oeste se encuentra con el blues de Chicago y Nueva Orleans.
El debut de The Chris O'Leary Band llegó en el 2010 con el álbum «Mr Used to Be», obteniendo elogios internacionales, nominación para el Blues Musica Award, y un premio para el disco debut en los premios Blues Blast Music Awards de Chicago. Tras este disco llegarían dos discos de estudio y un directo. Gonna Die Tryin' es el último trabajo hasta la fecha de O'Leary publicado en 2015.
Chris O'Leary ha sido armonicista y músico de sesión para Bobby Keys, The Fabulous Thunderbirds, Jimmy Vivino, Jeff Healey, Dan Akroyd, Albert Lee, Dave Edmunds, Dave Maxwell, James Cotton, Bill Perry y Hubert Sumlin entre otros.
The Chris O'Leary Band lo componen el guitarrista Chris Vitarello, Mark Raymond al bajo, el saxo barítono Chris DiFrancesco, Andy Stahl al saxo tenor y Andrei Koribanics a la batería.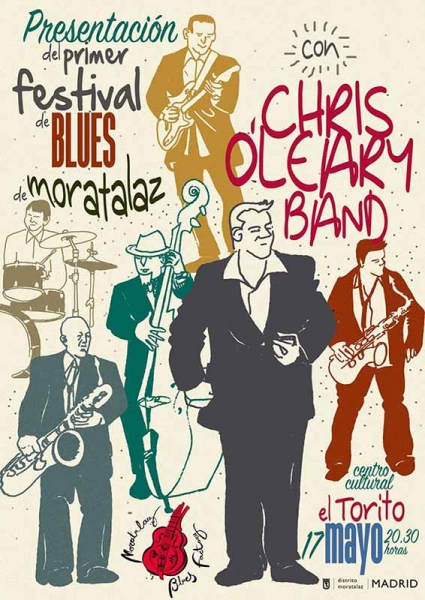 Fechas de la gira española de The Chris O'Leary Band 2018:
10 de mayo, Valencia, Loco Club
11 de mayo, Zaragoza, Rock & Blues Café
12 de mayo, Baixa da Banheira, Portugal, BB Blues Fest Warm Up
13 de mayo, Bilbao, Satélite T
15 de mayo, Santander, Almacén de Little Bobby
16 de mayo, Gijón, Memphis Live Music
17 de mayo, Moratalaz, Centro Cultural El Torito. Presentación del I Festival Internacional de Blues de Moratalaz 21 y el 22 de septiembre
18 de mayo, La Aldea de San Miguel, Aldearock Festival
19 de mayo, Don Benito, RocknBlues Festival
20 de mayo, Segovia, Winter Indie City, Beat Club Segovia