El proyecto Red Beard capitaneado por el grancanario Jaime Jiménez Fleitas, presentará su nuevo disco titulado "Dakota"el próximo 5 de octubre. Cuarto trabajo de Red Beard tras "All or Nothin' tras sus dos EP´s "Nobody´s gonna bring me down" Vol. 1 y 2.
Red Beard apuesta en estos momentos por moldear su naturaleza hacia un sonido más contundente y eléctrico apoyado en el rock and roll mestizo, mezclando muchas de las salsas locales como el blues, el country o el rhythm & blues como bien expone en algunos temas de su nuevo disco que aquí hoy presentamos como el ultimísimo «A Place To Settle Down», «Hold on» o «Hit 'em Low Hit 'em Harder».
El conglomerado musical Red Beard, incondicional de los sonidos americanos, nacidos en ese llamado continente en miniatura, como es Gran Canaria hace 4 años, y tras comenzar con sonidos más desnudos, con sus dos primeros discos Nobody´s Brings Me Down, vol.1 y vol.2; la banda ha ido evolucionando con su tercer trabajo All Or Nothin' hacia un terreno que les acerca a contemporáneos como White Buffalo y en éste próximo disco, estarán muy presentes los ecos del rock sureño.
Escucha el nuevo disco de Red Beard «Dakota» (2018)
Como en la soleada California, Florida, Georgia, Texas o como en un buen guiso de Nueva Orleans, el característico ataque de esas dos nuevas guitarras de Red Beard a toda pastilla, ese teclado y coros a compresión, ponen de manifiesto los cimientos para seguir agitando la bandera confederada como parte de la herencia del Sur estos postulantes hacia sonidos cercanos a Outlaws o Blackfoot.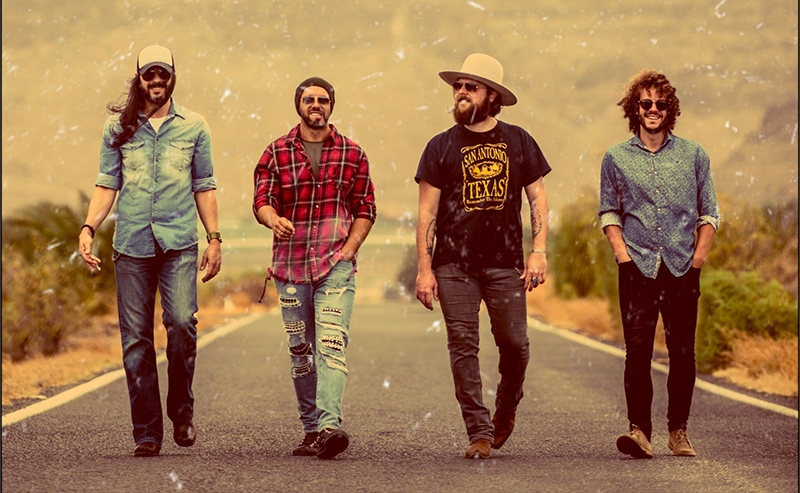 Red Beard tras firmar con la multinacional norteamericana Peermusic, la editorial independiente de música más grande del mundo, con 91 años de existencia localizados en 29 países, ha anunciado sus primeras fechas de presentación de su nuevo disco «Dakota» en España y en países europeos como Francia, Alemania y Austria.
Fechas de la gira de Red Beard (más fechas por confirmar)
22 de Noviembre en Bilbao Kafé Antzokia
23 de Noviembre en Cangas, Salason
25 de Noviembre en Zaragoza, Bourbon Festival
26 de Noviembre en Barcelona, Rocksound
29 de Noviembre en Besançon , Bar de L'u, Francia
30 de Noviembre en Ensisheim, Wood Stock Guitares, Francia
1 de Diciembre en Lauchhammer ,Real Music Club, Alemania
4 de Diciembre en Bremen, Meinsenfrei, Alemania
5 de Diciembre en Nordestedt, Musicstar, Alemania
6 de Diciembre en Bordesholm, Albatros, Alemania
7 de Diciembre en Högänas, Garage Bar, Suecia
8 de Diciembre en Motala, Bombers Bar, Suecia
11 de Diciembre en Estocolmo, Melody Box, Suecia
13 de Diciembre en Hamburgo, Club Am Donnerstag, Alemania
14 de Diciembre en Isernhagen, Blues Garage, Alemania
15 de Diciembre en Singwitz, Kesselhaus, Alemania
17 de Diciembre en Fürth, Kulturfabrik Bar, Alemania
18 de Diciembre en Bratislava, Muzeum Ochbodu, Eslovaquia
19 de Diciembre en Kufstein, Kulturfabrick Kufstein, Austria
20 de Diciembre en Krefeld, Kulturrampe, Alemania
21 de Diciembre en Altlandsberg, Buchholz Saloon, Alemania
22 de Diciembre en Berlín, Wild At Heart, Alemania
2019
8 de Marzo en Córdoba, Sala Ambigú
9 de Marzo en Dos Hermanas (Sevilla), Sala Ruta 66
15 de Marzo en Madrid, Sala Sound Stage
16 de Marzo Almazán, Soria, Bar Maneras de Vivir