Supersuckers publican este mes de diciembre «Suck it». Álbum de estudio número 12 de la banda liderada por Eddie Spaghetti, junto a Marty Chandler a la guitarra y Chris Von Streicher a la batería. Jesse Dayton colabora en una de las canciones del disco cantando y tocando la guitarra, «Beerdrinkers and Hellraisers», tema original de ZZ Top.
Supersuckers presentará en España a partir del mes de noviembre y diciembre estas canciones con motivo del vigésimo aniversario del disco "The Evil Powers Of Rock And Roll" y del 30 aniversario como formación de la banda en ciudades como Bilbao, Valladolid, Madrid, Granada, Valencia, Castellón, Zaragoza y Barcelona. Con motivo del 30 aniversario la banda ha elegido este disco para interpretarlo íntegramente ante sus seguidores. En Estados Unidos, durante el mes de julio y agosto, Supersuckers tocaron dos álbumes: The Smoke of Hell y La Mano Cornuda.
El extremadamente erudito Spaghetti (uno de los mejores compositores del planeta, lo deja claro en las dos primeras canciones del disco, All Of the Time y The History of Rock 'n' Roll: «lo haremos en directo, ¡la maldita cosa apesta!». Una decena de canciones para ser cantadas junto a una multitud de cervezas con Eddie Spaghetti ese tipo con una garganta entre Lemmy y Graham Parker, canciones, si no clásicas, seguramente tan potentes y atrapan la garganta como cualquier cosa que la banda haya grabado en sus 12 salvas anteriores en «Holdin' the Bag«.
Rock and roll en su máxima expresión, fanfarrón, contundente, rápido. Los corazones heridos podrán disfrutar de este disco como si sus pantalones estuvieran llenos de dinamita, lo nuevo de Supersuckers.
Eddie Spaghetti, un vaquero criado en el Punk y un ámbito grunge, supo abrirse a una variedad de estilos como el Country, Cow Punk, Pop gamberro y pétreo rocanrol, donde se despacha las mil maravillas en sus discos y directos.
Supersuckers naturales de Arizona, residentes ahora en Washington se formaron en 1988 con Eddie Spaghetti a la cabeza, otro músico infravalorado por la industria musical y muchísima prensa musical especializada, compaginando su carrera en solitario con la de su banda Supersuckers y fue en el 2003 cuando editó su primer disco "Extra Sauce", luego llegarían "Old Nº. 2" (2005) , "Sundowner" en el 2011, "The Value of Nothing" (2013) y marchándose de gira con los más grandes como Steve Earle, Lucinda Williams,Willie Nelson, Motorhead, The Ramones, Social Distorsion entre otros.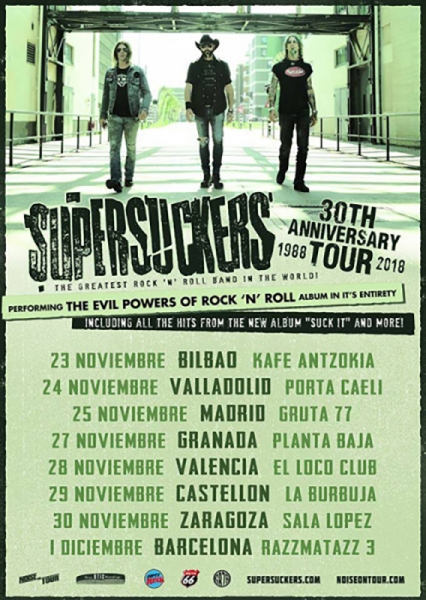 "Suck It"
1. All Of the Time
2. The History of Rock 'n' Roll
3. Dead Inside
4. Breaking My Balls
5. The Worst Thing Ever
6. What's Up (With This Motherfucking Thing?)
7. Cold Wet Wind
8. (Im Gonna Choke Myself and Masturbate) 'Til I Die
9. Private Parking Lot
10. Beerdrinkers and Hellraisers
Fechas de la gira Supersuckers 30th Anniversary Tour 2018:
23 de noviembre en Bilbao (Kafe Antzokia)
24 de noviembre en Valladolid (sala Porta Caeli)
25 de noviembre en Madrid (sala Gruta 77)
27 de noviembre en Granada (sala Planta Baja)
28 de noviembre en Valencia (Loco Club)
29 de noviembre en Castellón (sala La Burbuja)
30 de noviembre en Zaragoza (Sala Lopez)
1 de diciembre en Barcelona (sala Razzmatazz 3)