El pasado día 2 de Noviembre tuvo lugar en Arrabal de Portillo en el complejo cultural la Estufa. La presentación de la Tercera Edición del Festival Small Town, que se celebrara el próximo día 5 de Mayo de 2019, y que contará con los nombres de Julián Maeso, Los Chicos, Northagirres, Travellin' Brothers y Uncle Sal.
Una Fiesta de presentación donde The Riff Truckers participantes de la anterior edición, Small Town conto en aquella edición del 2018 con Rubia, Empty Bottles, Uncle Sal, Del Tonos y los ya mencionados anteriormente Riff Truckers.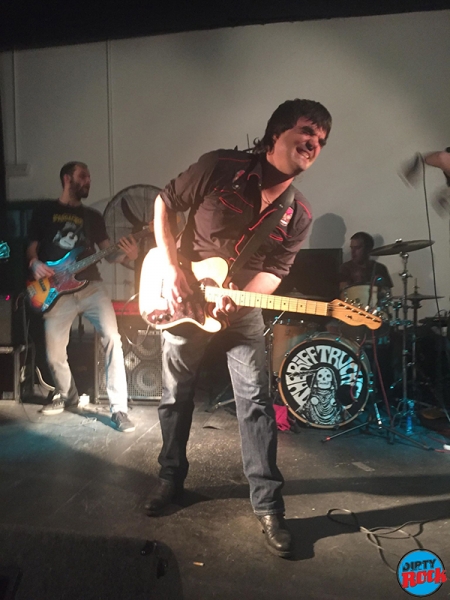 Small Town en su segunda edición dio un paso de gigante para su consolidación como uno de los mejores festivales que puede haber en la provincia de Valladolid a principio de primavera y que sin duda, va camino de convertirse en un festival de entidad dentro del ámbito nacional en el circuito de festivales que se celebran durante todo el año.
Una Fiesta de presentación donde por un precio simbólico de 3 euros, te invitaban a una cerveza artesanal y además a un picoteo previo. Un concierto donde The Riff Truckers nos entregaron un concierto de casi dos horas de Rock and Roll destilando todas las esencias del Shouthern rock aprovecharon para presentarnos el ultimo trabajo Over de Edge, que decir de ellos, son un Tornado en el escenario, su fuerza y cercanía es arrolladora. En un ambiente familiar y con una sala prácticamente llena fue un bolazo y fiestón.
La próxima edición del Festival contará con la participación de Julián Maeso, Los Chicos, Northagirres quienes presentarán su nuevo disco publicado el pasado mes de abril «Corte Fino», Travelin' Brothers y Uncle Sal vuelven para presentar su ultimo Lp The American Dream para la sesión de Vermú en el increíble marco del Castillo de Portillo. Festival que no deberíais perderos, donde sin duda Dirty Rock estará presente para comenzar la primavera rockeando por Tierra de Pinares.
Texto y fotos por Chema Moriñigo.