El 21 de abril de 1981 quedará grabado en la memoria para muchos porque fue la primera visita de Bruce Springsteen en España con un concierto en el Palau d'Esports de Montjuïc en el que presentó su quinto trabajo discográfico, la obra maestra "The River".
Celebramos este 2021 el 40 aniversario del primer concierto de Bruce Springsteen en España, fue en el Palau d'sports de Barcelona presentando "The River" un 21 de abril de 1981 dentro de la gira "The River Tour". La E Street Band por aquel entonces la conformaban Roy Bittana al piano y coros, Clarence Clemons al saxofón, percusión y coros, Danny Federici al órgano, glockenspiel y coros, Garry Tallent al bajo, Steven Van Zandt a la guitarra y coros y Max Weinberg a la batería.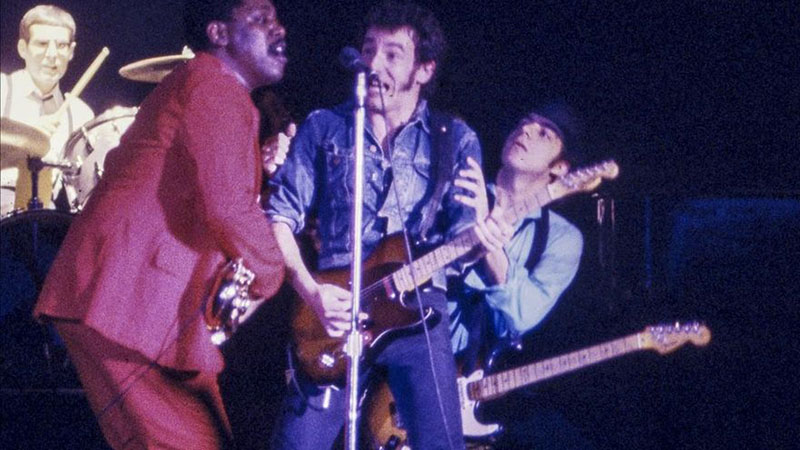 Dale al play y disfruta de 10 vídeos de concierto de Bruce Springsteen en Barcelona de 1981:
Gay Mercader el promotor del momento, nuevamente ponía en el mapa de las grandes ligas en cuanto a giras a un grandísimo artista por nuestras tierras. Unos tiempos muy difíciles aquel 1981, donde la música no estaba al alcance de cualquiera. La dimisión de Alfonso Suárez, el golpe de estado, el secuestro de Quini, el aceite de colza, los depilfarros, s se aprobó la ley del divorcio, el ingreso de España en la OTAN, Ruiz Mateo compraba Galerías Preciados, la llegada del Gernika,y se comenzaban a ver los primeros avances sociales.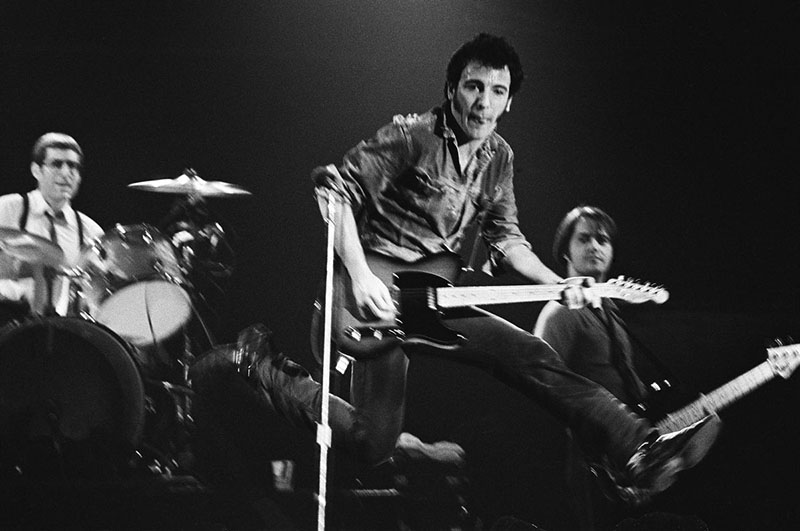 El pabellón Palau d'sports no se llenó y agotó sus entradas para ver por primera vez a Bruce Springsteen en nuestro país. El Palacio Municipal de Deportes de Montjuic de Barcelona reunió alrededor de siete mil almas en una gira en la que Bruce Springsteen & The E Street Band había comenzado un año antes en Estados Unidos, recalando en Europa a partir de un 7 de abril en Hamburgo para extenderse hasta el 8 de junio en Birmingham. El 14 de septiembre culminaría aquella gira mundial en Cincinatti.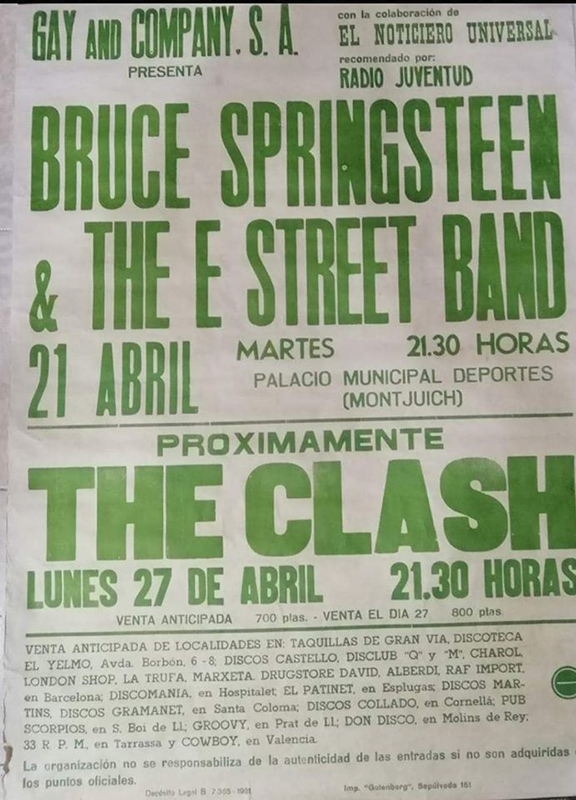 Algunas canciones de aquella gira fueron recopiladas para el álbum en directo Live/1975-85. En el concierto de ciudad Condal, fueron más de 3 horas de concierto, presentando canciones de sus 5 primeros discos, haciendo hincapié en su primer gran éxito "The River" (1980) y en el que hubo descanso tras una primera hora y media de concierto, por parte de un artistas que siempre ha capturando el espíritu de cada una de las épocas.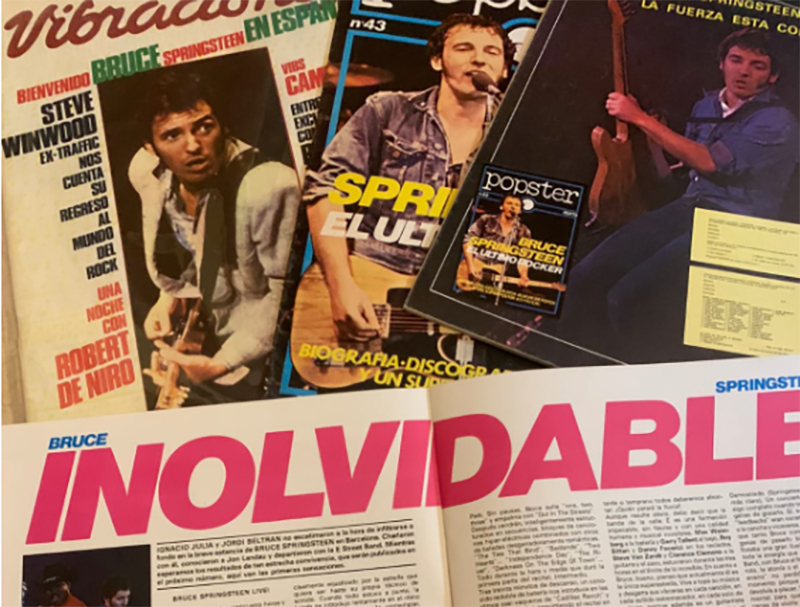 La búsqueda siempre Bruce Springsteen de la tierra prometida, invisible a veces, es aún más apesadumbrada en sus canciones. Ninguno de sus discos puede compararse con la experiencia de verlo sólo o con The E-Street Band en directo, un auténtico regalo medicinal y purificador durante tres horas, ¡mínimo!.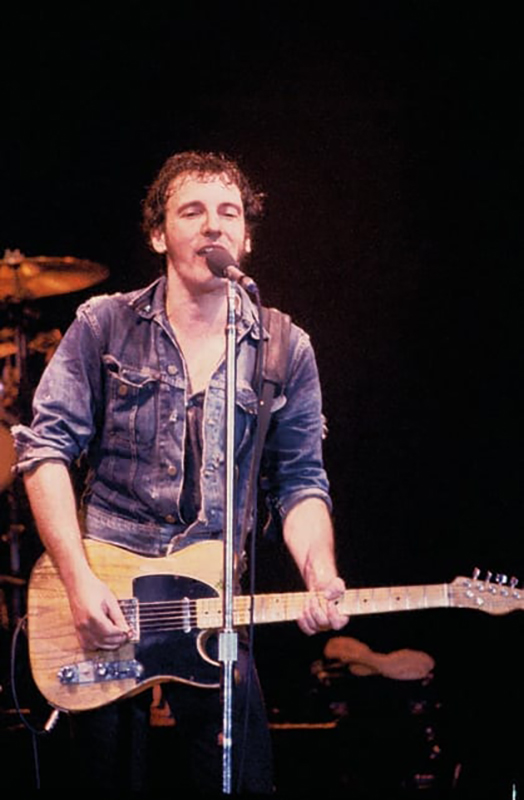 Repertorio de Bruce Springsteen el 21 abril de 1981 en el Palau dels Esports Barcelona:
Set I:
1.Factory
2.Prove It All Night
3.Out in the Street
4.The Ties That Bind
5.Darkness on the Edge of Town
6.Independence Day
7.Who'll Stop the Rain (Creedence Clearwater Revival cover)
8.Two Hearts
9.The Promised Land
10.This Land Is Your Land (Woody Guthrie cover)
11.The River (con la intro "Once Upon a Time in the West")
12.Badlands
13.Thunder Road
Set II:
14.Cadillac Ranch
15.Sherry Darling
16.Hungry Heart
17.Because the Night (Patti Smith Group cover)
18.You Can Look (But You Better Not Touch)
19.Point Blank
20.Racing in the Street
21.Backstreets
22.Ramrod
23.Rosalita (Come Out Tonight)
Bises:
24.Born to Run
25.Detroit Medley
26.Rockin' All Over the World (John Fogerty cover)
Vídeos.: Manuel Huerga. Fotos Francesc Fàbregas (Vibraciones)