Wille Nile es de esa estirpe de rockeros que está en peligro de extinción. Grandísimo escritor de canciones, sus conciertos son muy poderosos, cargados de pura dinamita. Los más grandes lo admiran sin cesar.
Bruce Springsteen, su gran amigo, lo considera actualmente el auténtico "Jefe" y poeta de canciones junto a Bob Dylan. Alejandro Escovedo, Lou Reed, Jeff Buckley, Lucinda Williams, Levon Helm, Patti Smith, Ringo Starr, Bono, Carole King, Elvis Costello, Chrissie Hynde o Pete Townshend, entre otros muchos, lo admiran con devoción.
Willie Nile es un músico mayúsculo que regresa a España a partir del 20 de marzo hasta el 1 de abril, siendo hasta el momento la gira más extensa por nuestro país. Repasará su último y soberbio trabajo "The Innocent Ones" y sin duda entonará temas nuevos de su próximo álbum ya finalizado, así como grandes éxitos.
El pasado 13 de marzo, Robert Anthony Noonan (Willie Nile) estuvo actuando en Nueva York con Rickie Lee Jones y James Madock, en un acto paralelo al concierto benéfico y homenaje a la música de The Rolling Stones llamado "The Music of The Rolling Stones  Hot Rocks 1964-1971 at Carnegie Hall", junto a casi una treintena de músicos como Marianne Faithfull, Ronnie Spector, Taj Mahal, Jackson Browne, David Johansen (New York Dolls), Ian Hunter, Steve Earle, Art Garfunkel, Rosanne Cash, The Mountain Goats, TV on the Radio & Jovanotti, Glen Hansard, Peaches, Marc Cohn, Carolina Chocolate Drops, Jackie Greene o Rich Robinson (The Black Crowes).
Wille Nile, de casi 64 años de edad, se doctoró en filosofía y literatura inglesa a principios de los 70 en Nueva York, periodo en el que eclosionó el punk. En esos años acudió al club neoyorquino CBGB para ver a sus grandes ídolos Patti Smith o Television, y actuó después de los incendiarios conciertos de The Ramones, The Cramps o Talking Heads.
A finales de los años setenta le llegó su momento al inconformista y libre Nile. Una noche, un prestigioso articulista del New York Times y Rolling Stone lo fue a ver, y quedó tan impresionado que lo relacionó con Bob Dylan y Bruce Springsteen, y a partir de ahí dos discos, el homónimo «Willie Nile» (1980) y «Golden Down» (1981), y gira con The Who por Estados Unidos, de telonero.
Después, un auténtico calvario de demandas y enfermedades condenan al neoyorkino al ostracismo. Su tema "She is so cold" fue plagiado-prestado por The Rolling Stones para el Emotional Rescue.
Willie Nile, «She is so cold»,
The Rolling Stones, «She is so cold»,
Regresa sin pena ni gloria en 1991 con "Places I have never been", y cansado de multinacionales, crea su propio sello discográfico para editar sus obras cumbres. En 1999 lanza su primera obra maestra: "Beautiful wreck of the world". En 2006 el excelente "Streets of New York". En 2009 el maravilloso "House of a thousand guitars". Y en 2010 su último y grandioso "The Innocent Ones".
Willie Nile (voz y guitarra) estará acompañado por Johnny Pisano (bajo) y Alex Alexander (batería), ambos de su banda habitual, y Jorge Otero, guitarra de los asturianos Stormy Mondays que cubre al guitarrista Matt Hogan.
El Rock and Roll de Willie Nile tiene clase y buen gusto, canciones que te arrollan. Prefiere calidad a cantidad. Obama utilizó una de sus canciones, "Give me tomorrow", para su campaña política. Poesía trabajada, mucha ingenuidad, grandísimas canciones y el rock and roll más clásico corre por sus venas. Habitual en los grandes conciertos de la costa este de Bruce Springsteen, el propio Bruce reconoció que el primer músico al que tocó el disco "Wrecking Ball" entero fue a Willie Nile. El neoyorkino define su música como «una película de los Hermanos Marx que se puede bailar».
Willie Nile, Neal Casal, Chuck Prophet, Alejandro Escovedo, Elliot Murphy, o Nikki Sudden cuando estaba con nosotros: son los Sakyamuni malditos del rock, los grandes «olvidados» por la industria norteamericana.
Doce Gólgotas para ver a uno de los grandes compositores del momento: Madrid, Valladolid, Santander, A Coruña, Vigo, Cádiz, Granada, Castellón, Zaragoza, Hostalets Balenyá (Barcelona), Bilbao y Pola de Lena (Asturias).
Gólgotas o Calvarios, porque Willie Nile será descubierto por miles de amantes a la buena música en nuestro país. Ya lo dice su grandiosa canción  «On The Road to Calvary», propagar y engrandecer la música hacia todos, desde Dirty Rock nos lo propusimos, «I guess there's not a whole lot more I can say, just tell St. Christopher where all on our way, That's all folks».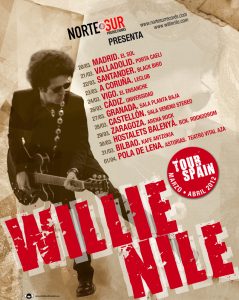 Las fechas para su gira por España son:
20 de marzo, Madrid, Sala El Sol (20€, 18€ anticipada), 22:00 h.
21 de marzo, Valladolid, Sala Porta Caeli (15€, 12€ anticipada), 21:00h
22 de marzo, Santander, Sala Blackbird (18€, 15€ anticipada), 21:00h
23 de marzo, A Coruña, Le Club (15€, 12€ anticipada), 22:00h
Grupo invitado: The Highlights
24 de marzo, Vigo, Sala El Ensanche (15€, 12€ anticipada), 22:30h
Grupo invitado: The Highlights
26 de marzo, Cádiz, Universidad de Cádiz, El Aulario (6€, 4€ estudiantes), 21:00h
Grupo invitado: Southern Art Society
27 de marzo, Granada, Sala Planta Baja (12€, 10€ anticipada), 21:00h
28 de marzo, Castellón, Sala Veneno Estéreo (12€, 10€ anticipada), 21:00h
29 de marzo, Zaragoza, Sala Arena Rock (15€, 12€ anticipada), 20:00h
30 de marzo, Hostalets de Balenya (Barcelona),  Sala Rockodrom (18€, 13€ anticipada), 22:30h
31 de marzo, Bilbao, Kafe Antzokia (18€, 15€ anticipada), 21:30h
1 de abril, Asturias, Pola de Lena, Teatro Vital Aza (12€, 10€ anticipada), 19:30h
Grupo invitado: The Mokomitas