El New Orleans Jazz & Heritage Festival 2012 es uno de los grandes acontecimientos musicales del año, uno de los cinco mejores festivales de música del planeta y que además se enmarcan dentro de la inauguración del primer Día internacional del Jazz por la UNESCO, siendo el genio Herbie Hancock el impulsor del festejo, siendo la Nueva Orleans la capital de la música desde el 27 de abril hasta el 6 de mayo.
Nueva Orleans es la cuna de cualquier amante de la buena música, el origen de todo que comenzara el siglo XIX con esos esclavos llegados desde África, el aprendizaje del Blues y sus orígenes desde Mali, Senegal o Nigeria hasta el Delta de Mississipi, desembocando en Louisiana y la capital del Mardi Gras (carnaval), que es Nueva Orleans y que desde 1968 se viene celebrando el fantástico festival New Orleans Jazz & Heritage Festival, en el que los más grandes han caído por esas tierras, desde Duke Ellington, pasando por Frank Sinatra, Miles Davis, Louis Armstrong y asociando estilos musicales que van muy arraigados con la ciudad y el estado como son el Rock, Blues, R&B, Gospel music, Cajun music, zydeco, Afro-Caribbean, Folk, Latin,Rap music, Country music, Bluegrass, Roots Music y muchísimo Jazz.
Los cabezas de cartel de esta edición, tomen nota, Bruce Springsteen & The E Street Band, Tom Petty & The Heartbreakers, Dr. John, Gary Clark Jr., The Black Keys, The Beach Boys, Eagles, Ziggy Marley, The Meters, Steve Earle, Jim James (My Morning Jacket), Ani DiFranco, Allen Toussaint, Feist, Trombone Shorty, Bonnie Raitt, John Mayer, Al Green,Bon Iver, Jill Scott, Foo Fighters, The Neville Brothers, Zac Brown Band, Herbie Hancock, My Morning Jacket,Sharon Jones & the Dap-Kings,Mavis Staples,Esperanza Spalding,Troy «Trombone Shorty», Irvin Mayfield & the New Orleans Jazz Orchestra, Chuck Leavell & Friends, The Texas Tornados, y una larguísima lista de casi 900 artistas repartidos por decenas de escenarios y salas en Nueva Orleans.
Precisamente uno de los platos fuertes de esta edición iba a ser la actuación del genio Levon Helm, pero la desafortunada noticia de su fallecimiento ha provocado muchísimos cambios de última hora, como la ausencia de Eddie Vedder debido a un problema con su brazo, siendo reemplazado por otro genio, el guitarrista y cantante Warren Haynes de Gov't Mule y Allman Brothers.
El cartel del 2012 como viene siendo habitual es absolutamente asombroso,conjugando música, arte en todas sus disciplinas y muchísima gastronomía por varias zonas de Nueva Orleans y el centro de la ciudad. Las actuaciones comienzan a partir de las 11 de la mañana hasta casi las 7 de la madrugada desde el 27 de abril hasta el 6 de mayo. Dividiéndose en dos fines de semanas el festival, el último del mes de abril y el siguiente de mayo. Si tienes la oportunidad de visitar Louisiana y Nueva Orleans, no lo dudes, es una de las ciudades más fascinantes del mundo en donde se respira muchísima  música, alegría y sobre todo una magnífica gastronomía traída desde África, Francia y España, el creole o cajun food.
Los platos fuertes The Beach Boys, hoy viernes 27 de abril junto a Chuck Leavell, Bon Iver, Gomez, Poncho Sánchez, Leah Chase, Eric Lindell, Buckwheat, Zydeco, Augie Meyers, The Texas Tornados, Flaco Jimenez y Brass Band Throwdown entre muchos otros. El sábado 28 de abril Tom Petty & The Heartbreakers, Cee Lo Green, Dave Koz, entre otros. El domingo 29 de abril Bruce Springsteen and the E Street Band, Al Green, Dr. John, Trombone Shorty y Gary Clark Jr entre otros. El sábado 5 de mayo, Eagles, Allen Toussaint, My Morning Jacket, Steve Earle, Herbie Hancock, Warren Haynes, etc.
Finalmente el domingo 6 de mayo, The Neville Brothers, Foo Fighters, Bonnie Raitt, David Sanborn, Sharon Jones & The Dap Kings entre muchos otros.
Se ha creado una Fundación en torno al festival para «promover, preservar, perpetuar y fomentar la música, las artes, la cultura y el patrimonio de las comunidades de Luisiana a través de festivales, programas y otras actividades.
Music fans poured through the gates at Friday's start of the New Orleans Jazz and Heritage Festival, staking out spots to catch performances by The Beach Boys, Steel Pulse and Irma Thomas, who is performing a tribute to gospel great Mahalia Jackson.
The festival known simply as Jazz Fest spans two weekends, Friday through Sunday and May 3-6. This year's lineup includes mostly Louisiana acts accented with national headliners such as Bruce Springsteen, Dr. John, Bon Iver, the Beach Boys, the Eagles, Tom Petty and the Heartbreakers, Cee Lo Green, Ne-Yo, Bruce Springsteen and Jimmy Buffett.
Though Jazz Fest has boomed in diversity and popularity in its 40-plus year history, Cajun fiddler and singer Michael Doucet says it's still the best festival for homegrown Louisiana music like his.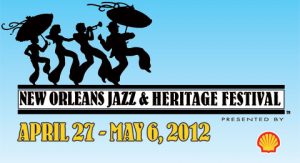 New Orleans Jazz & Heritage Festival 2012 Line up:
FRIDAY, APRIL 27
The Beach Boys reunion feat. Brian Wilson, Mike Love, Al Jardine, Bruce Johnston, and David Marks, Bon Iver, Steel Pulse, Buckwheat Zydeco, Givers, Zebra, Seun Kuti & Egypt 80, Gomez, The Texas Tornados feat. Flaco Jimenez, Augie Myers, and Shawn Sahm, The Dixie Cups, Cubano Be, Cubano Bop: Poncho Sanchez & His Latin Band feat. Terence Blanchard, Chuck Leavell & Friends with special guest Bonnie Bramblett, Irma Thomas' Tribute to Mahalia Jackson, Eric Lindell, New Orleans Classic R&B Revue feat. Frankie Ford, Al «Carnival Time» Johnson, Robert «Barefootin» Parker, and Blue Eyed Soul, James Andrews & the Crescent City Allstars, BeauSoleil avec Michael Doucet, Butch Thompson, Kirk Joseph's Backyard Groove, Chubby Carrier & the Bayou Swamp Band, Leyla McCalla, Sasha Masakowski, Johnny Sketch & the Dirty Notes, Slavic Soul Party!, Jamil Sharif, Stephanie Jordan Big Band, Leah Chase, The Revivalists, Lil' Buck Sinegal Blues Band, Shades of Praise: New Orleans Interracial Gospel Choir, Tim Laughlin, Dukes of Dixieland, Geno Delafose & French Rockin' Boogie, Betty Winn & One A-Chord, Young Pinstripe Brass Band, Dee-1, Fredy Omar con su Banda, Kim Carson & the Enablers, Sammy Rimington International Band, The Electrifying Crown Seekers, Guitar Lightnin' Lee & the Thunder Band, Ivoire Spectacle feat. Seguenon Kone, Wimberly Family Gospel Singers, Henry Gray & the Cats, Real Untouchables Brass Band, James Rivers Movement, Goldman Thibodeaux & the Lawtell Playboys, Louis Ford & His Dixie Flairs, Comanche Hunters and Semolian Warriors Mardi Gras Indians, Cindy Scott, Golden Voices Community Choir, Zulu and Big Nine Social Aid & Pleasure Clubs, The Boyz Singers and Dancers, Traditional Dance by Asociacion de Peruanos en Louisana, Northwestern University Jazz Ensemble, Black Foot Hunters and Black Mohawk Mardi Gras Indians, Beth Patterson & Potent Bathers, Miss Claudia & her Biergartners, Alana Villavaso, Reverend Jermaine Landrum & the Abundant Praise Revival Choir, Brass Band Throwdown with Martin Behrman, W.J. Fischer, and Kate Middleton Elementary Schools, The Bester Singers, Dynamic Smooth Family Gospel Singers, GrayHawk presents Native American Lore and Tales, New Orleans School of Circus Arts & I.S.L., Geronimo Hunters and Creole Osceolas Mardi Gras Indians, Keep N It Real and We Are One Social Aid & Pleasure Clubs…
SATURDAY, APRIL 28
Tom Petty & the Heartbreakers, Jill Scott, Feist, Trombone Shorty & Orleans Avenue, Bobby Rush, Dave Koz, Irvin Mayfield & the New Orleans Jazz Orchestra, Carolina Chocolate Drops, Soul Rebels, Israel Houghton and New Breed, Amanda Shaw & the Cute Guys, Walter «Wolfman» Washington & the Roadmasters, Cheikh Lô of Senegal, Voice of the Wetlands Allstars feat. Tab Benoit, Dr. John, Cyril Neville, Anders Osborne, Big Chief Monk Boudreaux, Johnny Vidocovich, Waylon Thibodeaux, and Johnny Sansone, Nathan & the Zydeco Cha Chas, The New Orleans Bingo! Show, Tribute to Wardell Quezergue feat. Jean Knight, The Dixie Cups, Robert «Barefootin» Parker, and Tony Owens, Pine Leaf Boys, Meschiya Lake & the Little Big Horns, Khris Royal & Dark Matter, Dr. Michael White & the Original Liberty Jazz Band feat. Thais Clark, Luther Kent, Shamarr Allen & the Underdawgs, Roddie Romero & the Hub City All Stars, Evan Christopher, Gal Holiday & the Honky Tonk Revue, Midnite Disturbers, Savoy Center of Eunice Saturday Cajun Jam, Heritage Hall Jazz Band feat. Jewel Brown, Storyville Stompers Brass Band, Watson Memorial Teaching Ministries, The Gospel According to Jazz feat. BJ Crosby, Judy Davis, Danon Smith, and Yolanda Windsay, Jeremy Lyons with members of Morphine, Peter Martin, Empress Hotel, Lars Edegran & the New Orleans Ragtime Orchestra, Paulin Brothers Brass Band, Kristin Diable & the City, D.L. Menard & the Louisiana Aces, The Courtyard Kings, Creole Wild West Mardi Gras Indians, City of Love Music & Worship Arts, Brother Tyrone & the Mindbenders, High Ground Drifters Bluegrass Band, Tom McDermott, Kevin Bryan, DJ Soul Sister, Bamboula 2000, Pastor Jai Reed, Marc Stone, Golden Comanche and Seminoles Mardi Gras Indians, Tonia Powell & the Left Field Band, SUBR Jazzy Jags, Cameron Dupuy & the Cajun Troubadours, 101 Runners, Tonia Scott & the Anointed Voices, Loyola University Jazz Band, Javier Tobar & Elegant Gypsy, The Jones Sisters, Young Band Nation Blues Project, RRAAMS Drum and Dance, Archdiocese of New Orleans Gospel Choir, Josh Kagler & Harmonistic Praise Crusade, New Wave Brass Band, Nine Times Men, Single Ladies, and Single Men Social Aid & Pleasure Clubs, Ashe Cultural Arts Center Kuumba Institute, Delgado Community College Jazz Band, The Heavenly Melodies Gospel Singers, Wild Mohicans and Red, White & Blue Mardi Gras Indians, The Boyz Singers and Dancers, Muggivan School of Irish Dance, Dumaine Gang, Divine Ladies, Family Ties, and Men of Class Social Aid & Pleasure Clubs, Puppet Arts Theater…
SUNDAY, APRIL 29
Bruce Springsteen and the E Street Band, Al Green, John Mayer, Dr. John & the Lower 911, Janelle Monae, Pete Fountain, Yolanda Adams, Iron & Wine, Cowboy Mouth, Dianne Reeves, Tab Benoit, Sonny Landreth, Gary Clark, Jr., Papa Grows Funk, C.J. Chenier & the Red Hot Louisiana Band, Nicholas Payton SeXXXtet, Ellis Marsalis, Lindigo of Reunion Island feat. Fixi of France, Big Chief Monk Boudreaux & the Golden Eagles, Ironin' Board Sam, Evelyn Turrentine Agee, Debo Band: Ethiopian Groove Collective, Corey Harris & Phil Wiggins, Sunpie & the Louisiana Sunspots' International Accordian Summit, New Orleans Klezmer Allstars, Treme Brass Band, Steve Riley & the Mamou Playboys, Tribute to Alex Chilton feat. Dave Pirner, Alex McMurray, Susan Cowsill, and Rene Coman, Los Po-Boy-Citos, Batiste Brothers, Victor Goines, Washboard Rodeo, Leo Jackson & the Melody Clouds, Bill Summers & Jazalsa, Brice Miller & Mahogany Brass Band, Jumpin' Johnny Sansone, Ernie Vincent & the Top Notes, Golden Star Hunters Mardi Gras Indians, Don Vappie & the Creole Jazz Serenaders, Lionel Ferbos & the Palm Court Jazz Band, Kirk Joseph's Tuba Tuba, Gospel Soul Children, Panorama Jazz Band, Hadley J. Castille Family & the Sharecroppers Family Band, Pat Casey & the New Sound, Erika Flowers, Clive Wilson's New Orleans Serenaders with guest Butch Thompson, Morning Star Baptist Church Mass Choir, Spencer Bohren, Chris Clifton, Gospel Diva Lois Dejean, Carrollton Hunters, Big Chief Goodman & the Flaming Arrows, and Ninth Ward Hunters Mardi Gras Indians, Johnette Downing, Tornado Brass Band, Big Steppers, Untouchables, and Furious Five Social Aid & Pleasure Clubs, E'Dana & Company, N'Fungola Sibo West African Dance Company, Ayla Miller Band, Adella Adella the Storyteller, Franklin Avenue Baptist Church Mass Choir, Heritage School of Music Band, Kai Knight's Silhouette Dance Ensemble, Olympia Aid, New Look, First Division, and Secondline Jammers Social Aid & Pleasure Clubs, NOCCA Jazz Ensemble, Sunpie Barnes presents Louisiana Creole Music, Ninth Ward Navajo, Black Eagles and Shawee Mardi Gras Indians, The Boyz Singers and Dancers, Bishop Sean Elder & the Mount Hermon Baptist Church Mass Choir…
THURSDAY, MAY 3
Eddie Vedder, Florence + the Machine, Ivan Neville's Dumpstaphunk, Ani DiFranco, Esperanza Spalding: Radio Music Society, The Dirty Dozen Brass Band, James Cotton «Superharp» Band, Regina Carter's «Reverse Thread», George Porter, Jr. & Runnin' Pardners, Henry Butler, Honey Island Swamp Band, Glen Hansard, Little Freddie King, Astral Project, Mia Borders, Hurray for the Riff Raff, Banu Gibson, Rosie Ledet & the Zydeco Playboys, Chico Trujillo of Chile, Bill Miller, Marlon Jordan Quartet, Iguanas, Free Agents Brass Band, Cheick Hamala Diabate of Mali, Raymond A. Myles Singers 30th Anniversary Reunion, Joint's Jumpin', Alto Saxophone Woodshed feat. Aaron Fletcher, Kid Chocolate, The Roots of Music Marching Crusaders, Native Nations Intertribal, Yvette Landry, Palmetto Bug Stompers, Magnolia Jazz Band of Norway feat. Topsy Chapman, The Stooges Brass Band, Silky Sol, Michael Ward, Flow Tribe, Otra, J. Monque'D Blues Band, Kipori «Baby Wolf» Woods, Amina Figarova, Hot Club of New Orleans, Dayna Kurtz, Kristi Guillory & the Midtown Project, Robert Jardell & Pure Cajun, Original Pinettes Brass Band, Forever Jones, Lyle Henderson & Emanu-El, Fi Yi Yi & the Mandingo Warriors, Black Seminoles Mardi Gras Indians, Kourtney Heart, The Mighty Supremes, Seva Venet & the Storyville String Band, Kelcy Mae, Julio y Cesar, Culu Children's Traditional African Dance Company & Stilt Walkers, Judy Stock, Young Fellaz Brass Band, VIP Ladies, Revolution, and Ladies of Unity Social Aid & Pleasure Clubs, 7th Ward Creole Hunters and Cheyenne Mardi Gras Indians, McDonogh #35 High School Gospel Choir, Gospel Inspirations of Boutte, Eleanor McMain Singing Mustangs, O. Perry Walker Charter High School Gospel Choir, Tulane University Jazz Ensemble, Jazztories Puppets, Opera a la Carte, Recovery School District Talented in Theater Performers, Young Audiences Performing Arts Showcase feat Ballet, Tap and West African Dance…
FRIDAY, MAY 4
Zac Brown Band, Grace Potter & the Nocturnals, Rodrigo y Gabriela and C.U.B.A., Bunny Wailer, Mystikal, Mavis Staples, Marcia Ball, Bonerama, Little Anthony & The Imperials, Bruce Hornsby, Donald Harrison, The Pedrito Martinez Group, Theresa Andersson, Sarah Jarosz, Deacon John, Terri Lyne Carrington's Mosaic, Wayne Toups & ZyDeCajun, Wycliffe Gordon Quintet: Hello Pops Tribute to Louis Armstrong, Germaine Bazzle, Wanda Rouzan, Delfeayo Marsalis' Uptown Orchestra, Bruce Daigrepont Cajun Band, Lil' Nathan & the Zydeco Big Timers, Mark Braud's New Orleans Jazz Giants, Topsy Chapman & Solid Harmony, Hot 8 Brass Band, Ingrid Lucia, Jim McCormick Band, The Revealers, Yvette Landry Band, Baritone Bliss, The Bucktown Allstars, Phillip Manuel, Reggie Hall & the Twilighters feat. Lady Bee, Vivaz!, Nayo Jones, Big Al Carson & the Blues Masters, Courtney Bryan, Feufollet, Joe Hall & the Cane Cutters, Doreen Ketchen's Jazz New Orleans, Connie Jones & the Crescent City Jazz Band, Bryan Lee & the Blues Power Band, Kumbuka African Dance & Drum Collective, Ted Winn, St. Joseph the Worker Choir, Forgotten Souls, Brass Bed, Zazou City, Kid Simmons' Local International Allstars, Smitty Dee's Brass Band, John Lawrence & Ven Pa' Ca Flamenco Dancers, Lesa Cormier & the Sundown Playboys, Zulu Male Ensemble, Connie & Dwight with the St. Raymond / St. Leo the Great Gospel Choir, Erica Falls, Gal Holiday presented by Young Audiences, Native Nations Intertribal, Young Magnolias, Golden Sioux and Young Cherokee Mardi Gras Indians, New Orleans Hispano America Dance Group, Kenneth Terry Brass Band, Scene Boosters and Old N Nu Fellaz Social Aid & Pleasure Clubs, Red Hawk and Golden Blade Mardi Gras Indians, Pastor Tyrone Jefferson, Donnie Bolden & the Spirit of Elijah, Original Big Seven and Original Four Social Aid & Pleasure Clubs, Lake Forest Charter Jazz Ensemble, New Orleans Indian Rhythm Section, Eulenspiegel Puppets, Pastor Terry Gullage & the Greater Mount Calvary Voices of Redemption Choir, Fannie C. Williams Charter Choir, KIDsmART Showcase feat. Arise Academy, Martin Behrman Charter School, Langston Hughes Academy, and McDonogh City Park Academy…
SATURDAY, MAY 5
Eagles, My Morning Jacket, Ne-Yo, Irma Thomas, Herbie Hancock, Paulina Rubio, Allen Toussaint, The Levon Helm Band with special guest Mavis Staples, Better Than Ezra, Preservation Hall Jazz Band, Steve Earle and the Dukes (and Duchesses), Aaron Neville's Gospel Experience, Big Sam's Funky Nation, Jon Cleary, Bombino of Niger, Anders Osborne, John Boutté, The Pedrito Martinez Group, Jeremy Davenport, John Mooney & Bluesiana, MyNameIsJohnMichael, Lost Bayou Ramblers, The Malone Brothers, Dwayne Dopsie & the Zydeco Hellraisers, New Birth Brass Band, Mariachi Jalisco, Leroy Jones & New Orleans' Finest, Red Stick Ramblers, Paul Sanchez & the Rolling Road Show, Mac Arnold & Plate Full o' Blues, Young Tuxedo Jazz Band, The Johnson Extension, Guitar Masters feat. Jimmy Robinson, John Rankin, Phil DeGruy, and Cranston Clements, Val & the Love Alive Fellowship Choir, Rumba Buena, Mas Mamones, Roland Guerin, New Leviathan Oriental Foxtrot Orchestra, Tyronne Foster & the Arc Singers, Pinstripe Brass Band, Black Feathers Mardi Gras Indians, Sam Doores & the Tumbleweeds, Patrice Fisher & Arpa & the Garifuna Connection, Jeffery Broussard & Creole Cowboys, Guitar Slim, Jr., Cha Wa, Tarriona «Tank» Ball & the BlackStar Bangas, Louisiana Repertory Jazz Ensemble, Belton Richard & the Musical Aces, New Orleans Spiritualettes, Tommy Sancton's New Orleans Legacy Band, Stephen Foster's Foster Family Program, Big Chief Trouble & Trouble Nation and Mohawk Hunters Mardi Gras Indians, Grupo Sensacion, Baby Boyz Brass Band, Riccardo Crespo & Sol Brasil, Kora Konnection feat. Morikeba Kouyate of Senegal & Thierno Dioubate of Guinea, Westbank Steppers, Valley of Silent Men, and Pigeon Town Steppers Social Aid & Pleasure Clubs, Curtis Pierre with Samba Kids, Xavier University Jazz Ensemble, Voices of Peter Claver, Cynthia Girtley, Wild Red Flame and Cherokee Hunters Mardi Gras Indians, Native Nations Intertribal, Matthew Davidson Band, Versailles Lion Dance Team, Kinfolk Brass Band, Young Guardians of the Flame, Double Dutch Jumpers, New Generation, Undefeated Divas, and Lady Jetsetters Social Aid & Pleasure Clubs, First Emanuel Baptist Church Mass Choir…
SUNDAY, MAY 6
Foo Fighters, The Neville Brothers, Bonnie Raitt, Maze feat. Frankie Beverly, Galactic, Sharon Jones & the Dap Kings, Preservation Hall 50th Anniversary Jam, David Sanborn and Joey DeFrancesco, funky Meters, Kermit Ruffins & the Barbecue Swingers, Asleep at the Wheel, Rebirth Brass Band, The Bounce Shake Down feat. Big Freedia, Katey Red, Keedy Black, and DJ Poppa, Rockin' Dopsie, Jr. & the Zydeco Twisters, Big Chief Bo Dollis & the Wild Magnolias, Los Hombres Calientes feat. Bill Summers and Irvin Mayfield, Charmaine Neville Band, Glen David Andrews, Supagroup, Boutté Family Sunday Praise feat. John, Lillian, Tricia, Lorna, Tanya, and Arséne, Ruby Wilson's Tribute to Bessie Smith & Ma Rainey, DJ Captain Charles, The Joe Krown Trio with Walter «Wolfman» Washington and Russell Batiste, Jr., Zion Harmonizers, Terrance Simien & the Zydeco Experience, Mem Shannon & the Membership, Creole String Beans, Bobby Lounge, Living Tribute to Harold Batiste feat. Jesse McBride, Ellis Marsalis, and Germaine Bazzle, ELS, TBC Brass Band, Higher Heights, Rocks of Harmony, Jo «Cool» Davis with special guest Sugarboy Crawford, George French & the New Orleans Storyville Jazz Band, Blodie's Jazz Jam, Gregg Stafford's Jazz Hounds, Keith Frank & the Soileau Zydeco Band, Rotary Downs, Jambalaya Cajun Band, The Stars of Heaven, Andrew Duhon, New Orleans Nightcrawlers, Wendell Brunious & the Music Masters, Pfister Sisters, Lynn Drury, Tanya & Dorise, AsheSon, Kim Che'ré, Caesar Elloie, Brother Dege, Gregory Agid, Curley Taylor & Zydeco Trouble, Orange Kellin & the New Orleans Deluxe Orchestra, Jockimo's Groove feat. War Chief Juan, Craig Adams & Higher Dimensions of Praise, High Steppers Brass Band, Lady Rollers, Original C.T.C. Steppers, and Nine Times Ladies Social Aid & Pleasure Clubs, Native Nations Intertribal, David & Roselyn, UNO Jazz Allstars, N'Kafu Traditional African Dance Company, New Orleans Young Traditional Brass Band with the Heel to Toe Steppers, Wild Tchoupitoulas and Wild Apaches Mardi Gras Indians, Ninevah Baptist Church Mass Choir, 14 and Under Cajun Band, NORD/Crescent City Lights Youth Theater, Buffalo Hunters and Apache Hunters Mardi Gras Indians, Hobgoblin Hill Puppets, Original Prince of Wales and Original Lady Buckjumpers Social Aid & Pleasure Clubs