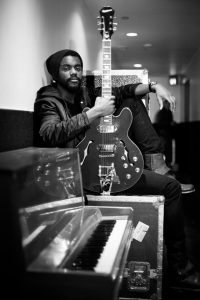 Gary Clark Jr. estrena su segundo vídeo oficial «Numb» de su disco debut «Blak and Blue», publicado el pasado octubre de 2012, tras su primer sencillo «Ain't Messin' Around».
Gary Clark Jr. invoca en el nuevo sencillo «Numb», a Jimi Hendrix en ese cruce de caminos, acompañado de su Cadillac Fleetwood y de una bella dama, ¿lo encontrará?
Gary Clark se graduadó musicalmente el año pasado, tras aparecer en el Tributo a Hubert Sumlin (Howlin fo Hubert), y en "In Perfomance at The White House: Red, White and Blues" , con el presidente Obama en aquel concierto dedicado al Blues en la Casa Blanca.
https://youtu.be/NNH6PX-2euM
Eric Clapton tiempo atrás y Chuck Berry avisaron del portentoso guitarrista de Blues que es Gary Clark Jr., perfecta combinación de Blues, Rock y Soul que hace que la guitarra gima como los grandes.
Gary Clark Jr. editaba en el 2010 su EP «The Bright Lights» con cuatro canciones realmente poderosas, el espaldarazo final y comercial llegaría con su aparición en festivales como el Crossroads del 2010 o en el 2012 con sus aparciones en los conciertos de The Rolling Stones y Bonnaroo, Coachella, Osheaga Festival, Sasquatch!, Lollapalooza, o el  The NOLA Jazz & Heritage Festival.