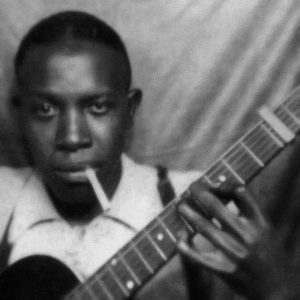 ¿Quieres saber cómo de bueno puede llegar a ser el blues? – preguntó un día Keith Richards. "Pues así", y puso una canción de Robert Johnson.
Robert Johnson, el rey del Blues del Delta del Mississippi, aquel Bluesman que hizo el pacto con el diablo en un cruce de caminos un 16 de agosto de 1938 en Clarksdale, enterrando sus rollidas en el suelo para invocar al diablo y así poder ser el mejor guitarrista y cantante de Bluesen el día de su cumpleaños cada 8 de abril.
Robert Johnson grabó veintinueve canciones en 42 tomas, realizándola dos veces, la primera en 1936 en un hotel de San Antonio y la segunda en 1937 en Dallas.
Sweet Home Chicago", "Kind Hearted Woman Blues", "I Believe I'll Dust My Broom", "Ramblin' on My Mind", "Come On in My Kitchen", "Me and the Devil Blues", "Love in Vain", "Walkin' Blues" o "Hellhound On My Trail" y que se prolonga en manos de demonios como Keith Richards, Eric Clapton, Muddy Waters, Guadalupe Plata, Elmore James, The Rolling Stones, John Mayall, BB King, Buddy Guy, Stevie Ray Vaughan, The Steepwater Band, Warren Haynes o Hubert Sumlin entre otros muchos.
Cada 16 de agosto se celebra el aniversario de la muerte de Robert Johnson en la que la leyenda cuenta como en el cruce de la autopista 61 con la 49 en Clarksdale, Mississippi, enterraba sus rodillas en el suelo para invocar al diablo y así poder ser el mejor guitarrista y cantante de Blues.
El museo Getty en Estados Unidos, tras ocho años de investigación forense, resuelve como auténtica, una nueva fotografía del Bluesman del Delta del Mississippi, Robert JohnSon y que se añade a las otras dos que constan del hombre que con tan solo 27 se convertiría en una auténtica leyenda del Blues.
Robert Johnson aparece en la nueva fotografía con un sombrero blanco y su amigo Bluesman Johnny Shines, durante una gira conjunta que hicieron en 1935 desde Mississippi hasta Canadá.
Puedes conocer más sobre la noticia de la nueva fotografía encontrada de Robert Johnson en nuestro artículo de Dirty Rock, pinchando en éste párrafo.