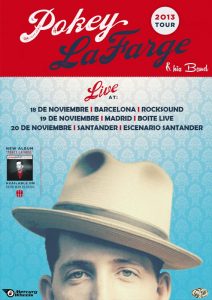 Pokey Lafarge estará en España por primera vez de gira el próximo mes de noviembre con tres fechas confirmadas 18 en Barcelona (Rocksound), 19 en Madrid (Boite Live) y 20 de noviembre en Santander (Escenario Santander), para presentar su quinto álbum de estudio publicado el pasado mes de junio «Pokey Lafarge».
Pokey Lafarge & His Band comienzan su gira europea el 2 de noviembre pasando por países como Escocia, Irlanda, Inglaterra, Bélgica, Francia, Holanda y España, consumando la misma en Groningen (Holanda) el 1 de diciembre para continuar por Estados Unidos.
«Pokey Lafarge» está co-producido por el propio músico de Illionois y el frontman del fantástico grupo Old Crow Medicine Show Ketch Secor.
Jack White a través de su discográfica Third Man Record, produce su primer larga duración tras haber editado un vinilo de 7″ compuesto por dos canciones "Chittlin' Cookin' Time In Cheatham County" y "Pack It Up" en el 2011.
Pokey Lafarge reúne en su discos un auténtico río de Americana Music que consiste en unir a partes iguales Jazz, Ragtime Country blues, Western swing, Vaudeville, Folk de los Apalaches, influenciado por sus grandes héroes Earl Scruggs, Doc Watson, Skip James, Robert Wilkins, Sleepy John Estes, Howlin' Wolf, Jimmie Rodgers, Bill Monroe, Milton Brown and the Musical Brownies, Emmett Miller, o Willie Dixon.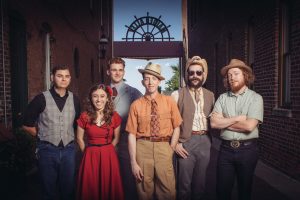 El treinteañero Pokey Lafarge publica su primer disco en solitario en el 2006 titulado "Marmalade" (2006) y "Beat, Move & Shake" (2008) su segundo, acompañando en sus inicios a los grandes The Hackensaw Boys durante una gira.
Pokey Lafarge con su nueva banda "Riverboat Soul" , Pokey LaFarge & the South City Three, editando una gema sonora llamada "Riverboat Soul" en el 2009, obteniendo el prestigioso premio Independent Music Award, como el mejor disco de Americana, en el año 2010.
Si quieres escuchar el último disco de Pokey Lafarge, clica en éste párrafo.
Fechas de la gira española de Pokey Lafarge & His Band en noviembre:
18 noviembre en Barcelona, Rocksound
19 noviembre en Madrid, Boite Live
20 noviembre en Santander, Escenario Santander