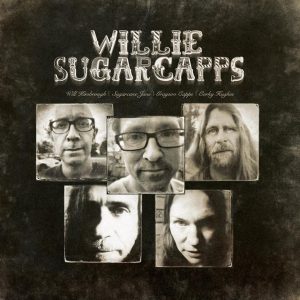 Willie Sugarcapps debutan con "Gypsy Train" desde el pasado 20 de agosto, el grupo norteamericano es la alianza de fuerzas compuesta por grandísimos compositores y músicos de Alabama como Will Kimbrough, Grayson Capps, Corky Hughes, Savana Lee y Anthony Crawford del grupo Sugarcane Jane, disco de diez canciones producido por Trina Shoemaker (Queens of the Stone Age y Sheryl Crow)
Wille Suggarcapps está formado por el genial compositor, productor, cantante y multinstrumentista Will Kimbrough, colaborador habitual tanto en discos y giras de Emmylou Harris, Steve Earle, John Prine, Buddy Miller, Guy Clark o Todd Snider entre otros. Will Kimbrough es uno de los músicos de sesión más prestigiosos en Estados Unidos.
Grayson Capps, uno de los grandes y jovenes forajidos de la composición en estos momentos en Norteamerica, con cinco discos publicados combina perfectamente esa fusión de poesía tejana a lo Townes Van Zandt, Blues del Delta, Folk y Rock sureño.
Anthony Crawford, magnífico compositor y guitarrista colaborador de entre otros Neil Young, Steve Winwood o Dwight Yoakam,  junto con su compañera Savana Lee conforman el  fantástico dúo Sugarcane Jane, música repleta de Folk Rock sureño, una de las bandas a tener en cuenta.
Corky Hughes completa el grupo Willie Sugarcapps, guitarrista actual de la banda de Grayson Capps, y músico de sesión de Jazz y Blues. Corky llegó a irse de gira con Black Oak Arkansas y Bo Diddley.
Willie Sugarcapps nació en un festival de Silverhill en Alabama llamado The Frog Pond at Blue Moon Farm, festival de música de raíces y que rinde honores a lo Midnight Ramble del querido Levon Helm, reuniendo en cada edición a los mejores cantautores, guitarristas y Bluesman del país, como artistas de la talla de Mary Gauthier, Alvin Youngblood Hart, Malcolm Holcombe, Randall Bramblett, Sergio Webb o  George Porter, Jr. entre otros.
Mary Gauthier to Alvin Youngblood Hart, Malcolm Holcombe to Randall Bramblett, Sergio Webb to George Porter, Jr.  – See more at: https://www.gratefulweb.com/articles/introducing-willie-sugarcapps-will-kimbrough-grayson-capps-sugarcane-jane-corky-hughes#sthash.lJFypzjP.dpuf
Willie Sugarcapps tras el festival y unos días más tarde, se metieron en el estudio y grabaron en ocho horas "Gypsy Train", una encantadora obra de arte de Blues, Country y Rock Sureño pausado y bella.
Estamos ante el súper grupo del año y uno de los álbumes del año, ellos son Willie Sugarcapps.
Willie Sugarcapps  "Gypsy Train" track listing:
1. Willie Sugarcapps
2. Mr. Lee
3. Oh, Colorado
4. Magdalena
5. Energy
6. Mud Bottom
7. Gypsy Train
8. Poison
9. Trouble
10. Up To The Sky